Posted on
Wed, Nov 9, 2011 : 5:59 a.m.
Freshman Blake Countess discusses taking friend's starting job, becoming Michigan football's team next shut down corner
By Kyle Meinke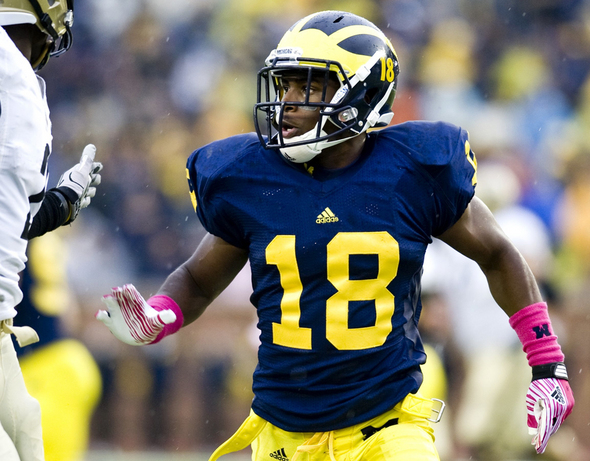 Joseph Tobianski I AnnArbor.com
Michigan defensive coordinator Greg Mattison likes to say that, on the field, star freshman cornerback Blake Countess "has no conscience."
Off the field, though, Countess is conscious of it all.
He knows he took a fifth-year senior's job. He knows the politics that go into such a decision. He knows not just any freshman gets to start at cornerback for the Michigan football program.
He knows what's expected of him: Become the Wolverines' next great corner.
"Everybody wants to be known as a shut down corner, but it comes with a lot of work," the precocious 18-year-old said. "I think I can do it, but I still have a lot of work to do."
He's on track to do just that.
Countess has experienced a meteoric rise from bench player to key reserve to starter in a matter of weeks, and already is proving himself to be, perhaps, 22nd-ranked Michigan's best cornerback.
The 5-foot-10, 176-pound Baltimore native is one of only four true freshmen in the country to have broken up five passes this season, and four of his came in Big Ten play, tied for second in the league. He's sixth on the team in tackles with 33.
"I just had to be ready when my chances came around," he said of his immediate success.
Countess met with the media for the first time in his young Michigan career on Tuesday in Schembechler Hall, and handled the 6-minute session with the kind of composure and polish he's shown on the football field.
THURSDAY LIVE CHAT
Come back to AnnArbor.com at noon Thursday for a live chat with Kyle Meinke. He'll recap the Wolverines' loss against Iowa, discuss news that emerged this week and preview the game against Illinois on Saturday.
Most difficult for him was addressing questions about supplanting senior Troy Woolfolk as the starter at cornerback. Countess roomed with the senior during fall camp, and the pair drew close.
Woolfolk mentored the youngster, showed him the ropes, got him through his first fall practices, offered pointers that later would spark immediate results.
Three months later, Woolfolk lost his job to his pupil and was moved to safety during the off week.
What is their relationship like now?
"Me and Troy developed a bond, so he's just like, 'When you get your chance, you can do it,'" Countess said. "He was in my same shoes one day, so he's just helped me through this."
Countess learned he had earned his first start against Purdue midweek. He reminded himself, "The time is here, and I just have to make the most of it.'"
He responded superbly, blanketing the Purdue receivers with the kind of aggressive, physical coverage for which he's become known. He had only three tackles, but that mostly was a function of Boilermakers quarterbacks avoiding him all together.
Iowa picked on him a little more last week, and Countess responded with mixed results.
"There's a couple plays that I wish he had back, but he made some really good plays," Mattison said. "He's a young freshman that went in there and did some good things."
Countess often found himself defending star Hawkeyes receiver Marvin McNutt, who had a 6-inch height advantage in the matchup. The freshman didn't back down, though, and outperformed fellow starting corner J.T. Floyd in covering the senior.
Now, he'll try to turn the page on that performance as he gears up to face another imposing wideout in A.J. Jenkins of Illinois, which Michigan (7-2, 3-2) plays at 3:30 p.m. Saturday on ABC.
"I learned early on that having a short memory, as a cornerback, is definitely a positive," Countess said. "If you get down on yourself, it'll show in your play directly."
His rapid assent up the depth chart, and the poise he's shown along the way, has coaches expecting big things from Countess. Given a couple years of seasoning, it's not hard to imagine him evolving into something Michigan hasn't had in a few years:
A shut down corner who battles exclusively against an offense's No. 1 receiver.
"I was here when we did that," he said, referring to when he coached Charles Woodson during his Heisman Trophy season in 1997. "That day will come.
"I've said all along, the one thing about (Countess) that you feel like he has a chance to be pretty darn good is he doesn't have a conscience. The play's over, and he's ready for the next play.
"That's what the great ones all have."
Kyle Meinke covers Michigan football for AnnArbor.com. He can be reached at 734-623-2588, by email at kylemeinke@annarbor.com and followed on Twitter @kmeinke.