Posted on
Mon, Nov 7, 2011 : 8:08 p.m.
Denard Robinson fine after "funny bone" injury against Iowa, Hoke says he grew as a QB
By Nick Baumgardner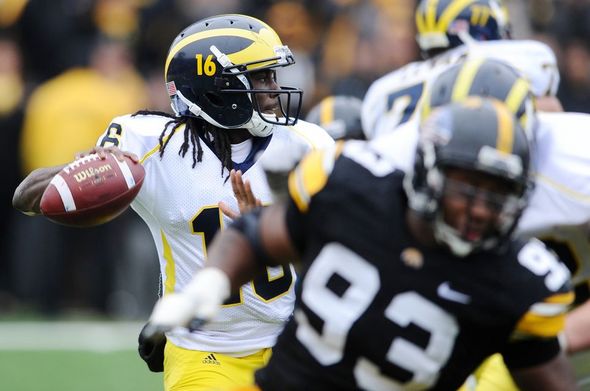 Melanie Maxwell | AnnArbor.com
There were varying reports as to what exactly happened to Michigan junior quarterback Denard Robinson on Saturday at Iowa.
After Robinson temporarily left during the third quarter of Michigan's 24-16 loss to the Hawkeyes, the Michigan Radio Network reported team trainers were looking at his arm and collarbone.
Following the game, Michigan football coach Brady Hoke hinted at a possible hand injury, while Robinson said it was his elbow that took a shot.
So what exactly happened?
"He hit his (elbow) on a helmet and his fingers went numb," Hoke said. "It was his humerus bone. His funny bone."
Robinson was replaced by sophomore quarterback Devin Gardner on the ensuing series, a possession that promptly resulted in a punt.
Robinson then re-entered the game on the Wolverines' first possession of the fourth quarter, leading an eight-play touchdown drive, polished off by a scoring pass to Kevin Koger.
He then finished the game going 5-for-14 on team's final drive that finished three-yards shy of the endzone.
On the day, Robinson went 17-for-37 with 194 yards, two touchdowns, an interception and a fumble.
His elbow's fine, but was his performance?
Hoke says, yes, it was.
"I thought Denard played a really good football game," he said. "He tried to make a play and lost the ball. At the end of the first half he throws a slant in there (that was intercepted), whether there was contact there or not (I don't know). You look how he set his feet and how he threw the football, how he managed the offense.
"I thought he grew as a quarterback. In those environments, that's when you do grow."

Hoke hopeful for Ricky Barnum return

Hoke said injured junior guard Ricky Barnum will "do more this week" in practice after missing yet another game Saturday due to multiple ankle injuries.
The staff is hopeful Barnum, who has now missed four games due to injury this season, will return to action Saturday at Illinois.
Barnum's absence further lessens the already thin depth along Michigan's offensive line, as sophomore Michael Schofield has been forced to start in his place, rather than rotate as a backup at both tackle and guard.
Sophomore left tackle Taylor Lewan played the entire game at Iowa through both a leg and ankle injury.
Had Lewan been hurt Saturday, Hoke said he wasn't sure what would've happened.
"It'd have been interesting," Hoke said.

Hoke takes blame for wasted timeout

Trailing by eight with 5:22 to go in the fourth quarter, Michigan opted to take a timeout, with the clock stopped, prior to an Iowa punt.
Hoke said he was the one who asked for the timeout, Michigan's first of the second half.
On Monday, he explained why.
"I thought we had 12 guys on the field," he said. "We didn't. I didn't count very well. As soon as I called it and I counted, I said 'I hope we don't need that one late.'"
Michigan could've used the timeout late.
Hoke acknowledged that had Michigan kept it, the team might have been able to run the ball from inside the 5-yard line in the waning seconds, rather than attempt four straight passes on its potential game-tying drive.
"That was (my fault)," Hoke said. "I didn't execute on that one very well."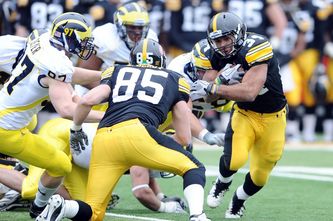 Ryan suffers a stinger,
Hoke praises freshmen LBs
Michigan redshirt freshman outside linebacker Jake Ryan was limited during most of the first half Saturday, forcing Michigan to use freshman Brennen Beyer in his place.
Hoke said Ryan suffered a stinger on the game's first play, and took some time to recover before eventually returning.
With Ryan on the sidelines, Byer and classmate Desmond Morgan saw plenty of time together on the field.
How'd they do?
"I thought both of them handled themselves very well," Hoke said. "I was really happy with Desmond's flow to the ball and how he plays the game. Brennen played a lot when Jake went out, he got his feet wet in there.
"I think both of those guys have a very bright future."

Hoke won't comment on Penn State scandal

Asked for his thoughts Monday on the Jerry Sandusky child sex abuse scandal at Penn State, Hoke declined comment.
"I wouldn't even know how to answer that question," he said. "We've got Illinois to worry about."

Odds and ends

Hoke said the extended play of fifth-year senior receiver Kelvin Grady late in the Iowa game wasn't situational, but rather because Michigan's receivers needed a break during the extended two-minute drill. Grady made two catches for 22 yards, and drew praise from Hoke for his efforts. "It was good to see him have some production," Hoke said. ... When Michigan won the toss Saturday, it elected to take the ball to begin the game rather than defer to the second half. Hoke said "99.9" percent of the time, the Wolverines will defer. However, Saturday was a special case. "We had made a decision on Thursday when there was going to be a significant wind called for," he said. "Wanting to have the wind in the fourth quarter was something that we really wanted to do. We got lucky, we won the toss. ... We thought that thing out pretty hard."
Nick Baumgardner covers Michigan sports for AnnArbor.com. He can be reached at 734-623-2514, by email at nickbaumgardner@annarbor.com and followed on Twitter @nickbaumgardner.