Posted on
Wed, Apr 11, 2012 : 5:59 a.m.
Michigan football has eye on Alabama, even as it focuses inward during spring camp
By Kyle Meinke
The Michigan football team doesn't open the season for almost five months, and remains committed to developing its younger players in the interim. That's par for the course this time of the year.
Only, this year's opener is anything but par for the course, and the Wolverines can't help but peek toward their blockbuster matchup against defending national champion Alabama at Cowboys Stadium.
"Everybody talks about it," senior safety Jordan Kovacs said Tuesday during a conference call with reporters. "That's a huge one for us to be opening with, and all the players are excited about it. Not many people get an opportunity to go to Dallas and play the defending national champs. We're really looking forward to it."
The Wolverines return 15 starters from a team that won 11 games last season. Kovacs spearheads a secondary that could be the strength of the team, with seven of the top eight players back, including every starter.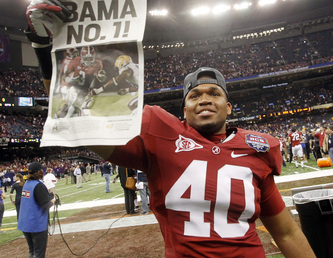 AP Photo
But there is uncertainty along the lines, where Michigan loses two starters from its offensive line (plus tight end Kevin Koger) and three from its defensive line.
For coach Brady Hoke, that's been more of a concern than Alabama as the Wolverines wrap up their spring camp this week.
"We're trying to get some young players being able to line up and being able to do the technique and fundamentals we want," Hoke said. "Obviously, we've talked about (the Alabama game) some. All of our guys are well aware we're going to play a great football team on Sept. 1.
"We haven't just focused in on that game because of the other things we need to get done."
Alabama went 12-1 last year en route to the national title. It is the first defending champ Michigan has opened against since it lost to Notre Dame, 24-19, to begin the 1989 season.
The Crimson Tide, who hail from the powerful Southeastern Conference, opened as an early two-touchdown favorite against the Wolverines. Kovacs said Michigan isn't close to being ready to face Alabama, but also isn't frightened by the matchup.
"It's no secret the SEC has won, what, maybe the last six national champs," Kovacs said. "It's a very powerful conference, and we expect Alabama to be the best in that conference. That's how we prepare.
"But we're just excited to be going into that game, and it's going to be a real, true test of where we're at and we feel like we've got a decent shot."
Alabama has work to do before the game as well, as it replaces 15 of the 22 players who started in the title game against LSU.
That includes seven on defense, where the Crimson Tide lose three of four defensive backs and three of four linebackers. They also run one of college football's most complicated defensive schemes, which will confound their rebuilding process.
"There ain't no one who can learn that defense in under a year," outgoing Alabama free safety Mark Barron told AnnArbor.com last month at the NFL Scouting Combine. "I really don't believe anyone can learn that defense in under a year."
The Crimson Tide, like Michigan, know they will have their sport's spotlight on opening weekend, and are planning accordingly. Departing cornerback DeQuan Menzie said preparations already have begun for Sept. 1.
"I mean, we had so much depth, it was crazy," Menzie said. "We're still going to be good. We'll start the season off right. Michigan better be ready."
It isn't yet.
But it's paying attention.
Kyle Meinke covers Michigan football for AnnArbor.com. He can be reached at 734-623-2588, by email at kylemeinke@annarbor.com and followed on Twitter @kmeinke.