Michigan football has top 10 national ranking for first time since 2007
Posted on Sun, Oct 9, 2011 : 2:23 p.m.
With another comeback win Saturday and a 6-0 record, the Michigan football team now has its highest national ranking since the early stages of the 2007 season.
The Wolverines (6-0, 2-0 Big Ten) moved up to No. 10 in the USA Today coaches poll, and sit at No. 11 in The Associated Press' latest Top 25 poll.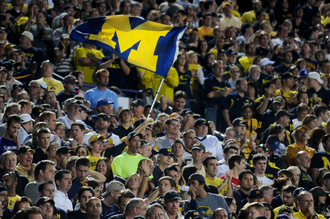 Melanie Maxwell | AnnArbor.com
It marks the first time that the Wolverines move into a national top 10 since beginning the 2007 season at No. 5 in both the USA Today and the AP polls.
Michigan was quickly dropped from that ranking, however, as it fell to Appalachian State in the season opener.
Following a 42-24 win at Northwestern on Saturday, the Wolverines moved to 6-0 for the first time since 2006. Michigan has been 6-0 six times since 1976, in each of those seasons, the team advanced to The Rose Bowl.
Oklahoma and LSU currently split the top spots in each poll, with the Tigers holding onto the No. 1 AP ranking and the Sooners keeping the top spot in the coaches poll.
LSU, Alabama, Wisconsin, Stanford, Boise State, Oklahoma State, Clemson, Oregon and Michigan round out the coaches poll top 10. In the AP poll, Alabama, Oklahoma, Wisconsin, Boise State, Oklahoma State, Stanford, Clemson, Oregon and Arkansas round out the top 10.
Other ranked Big Ten teams this week are Nebraska (No. 14 in both polls), Illinois (No. 15 coaches, No. 16 AP), MIchigan State (No. 19 coaches, No. 23 AP) and Penn State (No. 25 coaches).