Posted on
Tue, Apr 26, 2011 : 9:55 p.m.
Michigan football legend Jim Mandich has died at 62
By AnnArbor.com Staff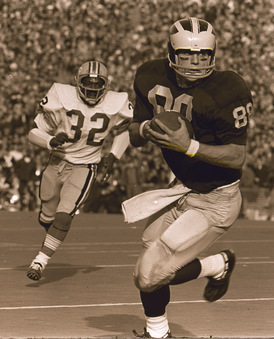 File photo
Jim Mandich, the man many remember most from the Michigan football team's classic upset of Ohio State in 1969 has died, according to numerous reports. He was 62.
An eight-year veteran with the Miami Dolphins, Mandich went on to become a beloved team broadcaster. He fought a lengthy battle with bile-duct cancer.
"His death closes a rich chapter in Dolphins history, for even though his catchphrase was his automatic response to callers asking how he was doing during healthier times, the words "never better" carry added meaning today," wrote Hal Habib in the Palm Beach Post.
Mandich caught 51 passes in the 1969 season, Bo Schembecher's first season as a coach with the Wolverines and one that included the 24-12 upset of Ohio State.
In a release from the University of Michigan, athletic director Dave Brandon remembered Mandich as "a Michigan Man in every way."
"He did so much for our football program and our university as a student-athlete, supporter, donor and ambassador of positive energy. After his pro career with the Miami Dolphins, he became an important leader in Southern Florida, helping the Dolphins and the Miami community in countless ways.
"Captain Jim Mandich led a team that changed Michigan football for decades to follow," Brandon said. "He was a legendary player and an even better person. He will be missed. My thoughts and prayers go out to his family as they grieve the loss of a great husband and father."
Here's the link to the full Palm Beach Post story.
Here's a link to an earlier interview Mandich did with WTKA's Ira Weintraub a year-and-a-half ago, in which he discussed '69, Schembechler and more Michigan football.
More reaction on Mandich's death came from Miami Dolphons chairman and fellow Michigan graduate Stephen Ross, who said in a written statement that: "There will never be another Jim Mandich. ... As a fellow Michigan Man, I cherish the time we spent talking about our shared passions for the Wolverines and Dolphins."