Posted on
Wed, Aug 1, 2012 : 9 a.m.
Michigan's Taylor Lewan respects William Gholston's talent, won't focus on 2011 punch
By Nick Baumgardner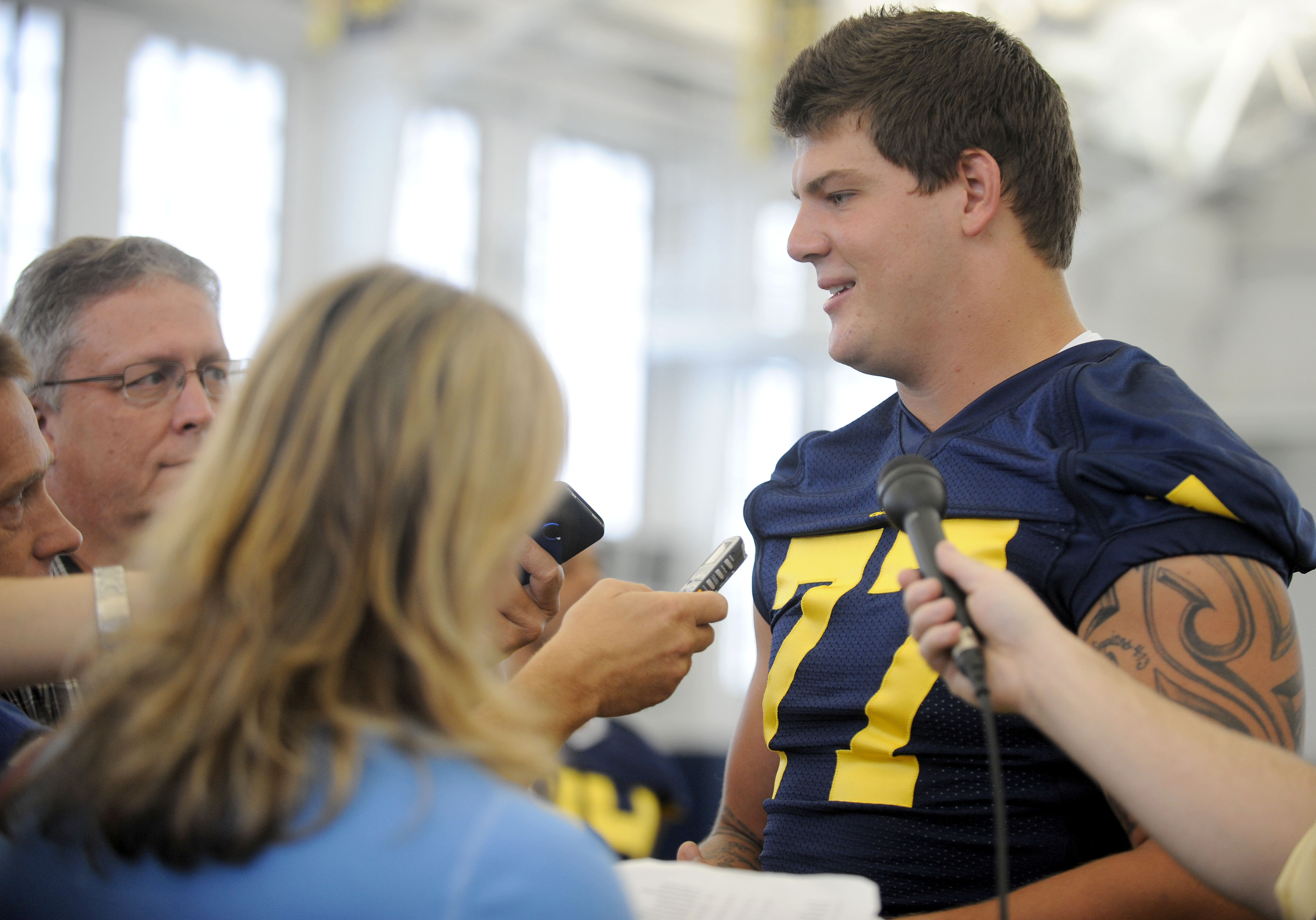 AnnArbor.com file photo
There was one topic
Michigan football
junior offensive tackle
Taylor Lewan
couldn't shake last week in Chicago.
He tried, repeatedly. But it never seemed to work.
Reporter: "Talk about William Gholston."
Lewan (playfully): "What do you want to know about him?"
MICHIGAN FOOTBALL LIVE CHAT
Join AnnArbor.com Michigan beat writers Kyle Meinke and Nick Baumgardner on Thursday for a pre-fall camp live chat. Come with questions about preseason camp, season expectations, and any other burning Michigan football topic. The chat will begin at noon.

What the reporter wanted to know, clearly, was whether or not he'd get an emotional reaction from Lewan on the topic of Gholston, the Michigan State defensive end who made headlines by punching him in the face during the Spartans' 28-14 win over the Wolverines last season.
But Lewan never bit.
Time and time again, the hulking Michigan tackle was asked his opinion of Gholston. How good is he? Was he excited to face him again?
Lewan was even asked if he was sad that Gholston wasn't part of the Michigan State contingent at the Big Ten's media days.
"I don't know," Lewan said bluntly. "That's kind of an odd question to ask."
Lewan repeatedly deflected specific questions about Gholston and Michigan State throughout his two hour roundtable session, but did admit to one thing.
Gholston is one heck of a player, and regardless of what happened last season, Lewan certainly respects his talent on the field.
"Will's a good player," Lewan said. "He's been very successful since he's been at Michigan State, and it's going to be exciting to play against him."
Though he admitted to having respect for Gholston, he said any focus on their individual battle -- one that could feature two future first-round NFL draft picks -- ends up washing out the point that actually mattered last season with regard to Michigan and Michigan State.
The Wolverines lost. And got beat up in doing so.
"Everybody wants to look at me and William Gholston and what happened, but the fact is, we lost that game for the fourth year in a row," Lewan said. "That's something we've got to fix."
Both the punch and the Lewan-Gholston one-on-one matchup will certainly draw plenty of attention in 2012, especially in the week leading up to the Spartans' visit to Ann Arbor on Oct. 20.
But Lewan says that won't be his focus.
Instead, he'll use the fact that Michigan State dominated line of scrimmage physically last season as motivation.
Something that offers more than enough incentive to play hard.
"That's the biggest insult I can have, but it's also the truth, because they won the game," Lewan said. "I was disappointed in the way we played, I was disappointed in the way I played, but thank God I have another year to come back and play."
Nick Baumgardner covers Michigan sports for AnnArbor.com. He can be reached at 734-623-2514, by email at nickbaumgardner@annarbor.com and followed on Twitter @nickbaumgardner.