Posted on
Sat, Jul 14, 2012 : 5:59 a.m.
Michigan football over-under: Can Denard Robinson improve his interception numbers?
By Nick Baumgardner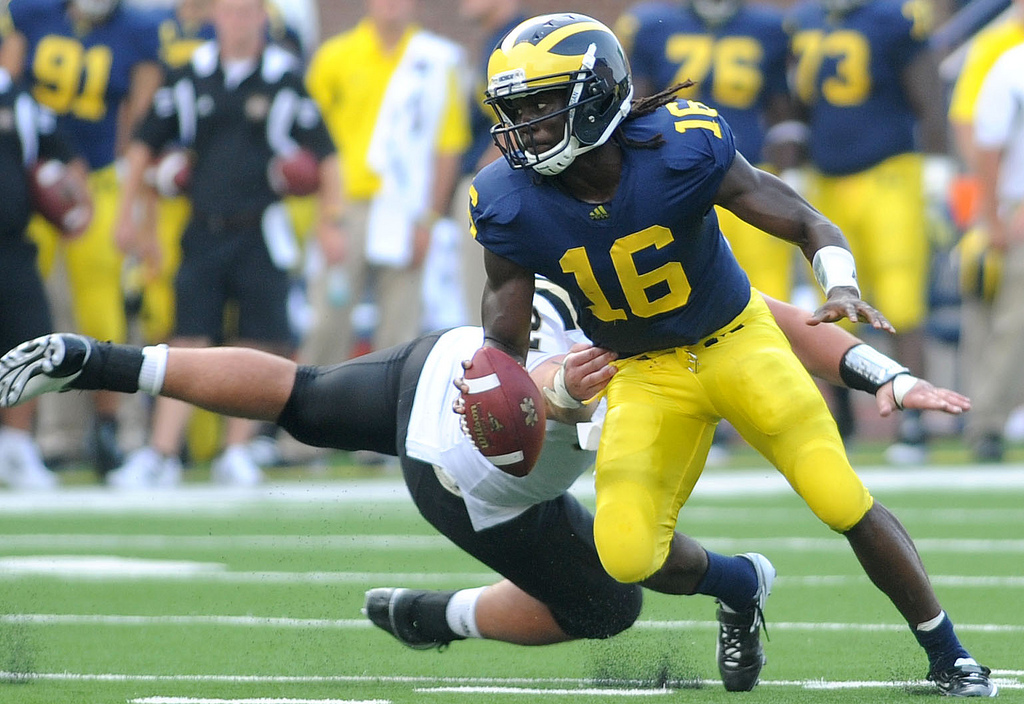 Angela J. Cesere | AnnArbor.com
Michigan football
quarterback
Denard Robinson
is often compared to a video game quarterback.
At times, his shiftiness and pure foot speed make it almost impossible for defenders to corral him, almost like someone's using a joystick to move him from side to side.
Then, at other times, it seems like the owner of that joystick gets too caught up in the superhero moment -- and pushes Robinson to throw balls off his back foot, or try to fit passes into spots that simply don't exist.
At Michigan they take the good and the bad when it comes to Robinson. In 2011, there was plenty of good, and also a whole lot of bad.
The dynamic Wolverine signal-caller had his fair share of lightning in a bottle moments, but he also had his maddening moments.
Robinson accounted for 36 touchdowns last season, but he also threw 15 interceptions -- five more than anyone else in the Big Ten.
At times he was erratic and highly predictable (in a bad way) through the air. He's about to enter year two of Al Borges' offensive scheme, and everyone inside the Michigan program insists his turnover numbers will dip next season.
But will they?
Let the debate begin.
Over/under: Denard Robinson will throw 10 interceptions in 2012

Kyle Meinke: How bad was Robinson at hanging onto the ball last year? Michigan employed an offense that was so run-heavy, two players racked up 1,000-yard rushing seasons for just the second time in school history -- and he still had five more interceptions than any other Big Ten quarterback.
Catch that? He threw 50 percent more picks than any other other player in his league.
Michigan Football Over-Under
Robinson tossed a pick every 17.2 attempts, the steepest rate by a Michigan quarterback in a decade. Only two (bad) quarterbacks were worse last year.
He ended up with 15. Only five quarterbacks were worse.
There is a ray of hope for Robinson: Many of his picks came from bad reads, or from throwing into double-coverage when another target was open. Fix those kinds of mental mistakes, and he has a chance.
Borges says Robinson is well on his way to doing that. But he said the same last year, and Robinson went on to turn over the ball at an alarming rate.
Expect to see Robinson make strides in the passing game now that he's in the second year of Borges' scheme, but that growth will be mitigated by a brutal lineup of defenses that includes four of last year's top-20 units: Alabama (No. 1), Michigan State (No. 6), Illinois (No. 7) and Ohio State (No. 19). He's been at his worst against attacking defenses -- see, Michigan State -- and will see plenty of them next year.
Prediction: At this point, Robinson is what he is: Electric in the running game, clutch in big moments ... but mistake-prone in the passing game. Michigan will take it because he wins games better than nearly anyone in the country, but he's still going to hit double-digits in this category. Take the over.
----
Nick Baumgardner: The counter argument here starts as a simple one: 15 interceptions is a ton, and it shouldn't be ridiculous to think Robinson can trim that number down.
But to get the number under 10? That's going to take some serious work.
One thing working on his side, though, is the success Al Borges has had with quarterbacks working in the second year of his offensive system.
During his first year at Boise State in 1993, Borges' quarterback Tony Hilde finished the season with five touchdowns and nine interceptions. The next season didn't see a change in Hilde's interceptions, as he still finished with nine. But he did throw 26 touchdown passes and the Broncos played in the 1-AA national championship game.
At UCLA in 1996, Borges quarterback Cade McNown tossed 12 touchdowns against 16 interceptions. The next season, his touchdowns doubled (24) and he threw 10 fewer interceptions (six). At San Diego State in 2009, Aztec quarterback Ryan Lindley tossed 16 picks -- the next season, his interceptions slightly dipped to 14, but he did throw five more touchdowns while amassing nearly 800 more yards.
Last season, nine of Robinson's interceptions came during the first six games. So, sixty percent of his picks game during the early stages of his new-offense growing pains. And, that was the period of the season when he threw some of his more egregious picks -- like the three against Notre Dame and the three against Northwestern.
As the year wore on, he wasn't perfect, but he wasn't always a mess either. His six interceptions in the final seven games seemed to be more due to a lack of focus than an outright failure to compute. And, as Borges got more comfortable with what his quarterback could and could not handle, the opportunity for nightmare situations seemed to dwindle some.
Robinson should no doubt be more comfortable with Borges in 2012, but more importantly, Borges should also have a better grasp of what his quarterback can and cannot do.
Prediction: Robinson will never be a perfect pocket passer. Ever. And whether or not he admits it, it's a safe bet Borges knows that. Michigan now has a foundation running back in Fitz Toussaint to take some pressure off Robinson, and Borges should have a better feel for his quarterback's capabilities. That said, I'll take the under.