Posted on
Tue, Jul 17, 2012 : 5:58 a.m.
Michigan football over-under: How many true freshmen see the field?
By Kyle Meinke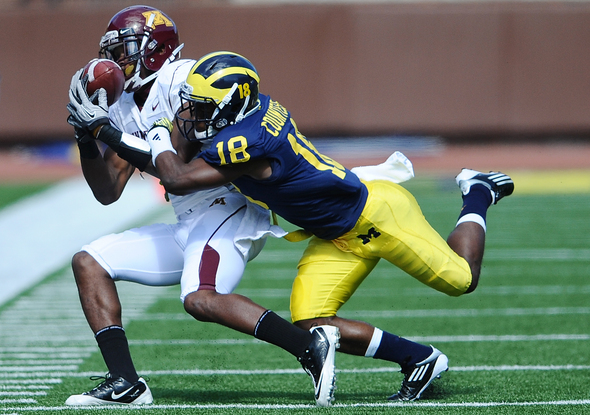 Melanie Maxwell | AnnArbor.com
The
Michigan football
team posted the worst defensive season in school history in 2010, and was in dire need of a savior -- and got one in
Greg Mattison
, the architect of last season's revival.
But Michigan also benefited from an infusion of talented true freshmen, including full-time starters such as Blake Countess at cornerback and Desmond Morgan at weak-side linebacker.
Reserve Frank Clark provided athleticism and depth at defensive end, Brennen Beyer blossomed into a reliable option at strong-side linebacker and Raymon Taylor factored in at defensive back in nickel packages.
Add in Matt Wile's role on kickoffs and punts, Thomas Rawls' spot carries at tailback and contributions from Delonte Hollowell and Taylor on special teams, and that makes eight true freshmen who played last season.
It's clear the 2011 class played a key support role in the 11-win season -- and the 2012 class is considered by recruiting analysts to be even stronger. But with the Wolverines returning 15 starters, it's possible they simply won't need to rely on so many newcomers.
So, how many play? We debate:
Over-under: Michigan will play six true freshmen in 2012

Kyle Meinke: Michigan returns 15 starters, sure. But it also has several points of weakness, most notably on the lines, where depth is so tenuous it prevented the Wolverines from holding a true spring scrimmage.
They're going to rely on several freshmen to get through the season, just as they always do. They played eight last year, 10 in 2010, an incredible 13 in 2009 and eight more in 2008.
Michigan Football Over-Under
Yes, those were turbulent times with high turnover rates, which required freshman to step in -- sometimes even before they were ready. But go back to 2006, when Michigan returned 14 starters, and it still played seven true freshman.
Big-time football is all about winning now. So if a freshman can play, he's seeing the field. It's not even hard to finger which spots this Michigan team will employ the young guys.
Against their better wishes, the Wolverines probably will rely on at least one freshman on both lines, where they sustained five of their seven losses. Who actually sees the field won't become clear until fall camp, although Kyle Kalis at left guard and Ondre Pipkins at defensive tackle seem like good bets.
From there, Michigan must still account for losing its top two receivers, Junior Hemingway (graduation) and Darryl Stonum (dismissal). It's a good bet either freshman Amarah Darboh (my pick) or Jehu Chesson sees time.
Ditto for tight end, where Michigan has lost starters Kevin Koger and Steve Watson. Complicating matters is the position was not highly valued in recruiting under Rich Rodriguez, so the roster is barren here. Expect to see at least A.J. Williams play as a blocking tight end, and perhaps Devin Funchess as well as a pass-catcher.
And who is going to take Stonum's spot at kick returner? It could be a returner such as Vincent Smith (although he struggled there last year) or Countess or Jeremy Gallon, but coach Brady Hoke hinted in the spring that freshman speedster Dennis Norfleet could be a factor here -- and in fact, might have been brought in for that very purpose.
Prediction: That's six freshmen who have obvious places on the field, and that doesn't account for any of the three early enrollees who were on campus this spring -- it would be unsurprising if one cracked the lineup, especially linebacker Joe Bolden -- nor injuries, which are always part of the game. Take the over.
----
Nick Baumgardner: Hoke proved last season he really isn't afraid of burning redshirts if kids can actually play right away.
Michigan probably could have survived without giving a few carries here and there to Rawls, it could have likely gotten by without the help of Taylor at corner and it certainly would have been fine if Hoke opted to preserve Hollowell's redshirt.
But, those guys proved enough to Hoke on the practice field to warrant playing time, so they played.
We can't completely predict who comes out of nowhere to catch Hoke's eye, but we can predict need.
Michigan will likely need help on defensive line, and Pipkins appears ready to play. Wide receiver is thin, so I could make the argument you'll see Darboh or Chesson -- but not both.
Tight end is a weak spot, too, so Michigan may go with either Williams (perhaps more likely for blocking purposes) or Funchess. But again, not both. Three.
Kalis? Well, in a perfect world, Michigan redshirts him. Offensive linemen rarely play as true rookies unless absolutely necessary. Remember, Jake Long redshirted. But, I think Michigan will likely need help up front -- and all early returns say Kalis could give it to them. Four.
And then there are the early enrollees -- Jarrod Wilson, Joe Bolden and Kaleb Ringer. I really have a hard time seeing Michigan getting into desperation mode in the defensive backfield, no matter how good Wilson is. The Wolverines bring back everything in the secondary.
At linebacker? Again, I could see one playing (Bolden or Ringer), but really not both. That'd seem like a waste.
Prediction: Hoke isn't afraid to play freshmen, but he's likely not going to be wasteful, either. He played a ton of young talent last season that only developed as the year went on. That talent figures to develop this season, leading me to believe you'll see a bit (not a lot) less true freshmen action in 2012. I'll go under.