Posted on
Wed, Jul 18, 2012 : 5:59 a.m.
Michigan football over-under: Will the Wolverines scale back their 6 uniform combos from last season?
By Nick Baumgardner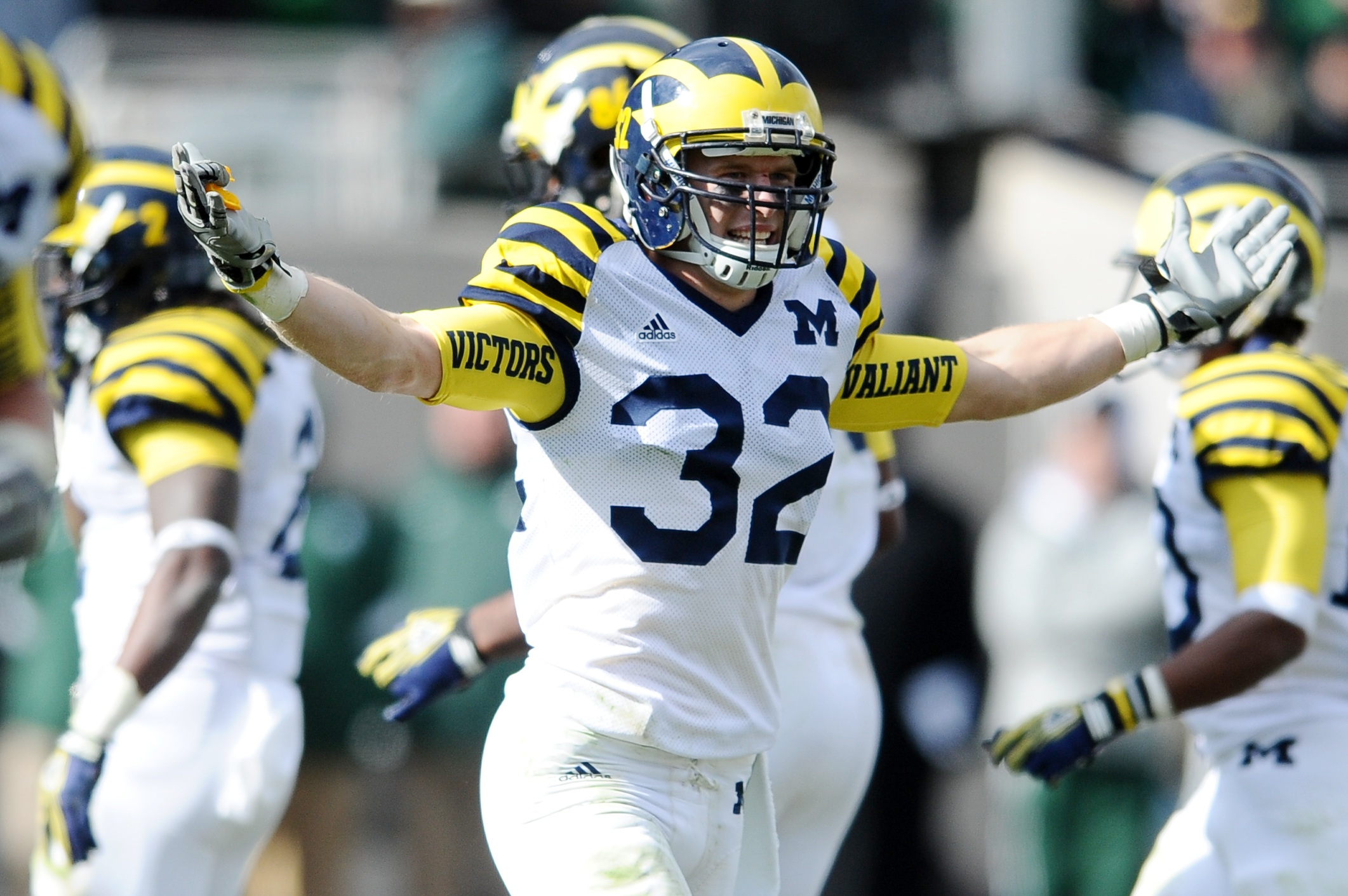 AnnArbor.com file photo
It's often been said that the
Michigan football
program's winged helmet stands as one of the iconic symbols of college football.
And while the Wolverines aren't likely to change the design of their beloved helmet (well, not really anyway), what they wear below it has spurred quite a bit of debate.
Some fans hate it, others love it -- but no matter what side of the fence one sat on in 2011, the topic of Michigan's football uniforms never seemed to cool off.
Technically, the Wolverines wore six different helmet and uniform combinations last season.
There was the traditional home uniform/helmet duo against Western Michigan, Eastern Michigan and San Diego State. The "Under the Lights" legacy jerseys against Notre Dame, the road legacy jerseys at Michigan State and the special Sugar Bowl version of the ensemble against Virginia Tech.
Additionally, Michigan wore its traditional home and road jerseys during Big Ten play, but did so with individual numbers on the helmet.
Six combinations in 13 games? That's obviously quite a bit.
Michigan Football Over-Under
Athletic director Dave Brandon says more alternate uniforms
could be on the way next season, but how many?
Let the wardrobe argument begin.
Over/under: Michigan will wear 4.5 different uniform combinations in 2012

Kyle Meinke: Brandon already said he has some alternate uniforms in the works for next season, but also seemed to express regret for the way the Michigan State look was unveiled -- i.e., as a total surprise, even to the players, who had their routine disrupted by the wardrobe change minutes before kickoff.
He also said the Wolverines' six unique combinations might have been a bit much. Expect to see that scaled back slightly.
But you will see some alternate looks, that much is certain, especially after the UTL jerseys became a megahit. Lord knows how much money the department has made of those things. And, as much as Michigan likes to talk about the alternate jerseys being good for recruiting and how much the players like them -- both of which are true, according to players -- revenue certainly is a fixture in these decisions.
There will be the standard home and away looks, and there's a good chance there will be an alternate jersey for the bowl game. When I asked Brandon if Michigan would wear a special jersey against Alabama, he didn't confirm it, but also didn't deny it. I'm betting Michigan rolls out something special for that one as well.
Prediction: That's four looks -- and I'm betting that's it. The wild card would be against Michigan State, but after last year's fiasco, I'm guessing Michigan plays that one safe. Take the under.
----
Nick Baumgardner: Michigan will wear its traditional home and road jerseys, and since the helmet numbers were prevalent this spring -- and have been featured in literature to recruits -- it's a safe bet they aren't going anywhere. So, that's two combos.
I'd also be surprised if Michigan doesn't tinker it's jersey combination against Notre Dame this season, a game that's basically the mirror of last season's "Under the Lights" event, but in South Bend. There's three.
As far as a bowl game combination goes? I'd put money on that being different, too. Because, well, it would make an inordinate amount of money in merchandise sales. Four.
My gut says Michigan will keep it traditional against Michigan State this season, but what about the first meeting with Urban Meyer at Ohio State? Or a night game at Nebraska?
There's too many chances to change things up, and I'm not sure if Michigan will be able to pass them all up.
Prediction: Players love this stuff. No matter what they say publicly, they love it. There's nothing wrong with Michigan's iconic look, but variety is -- and always will be -- the spice of life.
Additionally, every time Michigan wears a different jersey -- it makes money. Brandon says that's not the sole reason for changing things up, but it's certainly not a non-factor either. In 2012, I'm taking the over.