Posted on
Mon, Jul 16, 2012 : 5:59 a.m.
Michigan football over-under: How much time will Devin Gardner see at wide receiver?
By Nick Baumgardner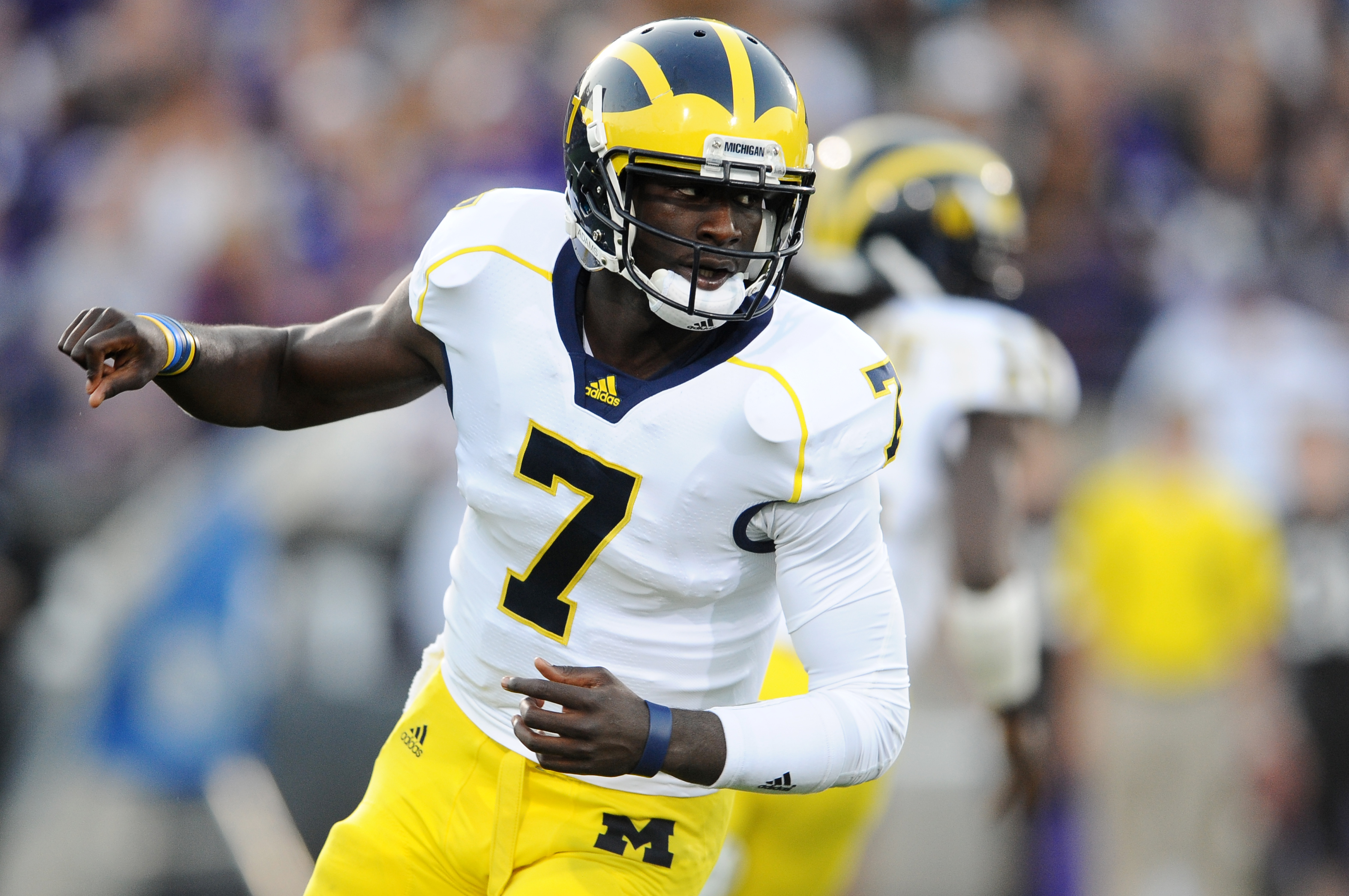 Melanie Maxwell | AnnArbor.com
It was the worst kept secret in Ann Arbor this spring.
After tinkering with different formation packages at quarterback last season, Michigan football junior Devin Gardner spent a portion of spring drills working out at wide receiver.
Brady Hoke and the coaching staff refused to comment on the matter, saying Gardner was Michigan's backup quarterback first and foremost.
But the receiver rumors never went away. Sources confirmed the situation, and the national media ran with the story as well.
Gardner didn't line up at wide receiver during the spring game, but that doesn't mean the seed hasn't been planted.
He's worked on pass catching and route running, but will it actually be put to use?
Will the 6-foot-4 Gardner begin a transition to receiver this season, or will he only be used in special circumstances.
Or, will he simply stay at quarterback?
We discuss.
Michigan Football Over-Under
Over-under: Devin Gardner will catch 15 passes next season.

Kyle Meinke: This is an interesting debate, notably because we're not talking about whether Gardner will play receiver, but how much. And that's where the discussion should be, after Gardner's spring audition at receiver, which included reps with the first-unit wideouts.
But 15 catches? For him to get to that threshold, he likely would have to be a regular component of the Wolverines' passing game. For example, starter Roy Roundtree was Michigan's third-leading receiver last year at 19 catches.
Gardner, I think, will be used in the passing game, but more so as a varied look for defenses. Something extra for them to think about. And it will keep Gardner involved in the game, while employing his athleticism instead of letting it waste on the bench.
But is he really going to be used in the passing game as much as Roundtree was last year? It could happen -- it really could, considering his powerful 6-foot-4, 205-pound build -- but it is more likely he remains a secondary option of the passing game while maintaining his role as Denard Robinson's backup.
Robinson has made every start of the past two seasons, but has frequently left games with injury because of his pronounced role in the running game. Unless third-stringer Russell Bellomy develops into a viable backup option, Gardner will have to remain ready to take the reins at quarterback, as he so often did last year.
Prediction: Here's guessing Gardner plays some receiver against Alabama, and in a majority of the games after that. He'll catch passes, I'm convinced. But Michigan's run-heavy offense, and Robinson's injury history, suggest Gardner's foray at receiver will be just a small part of his overall game. Take the under.
-----
Nick Baumgardner
: This was the most interesting rumor/fact of spring camp, and really, the entire offseason.
On paper, this all makes sense. Gardner is 6-foot-4, 205 pounds and can move. He's arguably the best athlete on the team not named Denard Robinson, and he spends 95 percent of most games holding a clipboard.
In other words: his talents are generally wasted.
Michigan's top two wide receivers (Roundtree and Jeremy Gallon) are 6-foot and 5-foot-8. Jerald Robinson is 6-foot-1, but he has as many career catches (zero) as Gardner. Drew Dileo has amazing hands, but he's physically limited as well. Amara Darboh has size, but he's a true freshman. You see where this is going.
Switching from quarterback to wide receiver isn't as easy as it sounds, it takes time -- a lot of time. Some of the more successful transitioned players need at least one year of game time to fully adapt. However, Michigan loses nothing for at least trying this.
Gardner could be a serious threat in the red zone, and everywhere else on the field, for that matter. His size and speed would be a nightmare matchup for smallish corners, and he could be a difference maker at a rather thin position.
And, let's not forget that Gardner has his own issues at quarterback as well. He shares most of Robinson's passing flaws, and Bellomy seems to be a player who could adequately hold down a No. 2 spot in Al Borges' offense.
Prediction: It makes sense for Michigan to let Gardner give this a shot until it works, or doesn't work. If he can't make the switch smoothly, it's nothing ventured, nothing lost and they go back to the drawing board with alternate formations.
If it does work, though, it gives him an opportunity to get on the field early and often while making a serious difference. If he's playing wide receiver, he won't be a decoy. There's no sense in hiding this, because the secret's out.
I think Michigan gets serious about this transition early in the season. And I think it'll work. In 2012, I'll take the over.