Posted on
Thu, Jul 12, 2012 : 5:59 a.m.
Michigan football over-under: Will the Wolverines' defense be as stout in 2012?
By Nick Baumgardner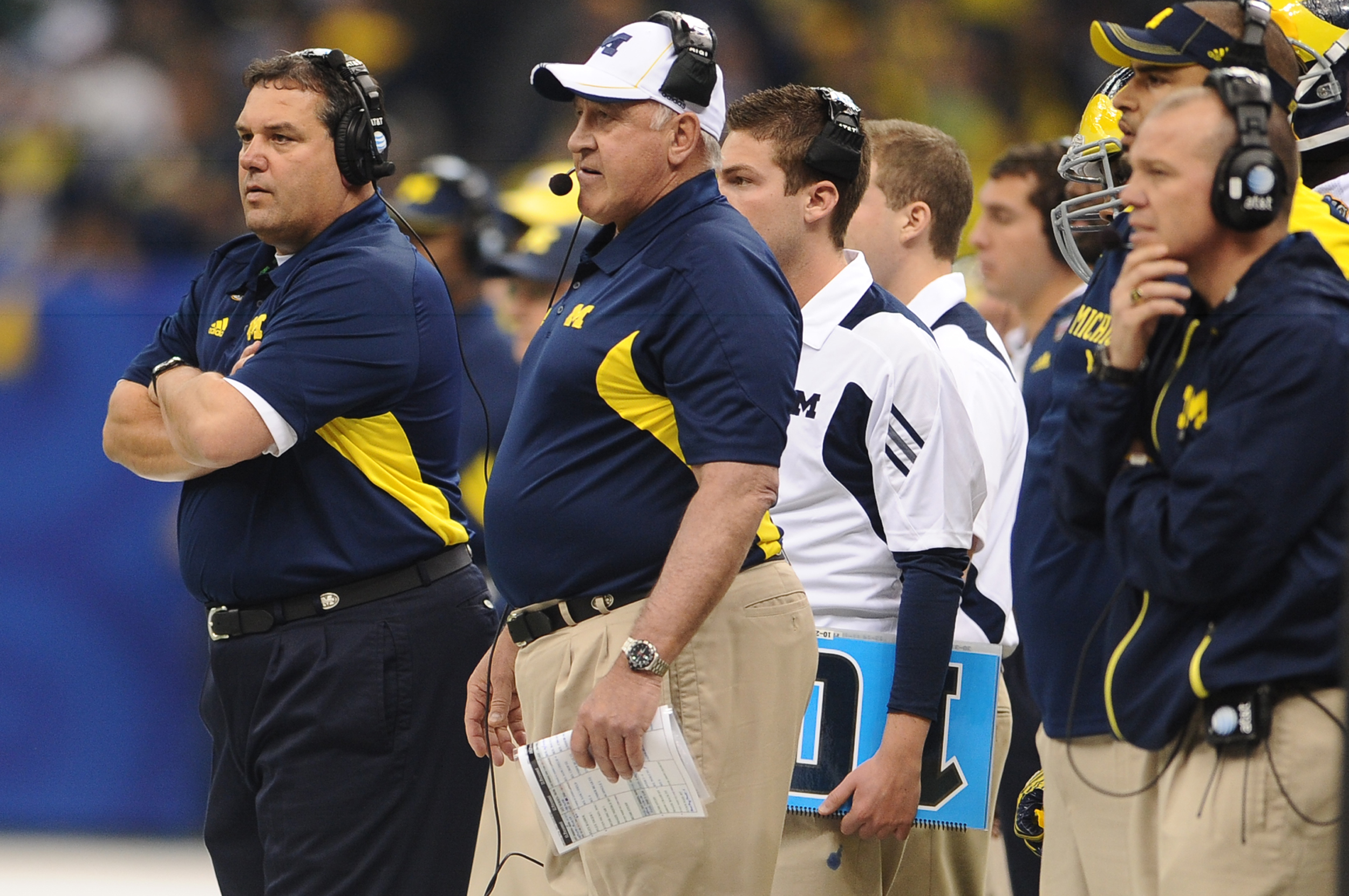 Melanie Maxwell | AnnArbor.com
What, exactly, did the
Michigan football
defense do last season?
Numerically speaking, the Wolverines' one-year defensive transformation was borderline stupefying.
From 2010 to 2011, Michigan cut its points per game allowed in half, gave up 1,672 fewer yards, recovered 13 more fumbles, added seven more sacks and allowed 30 -- yes, 30 -- fewer touchdowns.
So, Greg Mattison, about that encore?
It's probably not fair (or sane) to expect Mattison to get the same level of improvement from his defense in every category, but in terms of the bottom line, can Michigan maintain its pace from 2011?
The Wolverines had the sixth-best scoring defense in America last season at 17.3 points per game allowed. Mattison isn't a fan of many stats, but he obviously pays close attention to the numbers on the scoreboard.
Michigan has plenty of holes to fill up front with the losses of Mike Martin and Ryan Van Bergen, but the Wolverines do return a solid core group of linebackers and basically their entire defensive backfield rotation.
Can the Wolverines maintain their stingy habits?

Over/under: Michigan will allow 17 points per game

Kyle Meinke: One of my lasting impressions from last season was talking to defensive coordinator Greg Mattison in the carport of Memorial Stadium minutes after his defense carried the Wolverines to a win at Illinois. He got choked up talking about how his unit had finally turned a corner -- and it had.
Thing is, that performance didn't arrive until the 10th week of the season, and it was delivered only then because of the strength of the defensive line. That line, incidentally, has been decimated by turnover.
Stalwarts Martin and Van Bergen are in the NFL, and Will Heininger has swapped his winged helmet for a business suit in Chicago. That leaves end Craig Roh as the lone returning starter, and even he is switching spots, sliding from weak to strong side.
Michigan Football Over-Under
This is part of a 14-day series featuring 2012 Michigan football-related debate from AnnArbor.com sports writers Kyle Meinke and Nick Baumgardner.
Wednesday: Can the Michigan offense maintain its production?

Thursday: Can the Michigan defense be as stout in 2012?

Friday: How many wins will Michigan collect away from home?

So, who takes over for the departed? Likely an underwhelming senior at one tackle (Will Campbell), a 260-pound former end at the other tackle (Jibreel Black) and either an unproven sophomore (Frank Clark) or converted linebacker (Brennen Beyer) at weak-side end. The key reserve could be a true freshman (Ondre Pipkins).
Those five combine for one career start.
Sure, Michigan returns every starter in its back seven. Thing is, though, the Wolverines' defense didn't get good last year until the line came around, no matter how well the secondary played. Mattison's 4-3 defense hinges on the productivity of the line -- he has said so himself.
And when you have a career bust (Campbell) replacing one of the team's best defensive linemen in a decade (Martin), with similar questions elsewhere, a regression is to be expected.
That's not even taking into account Michigan's brutal schedule. It won't face many truly prolific offenses, but it does play a Big Ten-high six games on the road. Last year, it allowed 14.5 points per game at home and 22.0 on the road. This isn't breaking new ground, but it's tough to play on the road in the Big Ten.
Prediction: Mattison and coach Brady Hoke have shown a marvelous ability to coach defense, and defensive line, and it won't be surprising to see the unit make major growths throughout the season. But a swiss-cheese line means there will be growing pains along the way, which will preclude the Wolverines from again fielding the nation's sixth-best scoring defense. Take the over.
----
Nick Baumgardner
: There are several uncertainties up front for the Michigan defense, to be sure. Martin is gone, so is Van Bergen and so is Heininger. Michigan will have to get production from the likes of Campbell, Black,
Richard Ash, Quinton Washington
and possibly even
Ondre Pipkins
up front -- but that's far from an impossible task. They're not proven commodities, but -- outside of Martin -- was anyone else when last season began?
Mattison raved about Craig Roh's move to strong side end, something he feels will open up a wide range of possibilities for new athletic weak side ends Brennen Beyer and Frank Clark.
At linebacker, Michigan brings all of its weapons back. In the secondary, everything's back -- and everything's a year older.
And, perhaps most importantly, Mattison's defense seemed to be at its best last season when its back was against the wall. Teams made 41 trips into the red zone last season against Michigan, and came away with a touchdown just 21 times. In total, the Wolverines were able to hold opposing red zone drives to zero points on 13 occasions.
Mattison's motto of "give us a place to stand," was a battle cry for last season's unit -- and will be driven home even more in 2012, as his returners will clearly be more familiar with his schemes and tendencies.
Prediction: Michigan won't face any offensive juggernauts in 2012, even with its brutal schedule. The Wolverines under Brady Hoke are defense first, all the time. And under Mattison, the bend but don't break philosophy seems to work.
This absolutely won't be an easy task, as the bar's been set high. But, hey, no one thought this unit would do the things it did a year ago. It might be a stretch, but I'm in a stretching mood -- I'll take the under.