Posted on
Fri, Jun 3, 2011 : 9:32 a.m.
Michigan football player Darryl Stonum pleads guilty in drunken-driving case
By Lee Higgins
Michigan wide receiver Darryl Stonum pleaded guilty this morning in 15th District Court in Ann Arbor to operating while visibly impaired second offense.
Stonum, 21, who has been suspended from the team, reached a plea agreement with prosecutors that calls for a charge of driving with a suspended license to be dismissed.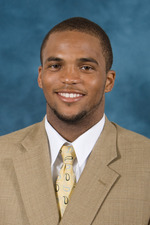 Stonum was arrested at 2:25 a.m. May 6 by University of Michigan police after a traffic stop on State Street.
He said in court this morning that a breath test at the police station revealed he had a blood-alcohol level of .11. Another test showed he had a blood-alcohol level of .13, he said.
In Michigan, it's illegal to drive with a blood-alcohol level of .08 or higher.
Stonum, who is from Stafford, Texas, and entering his senior year, is scheduled to return to court next Friday.
It's not the first time he's been in legal trouble. In September 2008, during his freshman year, police charged him with operating a vehicle while visibly impaired, and he was subsequently jailed for three nights in July 2010 for multiple probation violations.
Stonum has been out on a $500 personal recognizance bond in the most recent case and is required to submit to a breath test each day by 8:30 a.m. at the University of Michigan Department of Public Safety.
He is facing up to a year in jail when he is sentenced.
Michigan football coach Brady Hoke suspended Stonum after the arrest and released a statement that said Stonum must "fulfill all his commitments he has to the legal system and our program" before being considered for reinstatement.
"Darryl made a poor decision that is unacceptable and won't be tolerated," Hoke said in the statement. "This is a serious situation. We are disappointed and any athletic department discipline will be handled internally. We will provide the appropriate support and counseling in order for him to learn and grow from this mistake."
Lee Higgins is a reporter for AnnArbor.com. He can be reached by phone at (734) 623-2527 and email at leehiggins@annarbor.com.