Posted on
Mon, Oct 24, 2011 : 5:50 p.m.
Michigan football players say proposal to add $2,000 to NCAA Division I scholarships is 'a good idea'
By Nick Baumgardner
NCAA president Mark Emmert backed a proposal Monday to allow athletic conferences the option of giving student-athletes an additional $2,000 of scholarship money to deal with external costs of being a college student.
Currently, scholarship athletes receive money to for tuition, university fees, room, board and books. But nothing for additional living expenses.
That's something Michigan senior center David Molk says needs to change.
"If you're basing your living just off that scholarship stipend we get, you're living thin," he said. "You're living really thin and, frankly, you're living in poverty, if you consider it with the rest of America.
"So, I think (the proposal) is great."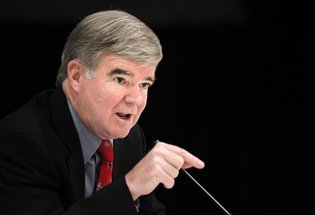 Associated Press
Emmert said Monday that the proposal will be finalized this week, and he'll request support on the venture from the NCAA Division I Board of Directors.
He explained the initiative wouldn't be mandatory for anyone, but would be an option to further help student-athletes pay for life outside of their scholarship restrictions.
According to a recent Forbes.com article, Division I athletic scholarships do not cover parking permits, transportation, course fees for classes requiring additional fees, laundry, food or rent payments exceeding the normal "room and board" level.
Molk said he's seen plenty of players struggled to pay for additional living costs during their time on scholarship, saying some players take out loans to get through their bills, as they have virtually no time to obtain a part-time job outside of school and football.
"There's a lot of guys who come from absolutely nothing," he said. "They didn't have their parents backing them for extra expenses. They need that extra money."
Michigan senior defensive lineman Ryan Van Bergen echoed Molk's statements.
"That'd be a good idea," Van Bergen said. "College athletics is an entity that brings a lot of revenue in. I'm not an economics major or anything like that, but it'd help make guys a little more comfortable throughout college.
"We're not struggling by any means, but we are college students. We come out of here and we're not in the black. … But that's decisions that are left up to the guys in power, and when it comes down to it, I think they'll make the right decision."
In August, Michigan athletic director Dave Brandon called the idea of outwardly paying student-athletes for their contributions on the playing field "absurd," explaining that the average student-athlete has no commerciality.
However, Brandon said the idea of allowing an additional cost of living stipend, something similar to the proposal Emmert is backing, seems "fair."
Nick Baumgardner covers Michigan sports for AnnArbor.com. He can be reached at 734-623-2514, by email at nickbaumgardner@annarbor.com and followed on Twitter @nickbaumgardner.