Posted on
Tue, Nov 9, 2010 : 10:03 a.m.
Michigan football players see the violent hits and hope it never happens to them
By Michael Rothstein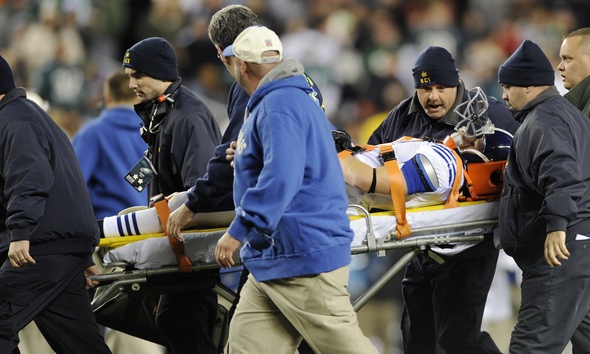 AP Photo | Michael Perez
When Darryl Stonum sees the hits on television, he starts to pray. He prays for the injured player on the ground. And he prays that it never, ever happens to him.
Stonum, a wide receiver on the Michigan football team, knows going over the middle has its danger points -- perhaps none more than being leveled on a blindside hit by one or two defenders.
"I know how it is to be defenseless in the air, or not even looking and knowing it's coming," Stonum said. "I just pray for the best for those guys and that it never happens to me. And that, if it does, that I'm healthy enough to get up from it."
While Stonum has never experienced a hit that violent, he knows he's come close. Against Iowa last month, he ran a slant over the middle. As he caught the ball, he felt a defender closing in on him.
Immediately, Stonum tried to protect himself. The defender was a little off on his approach, so Stonum ended up bouncing off the defender instead of being crushed by him.
But it is something every receiver, every player recognizes. Violence in football happens. Sometimes players forget and take health for granted. Then they see Indianapolis Colts receiver Austin Collie carted off barely moving on a board. Or DeSean Jackson get annihilated by a defender.
"Me and my roommate, Dave (Molk), were talking about this and it's just a sad realization that the sport we play is dangerous," defensive end Ryan Van Bergen said. "You don't really think about it all the time, but when you watch somebody get strapped to a board and carried off on a stretcher, you just kind of realize how physical this game can be."
Being a lineman, Van Bergen isn't as exposed to those violent high-speed hits as Stonum or other skill players. Yet he wonders why receivers get sent over the middle so much during the course of a game. Or why an offensive coordinator would call for an over-the-middle slant or post route against certain defensive packages.
"You see this happening, I used to play free safety when I was really, really little and you're coached to try and knock the ball out of the receiver's hands. That's one of the first things you learn, try to get the ball out," Van Bergen said. "You know they are coached to do that so the new rule, it's not going to be like all of a sudden 'Okay, the fundamentals have changed for safety.'"
The NFL has already begun instituting new rules penalizing helmet-to-helmet and other violent hits against defenders.
Michigan coach Rich Rodriguez has long preached football needs to go further. Penalize offensive players who lead with their head, as well. It's part safety and part protection.
Rodriguez coaches his players to always keep heads up and never to lead with the helmet.
"We don't want you to ever put your head down," Rodriguez said. "Now, lowering your shoulder is different than lowering your head. But to say 'Put your head down and run over somebody,' you'll never hear us say 'put your head down.'"
Rodriguez, who said he hasn't watched a full NFL game since Michigan's season started, but often sees highlights. He thinks the NFL is on the right track by taking more safety precautions.
When he sees a violent hit, as a coach, he automatically thinks to something else.
"The hardest thing you think about is ... his family. You know their families are watching," Rodriguez said. "If you ask any spouse or mom, 'I just hope my son doesn't get hurt.'
"So that's what you think of. You hope the family will be okay."
Even though players don't think about it often while they are on the field -- and Van Bergen and Stonum both said they have never had a teammate suffer a hit like Collie or Jackson -- they agree on one thing.
They never want it to happen to them.
"What goes through your mind is that I would never want to take a hit like that," offensive lineman Patrick Omameh said. "But at the same time, it was a strong play by the defensive player. It's kind of seeing it on both sides.
"But it's hard to watch at times. It's hard to watch."
Michael Rothstein covers University of Michigan basketball for AnnArbor.com. He can be reached at (734) 623-2558, by e-mail at michaelrothstein@annarbor.com or follow along on Twitter @mikerothstein