Posted on
Sat, May 15, 2010 : 2:55 p.m.
Michigan football players unite to support 2 worthwhile golf outings
By Dave Birkett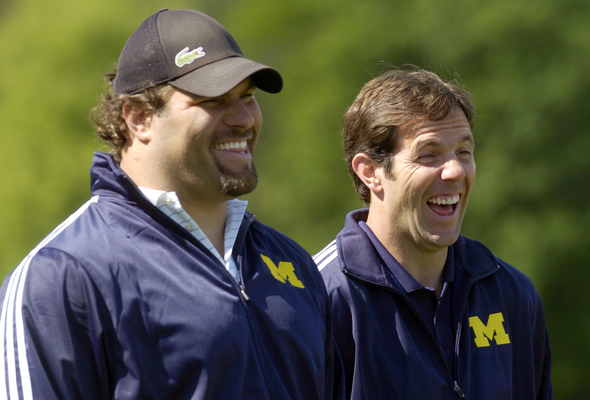 In the four years since Brian Griese and Steve Hutchinson hosted their first star-studded celebrity golf tournament, Champions For Children's Hearts has grown into a fund-raising weekend the envy of most of its peers.
Charles Woodson joined his former Michigan football teammates as a tournament co-chair this year. More than 40 other former Wolverine football players, coaches and celebrities are expected at a gala dinner tonight, and the weekend began Friday with a 12-hour radio-thon that raised more than $66,000.
"It's become a reunion of Michigan football for us, but to do it with a sense of purpose is what really excites all of us and brings us back year after year," Griese said Friday during the Mott Takeover on WTKA 1050-AM. "It's about so much more than a golf tournament. Now it's about really teaming up to make a difference in a place that's making a difference in kids' lives. That's why all of these guys are coming back."
In its first three years, the event raised more than $1.2 million for construction of a new Mott Children's Hospital and the Michigan Congenital Heart Center. Griese said he hopes to have a "million-dollar weekend" this year.
Saturday's gala includes live and silent auctions for items like a golf weekend with former Michigan coach Lloyd Carr at Kinloch Golf Club in Virginia; four tickets to Super Bowl XLV and a pre-party with former Wolverines Rob Sweat, Drew Henson, Anthony Thomas and Remy Hamilton; and a Green Bay Packers experience with Woodson.
"What I want to avoid is people thinking that we're just building a hospital with this tournament and helping to build a hospital, which we're not," Griese said. "We're helping to develop Michigan and Mott Hospital nationally, but also to create different therapies, different innovation around the research, and helping kids with different cause. And the Congenital Heart Center is a part of that."
Woodson, who donated $2 million to the hospital last year, said he decided to take a more active role in sponsoring the event because of the experiences he had visiting patients at Mott during his playing days at Michigan.
Michigan athletes have made Mott trips part of their community service since the days of Bo Schembechler.
"I've been to the hospital on numerous occasions and I don't think initially I really got it," Woodson said during the radio-thon. "It took a few times to go there and to really visit with the kids and to really understand just exactly what was going on.
"I tell the story of just kind of getting over myself and understanding the fight that they were up against, and not worrying about how I felt when I was at the hospital and the uneasy feeling that I felt while I was there, and getting to a point where I felt like maybe I could be some help to the hospital and maybe I could do something. That's how it kind of happened to me, getting over myself and saying, 'Man, I can do something and I have a voice and there's recognition there for my name and who I am and what I've done that I can draw some more people to the hospital, try to help them understand what we're fighting for, what these kids are fighting against.' It's just been a great experience for me."
Along with Griese, Hutchinson and Woodson, three of the stars of Michigan's 1997 national championship team, former Wolverines Braylon Edwards, Jake Long, Mike Hart and Jeff Backus and current Michigan coach Rich Rodriguez are expected to golf on Sunday.
Monday golf anyone? Champions For Children's Hearts isn't the only worthwhile golf tournament going on at Michigan's course the next few days.
Former Michigan quarterback Rich Hewlett is hosting the second hopefully annual Swing to Cure Diabetes golf outing at 11 a.m. Monday. Proceeds go to the Juvenile Diabetes Research Foundation and the University of Michigan Comprehensive Diabetes Center.
Hewlett has championed the cause for years, ever since his 15-year-old son Jeffrey, a sophomore at Northville High, was diagnosed with juvenile diabetes at the age of 4.
"When he was diagnosed, my wife and I made a commitment to ourselves and to him that we would do everything possible to try and find a cure for the disease, and we're trying to raise money to find a cure," Hewlett said. "We've been very active in the JDRF walks to cure diabetes. We were really focusing our attention on those walks when JDRF said is there another way you can help out, maybe you team up with U-M?
"We're trying to make that a point of focus right now. Our commitment to him is just, as parents, to see what we can do to help him and really help everybody. Help all these kids."
Hewlett said he won't have nearly as star-studded a field as the Griese-Hutchinson-Woodson outing, though Carr is expected to attend and Doug James and Jeff Cohen are among those playing.
Still, registration remains open for anyone interested in playing. Visit swingtocurediabetes.com for more information.
Dave Birkett covers University of Michigan football for AnnArbor.com. He can be reached by phone at 734-623-2552 or by e-mail at davidbirkett@annarbor.com. Follow him on Twitter @davebirkett.