Posted on
Tue, May 29, 2012 : 6:26 p.m.
Death threats part of 'just sick' reaction to Michigan recruit Logan Tuley-Tillman burning OSU letter
By Kyle Meinke
Logan Tuley-Tillman knew he probably would hear from some Ohio State fans when he tweeted a photo of himself burning mail sent by the Buckeyes.
But he didn't expect national media exposure, and he certainly didn't expect death threats.
That's exactly what he got.
"I got threats coming at me from everywhere -- death threats," the Michigan football recruit said by phone Tuesday. "I got somebody telling me he wants me to burn in hell. I got somebody talking about the Holocaust.
"Why, 'cause I burned your team's envelope? Stuff like that I don't understand. I'm only 17. It takes a lot of emotion for someone to do that, just over an affiliation to a school.
"But you know what? God bless 'em. I'm moving on."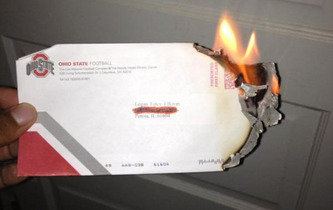 from Twitter
Tuley-Tillman is an elite offensive lineman from Peoria, Ill. He is ranked the country's No. 13 tackle according to Rivals, and No. 16 according to Scout.
He's considered one of the best players in the state of Illinois. He held an Ohio State offer.
He chose Michigan -- and isn't afraid to say so.
Tuley-Tillman has been active on Twitter, particularly when it comes to voicing his passion for Michigan football. In that regard, his tweet wasn't really out of character.
He receives a lot of literature from schools, even after his commitment to the Wolverines -- that's normal for big-time prospects -- but decided to burn the Ohio State mailing after fellow Michigan recruit Mike McCray received an offer from the Buckeyes on Friday.
Then the vitriol started rolling in.
Tuley-Tillman estimates he received hate messages from about 75 profiles on Twitter. He received death threats from a handful, as first reported by Yahoo! Sports.
The worst of it, Tuley-Tillman said, came from user @SloppyJ4: "I hope the only thing that burns harder than a Jew in the holocaust is @LoganTillman in hell."
"It's just sick," said Tuley-Tillman. "I try not to look at it. I'm used to hearing (trash talk) from Ohio State fans. I normally just ignore it.
"But this, I'll use as motivation."
He said his mother also has been harassed by Ohio State fans, including on Facebook. He is particularly sensitive to those remarks because it has been only about two weeks since his mother heard gunshots near their Peoria home.
She walked toward the noise, and discovered a dead body with two bullet holes in the head. The victim's brother was standing nearby.
"You know what? She's such strong lady, it just makes me angry people would harass her," Tuley-Tillman said. "She was pretty upset, because she was so proud of me throughout this process, and when I committed to Michigan.
"It just adds more fire to what I want to get accomplished -- more to how I want to get my point across playing against Ohio.'
Tuley-Tillman said he doesn't like the rough nature of Peoria, and he hopes to transfer to a Michigan high school.
"It just resonated with me that it was time to make a change," he said.
Tuley-Tillman has looked seriously into enrolling at Detroit Cass Tech, a football power, as well as Saline and Pioneer high schools. He said he hopes to know within a couple months where he will attend school for the fall semester.
He intends to graduate in December and enroll a semester early at Michigan.
Meantime, Tuley-Tillman is getting up at 5 a.m. during the week to go on runs before school, then lifting weights twice a day after classes. His 6-foot-7 frame has trimmed out to about 308 pounds, after being listed as high as 325 pounds on recruiting websites.
An injured shoulder has prevented Tuley-Tillman from participating fully on the camp circuit this summer, but he says the injury is almost fully healed. It won't affect his final high school season.
Kyle Meinke covers Michigan football for AnnArbor.com. He can be reached at 734-623-2588, by email at kylemeinke@annarbor.com and followed on Twitter @kmeinke.