Posted on
Tue, Feb 1, 2011 : 2:06 p.m.
Better than Mark Ingram? Thomas Rawls' high school coach thinks so
By Rich Rezler
Coach Fred Jackson says recent Michigan commitment Thomas Rawls is a better high school running back than Heisman Trophy winner Mark Ingram.
No, not Michigan running backs coach Fred Jackson. He's not allowed to comment on recruits until they sign a national letter of intent on Wednesday.
That comparison was made by Fred Jackson, the son of the veteran Michigan coach and Rawls' coach at Flint Northern High School.
So, sure, the younger Jackson is pretty biased when it comes to ranking the Flint products. Ingram won the 2009 Heisman Trophy at Alabama two years after playing at Flint Southwestern.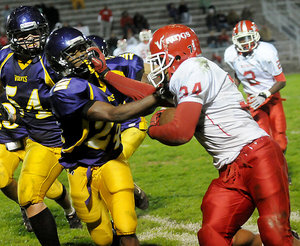 The Bay City Times
"Honestly, I did get a chance to watch Mark Ingram a few times," Jackson
told The Flint Journal
. "Mark is probably one of the best guys ever to come through here. Mark was great, but there's something about this kid Thomas. If I was to compare them as high school backs, give me Thomas Rawls."
Michigan's Fred Jackson must have liked what he saw, too, since he was Rawls' primary recruiter.
Rawls made his Michigan commitment official during a press conference at his high school on Tuesday afternoon. He had planned to announce on Wednesday, the first day recruits can sign official letters of intent, but tonight's expected winter storm pushed his timeline up.
Comparisons aside, Rawls did break Ingram's single-game rushing record by a Flint player when he gained 396 yards at Bay City Central last season. He finished with 1,585 yards and 19 touchdowns on 150 carries despite being limited by injuries. The Journal said he played the equivalent of six full games.
According to Rivals.com, Rawls' only scholarship offers came from Central Michigan, Cincinnati and Toledo before Michigan got involved in the mix.
The lack of scholarship offers likely had to do with Rawls' academic standing and his stated desire to play at Michigan. The Wolverines did not offer a scholarship until he became academically qualified late in the recruiting process. Once they offered during his official visit over the weekend, Rawls accepted.
RELATED CONTENT
A three-star prospect according to Rivals.com, Rawls (5-10, 214 pounds) is ranked No. 20 on the recruiting site's list of top players in the state of Michigan.
Michigan's other in-state commitments include Grand Blanc running back Justice Hayes (No. 4), Plymouth defensive end Brennan Beyer (No. 5), Highland Park athlete Raymon Taylor (No. 6), Detroit Cass Tech defensive back Delonte Hollowell (No. 7) and Holland West Ottawa linebacker Desmond Morgan (No. 26).
Hayes is the only other running back in the class to date, but the current Michigan roster is deep. The team's top five backs - Vincent Smith, Michael Shaw, Stephen Hopkins, Fitzgerald Toussaint and Michael Cox - all return from last season.