Posted on
Tue, Feb 14, 2012 : 5:59 a.m.
Renewed emphasis on 'backyard' helps Michigan flip in-state football recruiting battle with Michigan State
By Kyle Meinke
There was a time when Michigan State football coach Mark Dantonio had his pick of in-state talent as his biggest rival for local recruits, Michigan coach Rich Rodriguez, headed elsewhere to find prospects who fit his unique system.
So the Spartans stockpiled homegrown talent, then turned in a pair of 11-win seasons -- and beat Michigan four consecutive times along the way.
But those days appear to be coming to a close.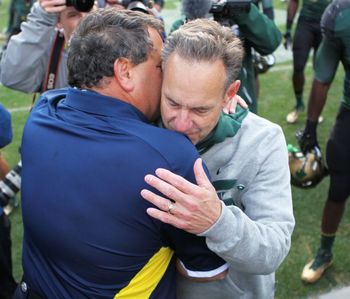 Jeff Sainlar I AnnArbor.com
When Brady Hoke was hired as Michigan's coach 13 months ago, he immediately proclaimed a renewed emphasis on Midwest recruiting, starting here in Michigan and also Ohio. His first class illustrates just how successful that philosophy can be.
Hoke snatched up a combined 18 players from the two states for his 25-member class, including nine who hail from Michigan. That's the most for the Wolverines since they signed 10 a decade ago.
Overall, the class is a consensus top-10 group according to the major recruiting services.
"We're going to run into them and we're going to compete," Hoke said recently of recruiting against Dantonio and Ohio State's Urban Meyer. "I guess the best way to answer it is we really like the class we have."

Persistence pays off

Hoke's impact on in-state recruiting was felt early when Ben Braden became the first player to commit to the Wolverines for 2012. He's an offensive lineman from Rockford, a state football power located 15 miles north of Grand Rapids.
Despite coach Ralph Munger sending 16 players to Division I schools in his 20 years there, Braden is Rockford's first player to commit to Michigan since 1972.
Munger, who has known Hoke for more than 30 years, said he's seen the school make seismic leaps in its in-state presence and credibility since Hoke took over for Rodriguez.
Grand Rapids Press
"(MSU) got its foot in the door when Lloyd (Carr's) time was up, and they impacted the state quickly," Munger said. "(Rodriguez's staff) came from a completely different environment, being at West Virginia. I always sensed it was a struggle for them to gain trust, gain loyalty, because they weren't Michigan people.
"You got a guy coming in cold, man, and he doesn't know anybody in the state of Michigan."
Hoke's whipping of Michigan State isn't just in quantity of players, either. Seven of Michigan's in-state recruits rank among the state's top 10, according to Rivals. Michigan State inked two.
That's an exact flip from Rodriguez's first full recruiting cycle in 2009.
In his only two full classes in 2009-10, Rodriguez signed just three prospects who were among the state's top 10. Michigan State signed 12.
Munger, who also has a good relationship with Dantonio, said the most effective change he's seen in Michigan's recruiting is several coaches now make contact with recruits.
For example, running backs coach Fred Jackson, defensive coordinator Greg Mattison, tight ends coach Dan Ferrigno, offensive line coach Darrell Funk and Hoke each visited Rockford during Braden's recruitment.
Braden said no other staff came close to offering him that kind of attention, and it gave him a sense of comfort with the school when it came to making his decision -- even if he was making it before anyone else had yet committed to the Wolverines.
"You kind of feel like you belong there," Braden said. "It just felt like that was the place for me to go. Felt like it was the time to make the move, even if I was first. So what?"

Jackson making a difference

Besides sending waves of recruiters, Hoke made another change that appears to be netting early results: Jackson, the longtime running backs coach known for his recruiting prowess in his native Louisiana and the Deep South, has also been appointed the lead recruiter in Michigan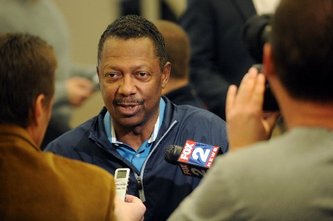 Melanie Maxwell I AnnArbor.com
"I don't think you can build a core to your football team unless you take care of your backyard," said Jackson, who also was a member of Rodriguez's staff. "To me, you've got to canvas the Midwest, like Brady did, and cherry pick everywhere else. There's enough good football players in Michigan, Ohio and Illinois to build a team.
"That's the way we used to build it when I first got here. Obviously Bo (Schembechler) knew what the hell he was doing. And then (Gary Moeller) and Lloyd (Carr), that's what they did."
It proved to be a sage move, as Jackson signed seven of the eight players he targeted in Michigan. Each also held an offer from the Spartans.
"With a school like Farmington Hills Harrison, all the kids from there (usually) go to Michigan State," Jackson said. "If I hadn't gone into that school, (defensive lineman Mario) Ojemudia and (tight end Devin) Funchess wouldn't have come here."
Farmington Hills Harrison is one of the state's great producers of college and pro talent. It also long has been a pipeline for premium recruits to Michigan State, including current NFL players Drew Stanton and Mark Dell.
RECRUITING THE STATE
Seven of the top 10 players on the
Rivals list of top state of Michigan recruits
will play at Michigan. The players and their college choices:
1.
Aaron Burbridge
(WR, Farmington Hills Harrison), Michigan State
2.
Danny O'Brien
(DT, Flint Powers), Tennessee
3.
James Ross
(LB, Orchard Lake St. Mary's), Michigan
4.
Royce Jenkins-Stone
(LB, Detroit Cass Tech), Michigan
5.
Terry Richardson
(DB, Detroit Cass Tech), Michigan
6.
Dennis Norfleet
(RB, Detroit King), Michigan
7.
Jamal Lyles
(DE, Southfield Lathrup), Michigan State
8.
Ben Braden
(OL, Rockford), Michigan
9.
Devin Funchess
(TE, Farmington Hills Harrison), Michigan
10.
Matthew Godin
(DT, Detroit Catholic Central), Michigan
Harrison coach John Herrington said the recruiting gap between Michigan State and the Wolverines became more pronounced in recent years, as Dantonio heightened his school's in-state recruiting and Rodriguez backed off his.
Rodriguez never signed a player from Harrison. The school's most recent Michigan product was Charles Stewart in 2004.
But that's changed, with the enrollment of Funchess and Ojemudia. Jackson -- whom Herrington first met about 25 years ago at a lecture series on running back play -- was their main recruiter.
"Everyone knows Fred, and he's a very down-to-earth guy who tells you how it is," Herrington said. "I think that's certainly a positive change for Michigan."
In addition to forging a new connection at Harrison, Jackson also maintained an old one at Detroit Cass Tech, which has sent several players to Ann Arbor throughout the years. This time, Jackson pulled two of the Wolverines' best prospects from there in Royce Jenkins-Stone and Terry Richardson.
Both rank among the top-five recruits in the state.
Herrington said Michigan's success simply comes down to Hoke and his staff outworking Rodriguez for in-state players, and that should pay dividends in the future for the Wolverines. It also has the residual effect of weakening Michigan State.
The Spartans are feeling the effects, too. Their class ranks 37th nationally, their worst finish since 2008 -- the year Rodriguez was hired at Michigan.
Kyle Meinke covers Michigan football for AnnArbor.com. He can be reached at 734-623-2588, by email at kylemeinke@annarbor.com and followed on Twitter @kmeinke.