Posted on
Thu, Nov 3, 2011 : 5:59 a.m.
Michigan football seniors grateful to play for more than moral victories in November
By Kyle Meinke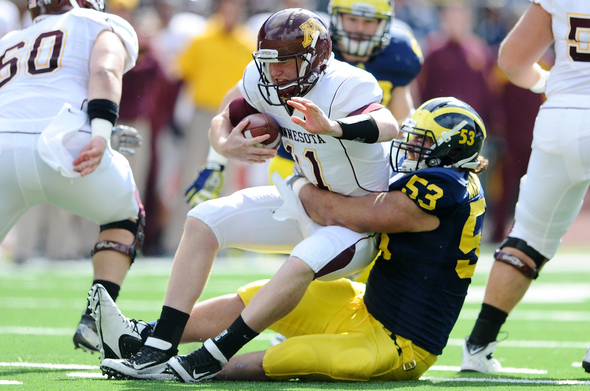 Melanie Maxwell | AnnArbor.com
November is when championships are won in the Big Ten, and the Michigan football team is germane to that discussion for the first time in a long time.
But that's not enough for these Wolverines players, who have become jaded by the meltdowns of the past two years.
The seniors were just 6-18 in Big Ten play entering this season. Now, they are preparing to play Iowa on Saturday (Noon, ESPN) in a three-way tie atop the Legends Division race.
This will be the first November game any of them have played while in first place in the Big Ten. Heck, it's the first time any of them have opened November with more than one league win.
And what does that mean?
"It means everything, and it means nothing," senior defensive lineman Ryan Van Bergen said this week. "We've gotten ourselves to this point because we've got seven wins, which matches our (high) total since we've been (here).
"But, if we stumble in these last four games, it's not going to mean anything to us. ... We want to make a statement. We want to be remembered as a team that got us back to a 10-, 11-, 12-win season."
The 13th-ranked Wolverines are 7-1 overall, their best start since 2006, and 3-1 in Big Ten play. That puts them in a three-way tie with Michigan State and Nebraska atop the division.
Michigan needs some help to qualify for the Big Ten championship game, as it lost to the Spartans three weeks ago and would lose in a tiebreaker. Making matters worse, Michigan State has the easiest remaining schedule among the division leaders. The combined record of its final four opponents is 11-22.
The odds are long for the Wolverines to play for a title, and they don't control their own destiny. That's not how players look at it, though.
Melanie Maxwell | AnnArbor.com
They're just happy to be playing for more than bragging rights.
"We feel like we're finally back at Michigan and people finally fear us again," senior safety Troy Woolfolk said. "We've got that reputation, so we just want to go out there and take it game by game to come out and try to win that Big Ten championship."
Now is when things will begin to heat up.
The Wolverines have had a fortuitous schedule so far, hitting the road only to play at Northwestern, a friendly environment for any opponent (and especially Michigan), and neighboring Michigan State. They also miss Penn State and Wisconsin completely.
This week, though, Michigan initiates its most daunting four-game stretch of the season with a difficult road game at Iowa. The Hawkeyes are unbeaten this year at Kinnick Stadium and averaging 39.2 points per game there, as opposed to 21.7 on the road.
Michigan lost 30-28 in its last game in Iowa City in 2009.
The Wolverines then will travel to Illinois next week and close with home games against Nebraska and Ohio State. The combined record of their final four opponents is an impressive 23-10.
"When you get into November, you play for championships in the Big Ten Conference," Hoke said. "That's how it's been for many years."
Well, they're actually won in December now, with the inaugural Big Ten title game being played Dec. 3 this year. But to qualify for that game, Michigan probably has to sweep its four November games — a tough task, to be sure.
The Wolverines are good enough to win each of those games, and streaky enough to lose each of them. Neither scenario is likely; both are plausible.
Either way, this week's game means something, and the Michigan seniors are grateful to be in that position.
"It gives the team more confidence to know we can still win the Big Ten championship, as opposed to the other years we were out of the race by now," senior tight end Kevin Koger said.
"My first year, it was hard bringing a lot of energy knowing we weren't going to a bowl game, and just the grind of the season — you've already played eight games and that takes a toll on your body.
"But now, you come into the building and we enjoy being there."
Kyle Meinke covers Michigan football for AnnArbor.com. He can be reached at 734-623-2588, by email at kylemeinke@annarbor.com and followed on Twitter @kmeinke.