Posted on
Mon, Dec 12, 2011 : 1:30 p.m.
Michigan football team addressing 'alarming' secondary play, preparing for potent Virginia Tech offense
By Kyle Meinke
Michigan football players have talked at length about how honored they are to play in a BCS bowl, particularly after the failure of the past three years.
But there comes a point when the team has to get to work, and that time is now.
As preparation for the team's Sugar Bowl matchup against Virginia Tech (8:30 p.m. Jan. 3, ESPN) swings into full force this week, coach Brady Hoke said his top concern is tightening up the "loose" play of his secondary, which led to the Wolverines allowing a season-worst 34 points in their regular-season finale against Ohio State.
"That's alarming," Hoke said. "(Virginia Tech's) quarterback has ... (29) touchdowns this year. They're very good at what they do, and we have to be tighter in coverage. We have to be better in zone. All those things are part of it."
If Ohio State's struggling freshman quarterback, Braxton Miller, can shred the Wolverines' secondary, then what does that say about Virginia Tech's surging sophomore, Logan Thomas?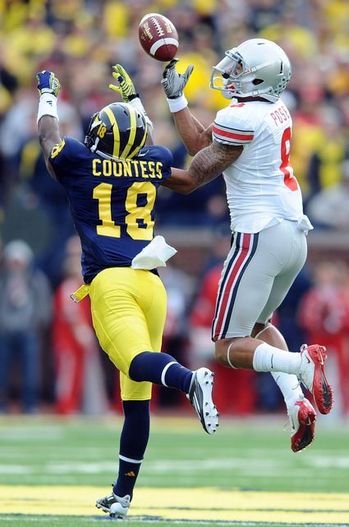 Melanie Maxwell | AnnArbor.com
Thomas burst onto the national scene in his first season as a starter. The sophomore is 215-for-363 passing (59.2 percent) for 2,799 yards, 19 touchdowns and nine interceptions, and could become only the second quarterback in school history to surpass 3,000 yards passing in a season.
Thomas, like Miller, also runs a little bit, carrying the ball 137 times for 416 yards and 10 touchdowns this year. That's an important facet of his game -- in fact, the Hokies' two losses, both to Clemson, happen to be Thomas' two worst rushing games this year.
He began the season slowly, throwing five interceptions and just four touchdowns in his first five games, but showed poise in turning things around. He finished second in the ACC in total offense and touchdowns.
And, much like Michigan's own Denard Robinson, Thomas' dual-threat ability makes him a strong weapon in extending drives. He is 25 for 26 this season in converting third downs of 3 yards or fewer.
"They'll spread you out and try to loosen you up," junior safety Jordan Kovacs said. "But at the same time, they're a good enough offense where they can get in the I and run downhill."
Is Kovacs concerned about facing such an offense after being gutted by Ohio State for a season-worst 34 points? (Which, ironically, is still better than the 35.2 points they allowed per game last year.)
"I don't think you can play any opponent like we played Ohio State," the junior said. "We had some missed tackles and some blown coverages. You can't do that.
"We were fortunate our offense carried us in that game because, defensive back-wise, we didn't play well enough to win."
Miller had never completed eight passes in a game and surpassed 100 yards just twice before playing Michigan, yet finished 14-of-25 passing for 235 yards and two touchdowns against the Wolverines, all career highs.
He also had deep touchdown passes of 43 and 54 yards, and could have had three more if not for accuracy issues.
Kovacs said the breakdowns were due largely to miscommunication and being out of position.
"If one guy thinks you're in cover-4 and another guys thinks you're in cover-2, it's going to be a big play every play," Kovacs said. "If you communicate, and everybody is on the same page, and you're playing proper technique, you can't get beat."
That is what the secondary will be focusing on as they prepare to face a Hokies team that presents a far more prolific offensive attack than Ohio State.
Kyle Meinke covers Michigan football for AnnArbor.com. He can be reached at 734-623-2588, by email at kylemeinke@annarbor.com and followed on Twitter @kmeinke.