Posted on
Fri, Dec 30, 2011 : 9:23 a.m.
Michigan football team adjusting to unseasonably warm temperatures in New Orleans
By Kyle Meinke
NEW ORLEANS -- The Michigan football team was happy to head 1,000 miles south and escape the Michigan cold.
They were greeted by unseasonably warm weather, even by New Orleans standards.
The sun has shone for much the Wolverines' first two days here, and temperatures rose to an idyllic 69 degrees Thursday. The average typically is closer to 60.
It was 25 degrees when the team left Detroit Metro Airport on Wednesday.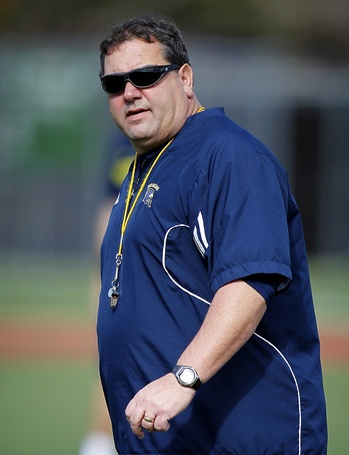 Rusty Costanza | The Times-Picayune
And, while the team charter was delayed slightly so the plane could be de-iced, the only sign of snow here has been the fake stuff cascading on the entryway of the Harrah's Casino that is located a couple blocks south of the team hotel.
It has taken some getting used to for a Big Ten team that has become accustomed to the cold.
Even for Craig Roh, a native of Scottsdale, Ariz.
"It's so funny, how much my body has changed," Roh said Thursday after a sun-splashed practice at Tulane University. "You get in the cold for a while, it's 70 degrees and it feels like 100. When I was back in Arizona, I practiced in 110-degree weather and I was fine.
"Now, I love practicing in 30-degree weather."
What's it like practicing in 110-degree heat?
"There was a sprinkler that would come on before practice," Roh said. "We'd drench ourselves and be dry five minutes into practice."
The weather also has suited Michigan coach Brady Hoke, who is known for his perpetual use of short-sleeved shirts, even when his assistants are wearing multiple sweatshirts.
"If you know me well enough, I usually am in short sleeves (anyway)," Hoke said upon his arrival in Louisiana, sporting a short-sleeve team polo. "So this is great, believe me."
Michigan will play Virginia Tech in the Sugar Bowl at 8:30 p.m. Tuesday on ESPN. The game will be played indoors at the Superdome.
Kyle Meinke covers Michigan football for AnnArbor.com. He can be reached at 734-623-2588, by email at kylemeinke@annarbor.com and followed on Twitter @kmeinke.