Posted on
Sun, Oct 9, 2011 : 12:20 a.m.
Michigan football team answers assortment of questions with resounding answers against Northwestern
By Kyle Meinke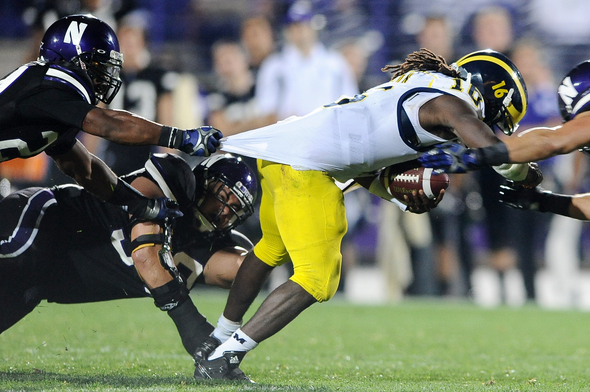 Melanie Maxwell | AnnArbor.com
EVANSTON, Ill. — You wanted a test?
You got a test. A few of them, really. Maybe even a mid-term exam.
And Michigan aced it.
The No. 12 Wolverines reached the halfway point of their season with a thrilling 42-24 comeback win against Northwestern on Saturday, and it was no walk in the park — even if the park, Ryan Field, was at least 50-50 behind them.
Michigan (6-0, 2-0 Big Ten) faced adversity like it hasn't seen, except for that fourth quarter against Notre Dame. This time, though, it felt different. The Wolverines were fortunate to beat the Irish. They deserved to beat the Wildcats, despite a sluggish first half and 10-point halftime deficit.
Beat them, they did — and in so doing, answered some of those questions that continue to swirl around the Wolverines' perfect start.
Can they win on the road?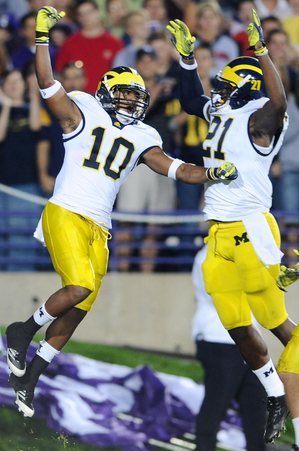 Melanie Maxwell | AnnArbor.com
This probably was the biggest uncertainty about the Wolverines, but they answered it emphatically. It wasn't always pretty — it was downright ugly at points in the first half, especially when quarterback Denard Robinson threw three interceptions to help stake Northwestern to a 24-14 halftime lead.
But it was the response that was so telling.
"We knew we were going to have some adversity," safety Jordan Kovacs said. "Any time you go on the road, it's tough, and a night game in Evanston? It's really tough."
By digging themselves in a hole, Michigan faced a 10-point road deficit with its offense sputtering and defense struggling to slow Northwestern quarterback Dan Persa.
How will they respond to a road deficit?
Against Northwestern, just as it so often won at home: Make in-game adjustments, roll like crazy. The Wolverines had three third-quarter drives, each of which resulted in a touchdown. Their defense, meantime, forced a three-and-out and a Brandon Hawthorne interception.
Michigan held the ball for 12 minutes, 28 seconds of the quarter.
"If you would have asked me (how we performed on the road) at halftime, I would have said not very well," Michigan coach Brady Hoke said. "But, I think our guys did a nice job of staying focused during the trip, and not letting anything distract them coming into a new stadium and all those things."
Will last year's top receiver, Roy Roundtree, ever be a factor?
He had two of the game's biggest catches against the Wildcats.
Michigan's first second-half possession started with consecutive negative-yardage plays. On third-and-12, Robinson dropped back, then found Roundtree for a 17-yard catch. It can be argued that, without that first down, Michigan might not have been able to reel off 28 unanswered second-half points.
But he did — and followed with another, this time a 57-yard jump-ball reception that put the Wolverines on the goal line. Three plays later, Michigan scored a touchdown to close within 24-21 and jump start that second-half surge.
Can the Wolverines win without Robinson?
The electric junior quarterback left the game — not for more of that trickery with backup Devin Gardner, but because of a left hand injury. Michigan responded by scoring a touchdown on a bootleg scramble by Gardner.
It gave Michigan a 28-24 lead — its first since leading 7-0 after its first drive.
Robinson himself responded to adversity, coming back from those three first-half picks to lead Michigan to 28 unanswered second-half points.
"He's a competitor," Hoke said. "Him and (offensive coordinator) Al Borges talked a little bit, and talked about what we wanted to do offensively. And again, you go back to making sure your fundamentals and techniques (are sound).
"I mean, that's all we talked about was fundamentals and techniques."
That's a lot of questions, and all the answers were resounding.
It seems fitting it all came against the Wildcats, who faced a first-year Michigan coach the last time they played the Wolverines. They beat Rich Rodriguez and Michigan in that 2008 game, the Wolverines' eighth loss of the year. That set a program record.
This time, Hoke beat the Wildcats to win his sixth consecutive game and become bowl eligible.
The funny thing is, only once have the words "bowl eligible" been brought up to Hoke this season. That plateau seems so beneath this team. It's not even a goal, it's an assumption — and now a reality.
Rather, the goal is a Big Ten championship. And with each passed test, the Wolverines become a more legitimate contender to win the wide-open Legends Division.
After all, they've been 6-0 six times since 1976. Each time, they made the Rose Bowl.
Kyle Meinke covers Michigan football for AnnArbor.com. He can be reached at 734-623-2588, by email at kylemeinke@annarbor.com and followed on Twitter @kmeinke.