Posted on
Wed, Dec 28, 2011 : 3:53 p.m.
Michigan football team arrives in New Orleans with high hopes
By Kyle Meinke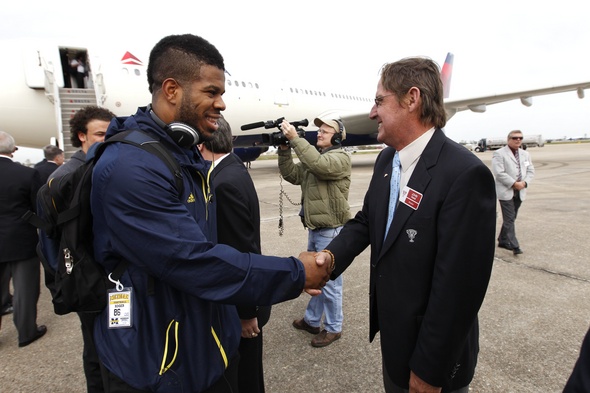 AP Photo
KENNER, La. — Smiles were wide and spirits were high as the Michigan football team de-planed from its charter flight on a landing strip in Southern Louisiana.
An old-time New Orleans brass band greeted them with sounds of the city, as did members of the Sugar Bowl committee that selected the Wolverines to play in their BCS game.
But that game is just five days away, and the team hasn't practiced since last week. Concerns also have spiked with the disclosure that starting defensive lineman Will Heininger cannot practice for at least a few days due to a foot injury, and backup Nathan Brink has been ruled out entirely because of an injury of his own.
Michigan coach Brady Hoke made it clear: Michigan will enjoy New Orleans, but there's plenty of work to be done.
"Our players have done a great job of preparing to this point, but we have a lot of preparation left in us," Hoke said at a makeshift news conference shortly after landing at a remote hangar of New Orleans' Louis Armstrong International Airport.
"I think we've got a great city that we're in with a lot of different things to do, and there's probably some distraction to that. But, I think our seniors and our captains have done a tremendous job of really focusing our team."
Michigan will play Virginia Tech at 8:30 p.m. Tuesday in the Sugar Bowl (ESPN). It is the team's first BCS bid since the 2006 season, and it will try to end a three-game losing streak on the sport's biggest stage.
The Wolverines haven't won a BCS game since concluding the 1999 season with an Orange Bowl victory against Alabama.
After going 15-22 the past three seasons during the rocky tenure of former coach Rich Rodriguez, this is the team's return to national prominence.
That should help keep things in perspective in a city known for its nightlife.
"These guys know it's a business trip," senior captain and defensive lineman Mike Martin said. "We're going to enjoy ourselves, and that's a part of it. But, when it comes down to practicing and our meeting times, we're going to be completely focused on the task at hand because we know how big this game is for this program.
"This is going to be our last opportunity to play as Team 132 and make our mark as Michigan on a national level."
The team's hotel — which had a block "M" flag out front that greeted the Wolverines' arrival — is located on the outskirts of the French Quarter, the center of New Orleans' famed nightlife. Hoke noted there are rules for his players, including a curfew, but did not expand on what they are.
Still, he also is encouraging his players to experience what this city offers.
"I really want to get the full culture of the city," Martin said. "I want to be able to listen to some jazz music and sit down and just soak it all in. Maybe I can find a spot like that."
Virginia Tech coach Frank Beamer has been known to send rule-breakers home on Greyhound buses, and he even listed the miles and number of stops it takes to get from New Orleans to Blacksburg, Va., on the team's bowl packet.
But even he isn't worried about the temptations offered by New Orleans.
"I think our kids understand that there's a lot of times you go out and socialize in your life, but there aren't many times you come and play in the Sugar Bowl against the winningest football team in forever," he said.
The bulk of Michigan's time, though, will be spent on preparing for Virginia Tech, a team it has never faced from a conference (the ACC) it hasn't seen since 1995.
Michigan, which hadn't practiced since Friday, headed from the airport to the team hotel in three custom-designed buses, where it met up with about 35 players who flew into New Orleans independently.
Then, it was on to Tulane University to work off some of that Christmas rust.
"These guys got a chance to go see family and enjoy Christmas, and, like any other team, they've been on campus since June first," Hoke said. "It's a good time for them to get away and relax a little bit.
"I hope a couple of them didn't eat too many cookies — I know I did — but it'll be a good opportunity to get out there and play football."
Kyle Meinke covers Michigan football for AnnArbor.com. He can be reached at 734-623-2588, by email at kylemeinke@annarbor.com and followed on Twitter @kmeinke.