Posted on
Sat, Sep 4, 2010 : 9:41 p.m.
Quarterback Denard Robinson delivers standout performance for Michigan football team
By Pete Bigelow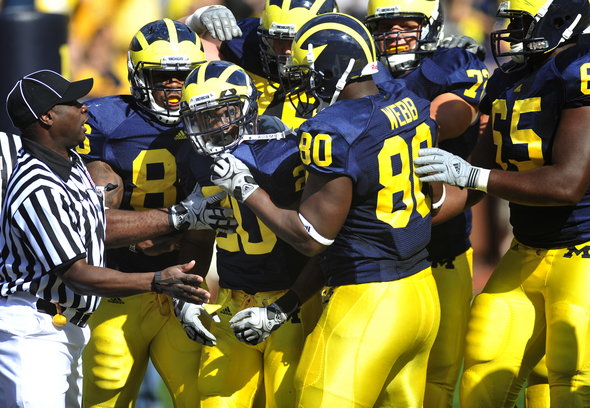 Melanie Maxwell I AnnArbor.com
Note: Story updated at 9:41 p.m.
A few times Saturday, Denard Robinson talked so fast that he needed to repeat himself in the huddle.
"We're from Florida, so our slang, the way we talk, is different," wide receiver Martavious Odoms said. "So some of the plays, he's got a certain cadence in the way he talks, and people we're looking at him like, 'What?'"
They weren't the only ones who had trouble keeping up with the Michigan football team's new quarterback.
Robinson created all kinds of havoc for UConn and set a school rushing record while leading the Wolverines to a 30-10 season-opening victory.
Lon Horwedel | AnnArbor.com
Until Friday night, the sophomore from Deerfield Beach, Fla., didn't even know he was starting.
But Michigan coach Rich Rodriguez, entering a pivotal third season as coach after compiling an 8-16 record his first two years in Ann Arbor, was rewarded for his faith.
By the time it ended Saturday, Robinson had completed 19 of 22 passes for 186 yards, carried 29 times for 197 yards and generally made defenders look like they were playing in slow motion.
"Denard Robinson is going to make people look bad," UConn coach Randy Edsall said. "He's an extra running back back there. We made some adjustments in the second half and really tried to take the ball out of his hands.
"But give him credit. I think he's an outstanding athlete, an outstanding athlete."
UConn's frustrations in trying to contain Robinson, grew so much that the Huskies defenders slapped at his untied shoes in an effort to de-cleat him. "They were like, 'Take his shoe! Take his shoe!" said Robinson, who has been nicknamed Shoelace since high school for his refusal to tie his shoes.
"They were trying to slow me down, I guess, and the offensive linemen too, because they were just killing them.
Robinson's debut as starter, in which he compiled 383 total offensive yards and two touchdowns, was one of several events Saturday that went off without a hitch.
Michigan opened its gates for the first time since completing a $226 million stadium renovation and hosted 113,090 fans Saturday, the largest crowd to watch a college or professional football game in U.S. history.
The university marked the occasion with two flyovers before the game, an official ribbon-cutting ceremony and a gathering of Wolverine alumni. Before the game, Brock Mealer, the brother of Michigan lineman Elliott Mealer who was paralyzed in a car accident, led the Wolverines out of the tunnel and walked to midfield under his own power.
Once the Wolverines took the field, Robinson took over.
On Michigan's first offensive series, which started on the team's own 4-yard line, Robinson methodically directed a 14-play, 96-yard drive that culminated in a 12-yard Vincent Smith touchdown run.
On the next drive, Robinson ran for a 32-yard touchdown on a play in which the Huskies didn't lay a hand on him.
By the middle of the third quarter, he had set the single-game rushing record for a Michigan quarterback, breaking a record previously held by Steve Smith, who ran four times for 174 yards against Minnesota in 1983.
Robinson took a shot to the hip in the third quarter. True freshman Devin Gardner replaced him in the huddle for two plays before he returned.
After the game, Robinson, who touched the ball on 51 plays, said he was fine.
His speed and elusiveness weren't a surprise - he flashed glimpses of it as a true freshman. But his accuracy throwing the football had dramatically improved since 2009.
"You could just see it in spring practice," Rodriguez said. "He was getting a knowledge of not only what we wanted to do, but how we want to attack defenses."
Rodriguez acknowledged bumps in the road are surely ahead - it would be hard to conceive of a much better performance.
But after a preseason filled with quarterback uncertainty, it appears he has not only an answer, but one that comes with heaps of long-term promise.
Box score
Video highlights from Michigan
Pete Bigelow can be reached at (734) 623-2556 or e-mailed at petebigelow@annarbor.com. Follow him on Twitter @PeterCBigelow.