Posted on
Fri, Mar 23, 2012 : 5:59 a.m.
Michigan football team hoping for a bulked up Craig Roh in his new defensive role
By Nick Baumgardner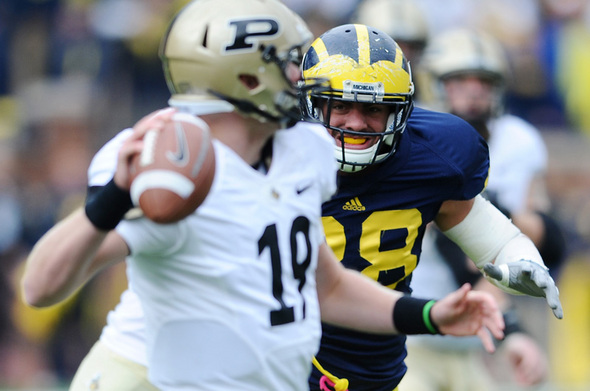 Melanie Maxwell | AnnArbor.com
Almost immediately after the 2011 season came to a close, Michigan football coach Brady Hoke and defensive coordinator Greg Mattison came to a consensus.
Craig Roh needed to switch positions, and the defense would be better for it in the end.
After spending his junior season as a weak side defensive end, Roh has started his transition to the strong side this spring, a move Hoke and Mattison are excited about and one they say has gotten off to a smooth start.
"He's been active, and I think it's going to pay off in the long run," Hoke said Thursday. "We wouldn't have moved him if we both hadn't felt that way.
"He's gaining strength in weight that he'll continue to do that, but he has a burst to him and a good first step. That gives him a little more speed and (makes him) a guy who can give you a three-way move, which is important up front."
After getting off to a sluggish start last season while adjusting to Mattison and Hoke's new defense, Roh -- who claimed he had a mid-year epiphany -- eventually rounded into form as the Wolverines' weak-side end, playing opposite then senior Ryan Van Bergen.
Roh finished the year with 32 tackles and set career-highs with four sacks and eight tackles for loss.
However, in Mattison's eyes, he seemed to be battling uphill for most of the year on the weak side. And with the recent position switch, the Wolverines' staff hopes some of that struggle will be eliminated.
"I want to always have a very, very fast, disruptive defense," Mattison said. "That's what you always need to have, especially up front."
"Craig Roh will be a better football player moving into a five-technique than he would be out on the edge, where there's a lot of open spaces."
There will be more than the average mental adjustments for Roh during the position switch. Roh was listed at 6-foot-5, 269 pounds. Hoke estimated he entered spring practice at roughly 273 pounds, and before the season begins, the staff wants him to weigh in at roughly 280-282 pounds.
"If he can maintain that and then gain a little bit more during spring ball, then in the summer he'll be able to gain more weight," Hoke said. "(In his new role) you've got more blocks (to fight through). A tight end and a tackle. But you don't have as many combinations."
Roh's position switch isn't the only one Michigan's defensive line is going through this season. Former defensive end Jibreel Black has moved inside to defensive tackle and, like Roh, will have to bulk up before the start of the 2012 campaign.
At the end of last season, Black was 6-foot-2, 260 pounds. Quite a bit lighter than fellow defensive tackles Will Campbell (6-foot-5, 322 pounds), Quinton Washington (6-foot-4, 302 pounds) and Richard Ash (6-foot-3, 301 pounds).
With Black's move inside, Hoke and Mattison have eyed sophomores Frank Clark and Brennen Byer as Roh's replacement on the weak side.
"As a coach, what you do, when you're watching a player and you're evaluating him and you see him make a play, you say 'boy, that was hard for him, but he made a great play,' " Mattison said. "He may not have had to work as hard had he been at (another) position.
"He's the best you have at that time, but maybe when we get an opportunity, maybe we'll move him."
Michigan has already made some moves this spring, and it may take some time for everyone involved to gain full comfort.
But, with Mattison's scheme now entering its second season, the defense as a whole doesn't need nearly as much TLC.
Folks are on the same page now, and that seems to be more than half the battle.
"Last year was very difficult," Mattison said. "The first time we put in the defenses, they looked at me like I was trying to teach them German or something.
"In putting in what we want to work on this spring, the players just look at you (now) and say 'got it.' "
Nick Baumgardner covers Michigan sports for AnnArbor.com. He can be reached at 734-623-2514, by email at nickbaumgardner@annarbor.com and followed on Twitter @nickbaumgardner.