Posted on
Mon, Sep 27, 2010 : 5:44 p.m.
Michigan football team injury report, uniform number change and more on potential Alabama matchup
By Pete Bigelow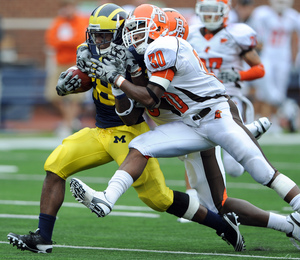 Lon Horwedel | AnnArbor.com
Fitzgerald Toussaint
missed the season's first three games with an injured knee. Now an injured shoulder has landed the him back on the team's injury list.
The redshirt freshman will have tests done this week. His knee still isn't completely healthy -- a brace on it hampered his speed during a 61-yard run against Bowling Green on Saturday.
His only other carry was a 5-yard touchdown on the next play.
"He'll get teased about that forever now," Rodriguez said of Toussaint getting caught from behind by Falcon defenders.
"Part of that was it was a long run in his knee brace. … The issue with his shoulder, that's a shame. He's had tough luck."
Rodriguez is more optimistic that linebacker/safety Carvin Johnson will return against Indiana from a sprained MCL he suffered in the opener.
Linebacker Brandon Herron (ankle), running back Michael Shaw (knee) and quarterback Tate Forcier are all probable for the Indiana game on Saturday (3:30 p.m., ESPNU). "Nothing wrong with his knee," Rodrigeuz said of Forcier, who limped noticeably during and after his season debut against Bowling Green. "I think he took a shot to the quad. Got a helmet or something to the quad. He'll be fine."
BY THE NUMBERS After the Michigan kickoff return team took the field Saturday with two No. 9s on the field, a goof that drew a five-yard penalty, freshman defensive back Courtney Avery changed his uniform number.
"Courtney is going to be No. 5," Rodriguez said. "I think that number is open. There's no controversy with that, is there? Let me know now."
That drew chuckles Monday, as Tate Forcier wears the No. 5 jersey. Since he doesn't play special teams, it shouldn't conflict with Avery's co-occupation of the jersey number.
Speaking of jersey numbers, all of Taylor Lewan's teammates assumed he requested No. 77 during his recruitment because it was the number worn by former Michigan left tackle Jake Long, the No. 1 overall pick in the 2008 NFL Draft.
"I didn't even know about Jake Long until my senior year of high school," Lewan confessed Monday.
Lewan, a redshirt freshman, claimed the starting left tackle job against Bowling Green, supplanting incumbent Mark Huyge. Still, Lewan knows he's got a ways to go before he rises to Long's level.
"I saw him once on the sidelines last year. He's a very large individual," said Lewan, who is 6-foot-8, 294 pounds. "I had my shoulder pads on and he was still wider than me. It was ridiculous."
ALABAMA STILL A POSSIBILITY Rich Rodriguez heard Alabama coach Nick Saban's comments last week about a potential football game between Michigan the Crimson Tide being a near-certainty.
"Nick knows more than I do," Rodriguez said Monday. "We've both been talking about it. There's nothing that's been done or delivered or anything like that. We've had conversations. That's interesting."