Posted on
Thu, Nov 24, 2011 : 12:45 p.m.
Michigan tight end, Ohio native Kevin Koger has final chance to topple team he once scorned
By Kyle Meinke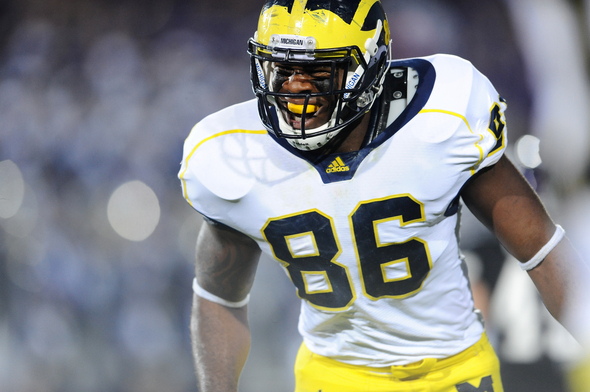 Melanie Maxwell | AnnArbor.com
Kevin Koger made a bet with fellow senior Junior Hemingway as to who would cry first when the Michigan football team emerges from the tunnel Saturday to take on Ohio State.
Koger thinks he'll last longer -- but not by much.
"It's going to be emotional, but it's our time to go," the tight end said. "It's our time."
Koger's time at Michigan has been anything but smooth. The Wolverines were 15-22 his first three seasons and set a school record for losses when he was a freshman.
He went through one of the most tumultuous coaching changes in school history -- one that de-emphasized him in the offense.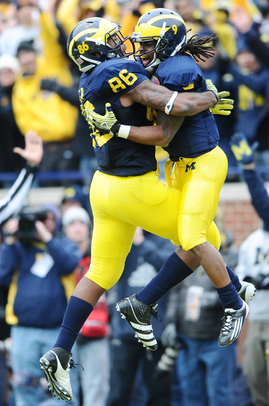 Melanie Maxwell | AnnArbor.com
Yet, as he reflects back on his career with only two games left -- and only one at Michigan Stadium -- Koger insists he still is happy he ended up a Wolverine.
Even though he could have ended up a Buckeye.
Koger was a standout at Whitmer High School in Toledo, Ohio, and held an offer from Ohio State. In fact, among 21 Ohioans on the Michigan roster, Koger is the only player who held an Ohio State offer.
He scorned them to play for his boyhood favorite -- and doesn't regret it, even though he's now been beaten three times by the Buckeyes.
"My daddy grew up in Detroit, so he was always a Michigan fan, so that just kind of rubbed off on my brother and I," Koger said. "So, I kind of grew up a Michigan fan my whole life.
"I still remember watching The Game in my living room with my dad sitting on the couch and me laying on the ground."
Now, he has a chance to be part of that rivalry for the final time, and help Michigan end its seven-game losing streak to the Buckeyes, at noon Saturday on ABC.
Koger is 0-3 against Ohio State and has been outscored 100-24.
"We're definitely motivated," Koger said. "We want to beat these guys every time we play them, but that does weigh a bit heavier on you, knowing you haven't beaten them in a long time.
"It always means a lot, but being a senior, it kind of means a little bit more."
Koger was recruited to play for Lloyd Carr, but the former Michigan coach retired before Koger got to campus. Instead, he played for another former coach, Rich Rodriguez, whose spread-option offense did not have much use for tight ends.
He caught 36 passes and scored five touchdowns in three seasons for Rodriguez.
This year, Koger has a career-high 17 catches for 195 yards and three touchdowns. But numbers also can't quantify what Koger does best: Leadership, blocking and coachabililty.
"Kevin Koger is a solid football player," offensive coordinator Al Borges said. "I think (tight ends coach Dan Ferrigno) will tell you that he will try and do everything you tell him to do. When we've thrown him the ball, he has basically caught it with very few drops.
"He is what a coach is looking for. A guy you can count on."
Kyle Meinke covers Michigan football for AnnArbor.com. He can be reached at 734-623-2588, by email at kylemeinke@annarbor.com and followed on Twitter @kmeinke.