Posted on
Wed, Mar 21, 2012 : 5:59 a.m.
Michigan football team looking for a more 'reckless' Thomas Gordon, less big plays against secondary
By Nick Baumgardner
Thomas Gordon was perhaps the most opportunistic member of the Michigan football team's defense last season.
But this time around, as a seasoned junior, defensive coordinator Greg Mattison wants Gordon to add an adjective to his repertoire.
"I love Thomas Gordon," Mattison said. "But he must play faster. He must play more reckless."
If the Wolverines needed a turnover last season, odds are, Gordon was either forcing or recovering it.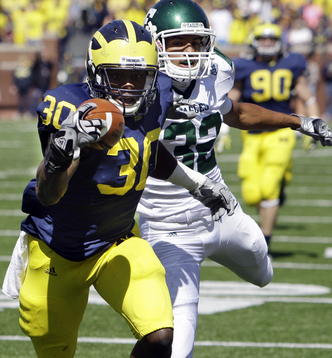 Associated Press
The 5-foot-11, 208-pound Detroit Cass Tech product made a living of hanging around the football a year ago, recovering a team-best four fumbles and also creating two more. Gordon also added an interception to his total, and finished third on the team in tackles.
Toward the end of the season, he found himself splitting time with senior Troy Woolfolk at free safety, even if some wondered whether he was the unquestioned best man for the job.
Woolfolk's gone and the spot is Gordon's to lose. Mattison wants more out of the athletic playmaker, and he wants it in a hurry.
He wants Gordon to take more chances quickly while playing downhill on run support and in pass defense, a strategy that could result in even more turnovers.
"I'm looking for him to play a lot faster, and I've told him that straight out," Mattison said. "Sometimes guys worry about 'am I fast enough, can I do this?' Well, yeah, you're out there, you've got to be able to do it.
"I think maybe he's understanding that a little bit. Give yourself a little credit, you can run pretty well, and don't think that everybody's going to out-run you, that's knowing yourself and knowing the scheme and knowing you can play faster."
Gordon is expected to be part of a secondary that returns all four starters from a year ago. Jordan Kovacs should anchor the group at strong safety while sophomore Blake Countess and junior J.T. Floyd both return after starting at corner last season.
The defensive backfield was productive, at times, last season. But toward the end of the year, things started to slip.
One of the key components of Mattison's defensive turnaround last season was the team's ability to limit big plays.
But during the final two games of the season (vs. Ohio State and vs. Virginia Tech), Michigan allowed 449 yards through the air and saw several near-misses against Buckeye quarterback Braxton Miller and Hokie signal caller Logan Thomas.
"You can't have that, you know my feeling on big plays," Mattison said. "One of them wants to make you get sick to your stomach. We had too many of them at the end of the year, which means we've got to go back and see why and get that corrected.
"I think it's technique, being better at your technique and being focused. A lot of times big plays come from busted assignments, and we have to make sure to get that corrected."
Part of that correction process, per Mattison, should come naturally this season, as his entire defensive staff remains in tact.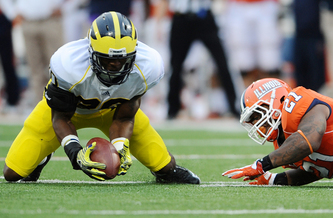 Melanie Maxwell | AnnArbor.com
Players are more familiar with coaches, and vice versa. There aren't any language barriers any longer, and the ability to smooth out kinks should happen a lot faster.
"(A lot of improvement) happens in a second year," Mattison said. "Where we're all on the same page, the guy out there playing, the coach and myself.
"And that's my job."
With more cohesion and clarity in the secondary this season, Mattison's looking for more controlled recklessness, more turnovers and more swagger this season.
And he wants it quickly.
"This is their defense now," he said. "This is the Michigan defense, and it's everybody's defense now.
"And we've got to improve."
Nick Baumgardner covers Michigan sports for AnnArbor.com. He can be reached at 734-623-2514, by email at nickbaumgardner@annarbor.com and followed on Twitter @nickbaumgardner.