Posted on
Tue, Jan 31, 2012 : 5:59 a.m.
Michigan football team to welcome top-five recruiting class thanks to fast start, Ohio connection
By Kyle Meinke
The Michigan football team has one of the most highly regarded recruiting classes in the country.
Perhaps the most impressive part about it, though, is that the heavy lifting was done well before the Wolverines' 11-2 season and Sugar Bowl title. In fact, they have as many decommits (one) as commits (one) since that BCS win.
But, Michigan had an impressive 21 commitments before August -- impressive not only for the quantity, but also the quality of its early class. Maxpreps.com and CBS ranked it the best in the country, and Rivals pegged it at No. 3.
Few expected that kind of early burst from Michigan because the two factors most closely correlated to recruiting success — wins and stability — were not part of the formula. The program was 15-22 the previous three seasons and had a first-year coach in Brady Hoke.
The Michigan recruiting class
Five stars
Kyle Kalis (OL, Ohio), Ondre Pipkins (DL, Missouri)

Four stars
Blake Bars (OL, Tennessee), Joe Bolden* (LB, Ohio), Amara Darboh (WR, Sierra Leone), Royce Jenkins-Stone (LB, Michigan), Erik Magnuson (OL, California), Terry Richardson (CB, Michigan), James Ross (LB, Michigan), Tom Strobel (DE, Ohio), Jarrod Wilson* (S, Ohio)

Three stars
Ben Braden (OL, Michigan), Jehu Chesson (WR, Missouri), Jeremy Clark (S, Kentucky), Devin Funchess (TE, Michigan), Allen Gant (S, Ohio), Matt Godin (DL, Michigan), Willie Henry (DL, Ohio), Drake Johnson (RB, Michigan), Sione Houma (FB, Utah), Mario Ojemudia (DL, Michigan), Kaleb Ringer* (LB, Ohio), A.J. Williams (TE, Ohio), Chris Wormley (DL, Ohio)

Breakdown by state
Ohio: 9
Michigan: 8
Missouri: 2
Iowa: 1
California: 1
Utah: 1
Tennessee: 1
Kentucky: 1


Big Ten rankings (Rivals)
Ohio State
Michigan
Nebraska
Wisconsin
Michigan State
Iowa
Purdue
Penn State
Northwestern
Illinois
Minnesota
Indiana


NOTE: Stars given by Rivals
* -- Already enrolled in school
"It's really surprised me. I haven't really seen something like it," said Scout's
Allen Trieu
, who has covered Midwest recruiting since 2005. "I thought it would take the new coaches some time to establish themselves a little bit in recruiting.
"They were the new guys on the block, so I didn't expect as many early commitments as they got. But if you look at the way they finished out the previous class, they finished that real strong, then they started real strong (for 2012), so I think it became clear right away this staff is full of good recruiters."
High school players can sign official letters of intent Wednesday. Michigan has 24 commits in its class, although three — safety Jarrod Wilson and linebackers Kaleb Ringer and Joe Bolden — already are enrolled in school.
That group ranks No. 4 in the country, according to Scout, trailing only Alabama, Texas and Ohio State. It's No. 5, according to Rivals.
Trieu said the key was getting early verbal commitments from magnetic, in-state personalities such as James Ross, Royce Jenkins-Stone, Terry Richardson and Devin Funchess.
Those recruits played PAL football together in Detroit and have sway with other players in this state.
"Once a few dominoes fell, more committed," Trieu said. "Then, kids started seeing spots fill up in the class and knew they better commit early if they wanted a spot.
"The out-of-state kids followed."
When Hoke took over, he expressed two areas of emphasis: Defense and line play. He wasted little time addressing either.
Offensive lineman Ben Braden was the first commit of the 2012 class. Nine of the next 12 pledges came on the defensive side of the ball, including one stretch of seven in a row.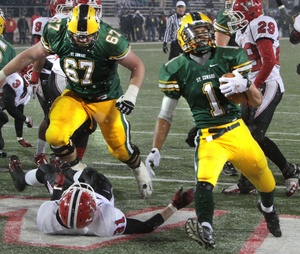 Cleveland Plain Dealer
Michigan also snagged a pair of linemen —
Erik Magnuson
, an offensive guard from Carlsbad, Calif,, and
Ondre Pipkins
, a defensive tackle from Kansas City — who have turned into recruiters of their own.
"They're both really personable guys," Rivals analyst Tim Sullivan said. "They're guys who want to play with the best talent, so they're out there trying to build the best class they can."
For as much as the Wolverines did to get off to a fast start, they also cashed in on some good fortune, including the brewing scandal at Ohio State.
Ohio long has been a linchpin state for Michigan recruiting. Not only is it one of the country's great producers of high school talent, it also is a border state and home to the Wolverines' biggest rival. Any kind of footprint that can be established there is significant.
For the past decade, that connection was modest as the Wolverines pulled an average of four Ohio recruits per class. With the commitment of defensive tackle Willie Henry on Monday, Michigan now has nine in this class.
More importantly, it won head-to-head battles against Ohio State.
Tight end Kevin Koger was the only Ohioan on the entire team last season who had spurned the Buckeyes. The 2012 class has four itself.
Hoke happens to be from Ohio, which surely has helped. But he also was the beneficiary of the scandal that cost Jim Tressel his job.
Michigan snagged its only consensus five-star recruit, offensive lineman Kyle Kalis, in the aftermath of Tressel's forced resignation.
"I certainly think Kalis would have stuck with Ohio State, if that didn't happen," Trieu said. "Michigan took advantage of the opening, and they've established themselves in Ohio. Now, it'll be interesting to see what happens now that Urban Meyer is down there."
Since Meyer has been hired by the Buckeyes, the Wolverines' pull from that state has reached an impasse. They already lost head-to-head battles for five-star running back Bri'onte Dunn and four-star cornerback Armani Reeves.
Those positions are two of the three biggest weaknesses in Michigan's class. It has only one corner, Terry Richardson, and one running back, Drake Johnson. And, Johnson is more of a speedster in the Vincent Smith or Justice Hayes mold, rather than the bigger back that offensive coordinator Al Borges is seeking.
The team's other big weakness is at offensive line. The top-end talent, paced by Kalis and Magnuson, is elite, but a decommit from Caleb Stacey on Jan. 21 has left the position at least one and probably two players short.
Michigan isn't quite done yet. It is a finalist to land four-star offensive lineman Jordan Diamond on Friday. Trieu said the Wolverines are the leader for him, although have work left to do.
A commit from Diamond could give the Wolverines the best class at that position in the country.
"Ohio State is nipping at the heels, but they're the only ones who are even close," Sullivan said. "It'll be close between those two, but I guess they're used to going at it."
Kyle Meinke covers Michigan football for AnnArbor.com. He can be reached at 734-623-2588, by email at kylemeinke@annarbor.com and followed on Twitter @kmeinke.