Posted on
Wed, Aug 25, 2010 : 1:27 p.m.
Michigan football team player poll, part 1: Hardest hitter, embarrassing memories and more
By Pete Bigelow
Which Michigan football player is the hardest hitter on the team? Which Wolverine asked his position coach how many pairs of underwear he should bring to summer camp?
On Sunday, the AnnArbor.com staff interviewed 19 members of the current Michigan football team to ask them about their teammates, rivals and what they do away from the football field.
Here's what we found:
Note that, in some cases, not every player answered every question. In other cases, they provided two answers. We'll post the second round of questions Thursday at noon. Without further ado: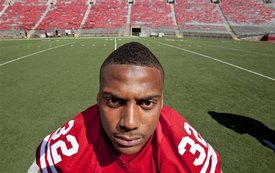 Associated Press
1. Without voting for a teammate, who's the most exciting player in the Big Ten this year?
Wisconsin running back John Clay - 2
Don't know - 2
No comment - 2
Ohio State receiver DeVier Posey - 1
Iowa defensive lineman Adrian Clayborn - 1
Whoever is playing MIKE at Penn State - 1
Other comments:
"It's hard to say. I don't like thinking anybody's too exciting in the Big Ten. I just pay attention to our players." - Tate Forcier.

"I don't want to say somebody, because he's from a certain school." - Cullen Christian.
2. Who is the most overrated player in the Big Ten this year?
Ohio State quarterback Terrelle Pryor - 6
No comment - 3
Don't know - 3
3. Who is the hardest hitter on the Wolverines defense?
Jonas Mouton - 9
Marvin Robinson - 6
Mike Martin - 2
Kenny Demens -2
Mike Jones - 2
Ricardo Miller, on Marvin Robinson: "When he comes to hit, everyone knows it. I think he's cracked his helmet twice this camp, and if that doesn't show you enough that he can, I don't know what could."
4. What college football team did you root for before joining the Wolverines?
Michigan - 4
Notre Dame - 3
Penn State - 1
Wisconsin - 1
Washington - 1
Kansas State - 1
Florida State - 1
Southern Cal - 1
None - 1
5. What's your most embarrassing football memory?
• "Before camp, I called (quarterbacks coach) Rod Smith and asked him what I should bring. I asked him how many pair of underwear I should bring. He thought that was hilarious. I was serious." - Devin Gardner.

• "Probably being knocked out flat by Roy Roundtree and losing my air." - Craig Roh.
• "One game, I was knocking everybody over in the first half, and on the second-half kickoff, I just wasn't ready. The dude caught me off-guard and knocked me out. Everybody was looking at me. It was pretty embarrassing." - Marvin Robinson.
• "In middle school, I picked up a fumble and I ran like 20 yards and just dropped it. No one was around. I fell on it, but I could have scored easily." - Mike Martin.
• "In the fourth game of my junior year, we were playing a team that wasn't very good at all, and they made me fumble. No one could believe it. I was so scared to go back to the sideline, because I knew the coaches were going to be mad." - Fitzgerald Toussaint.
• "When I was in sixth grade, I was playing a game and my pants were way too big, so I had them taped on. I ran for a long touchdown, and as soon as I crossed the goal line, my pants fell to my ankles." - Stephen Hopkins.
Responses compiled by Jeff Arnold, Michael Rothstein, Pete Cunningham, Andy Reid and Pete Bigelow.