Posted on
Fri, May 25, 2012 : 12:32 p.m.
Michigan football team ranked as high as No. 7, as low as No. 22 in major preseason polls
By Kyle Meinke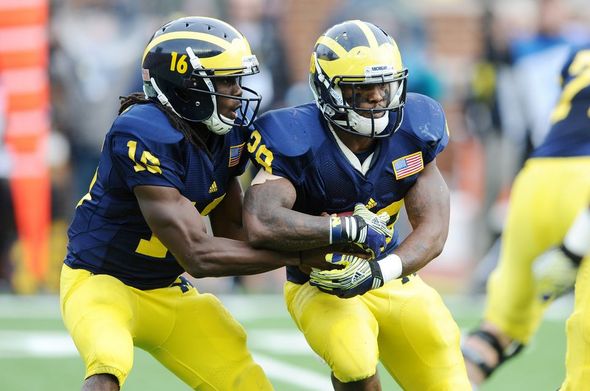 Melanie Maxwell | AnnArbor.com
On Thursday, venerable college football prognosticator Phil Steele ranked Michigan 22nd in his preseason poll.
A day later, Athlon Sports ranked the Wolverines seventh.
That about sums up the Michigan football team's offseason, which is marked by a high degree of uncertainty and intrigue.
The Wolverines return a wealth of talent at nearly every position, including stars Denard Robinson and Taylor Lewan, each of whom are beginning to receive consideration for preseason All-America honors.
Lewan even received a first-team All-America nod Friday by CBSsports.com's Matt Hinton. Robinson made his second team.
In all, Michigan returns seven starters on offense, and nine more on defense.
But crushing turnover on the offensive and defensive lines, paired with an unforgiving schedule, has some tempering their expectations for the Wolverines.
"Pointing downward are the fact that they benefited from 3 net close wins, were +7 in TO's, had beneficial off (12.2) and def (18.5) ypp's and my Stock Market Indicator ... has them -5.0. This is an improved (team) that probably won't match (last year's) 11 win total with games away from home vs Alabama, ND, Neb and Ohio St but unlike (last year), they could find themselves in the B10 Title game."

Athlon was much more optimistic, and agreed that Michigan could wind up in the Big Ten championship game. It projects the Wolverines to win the Legends Division.
The publication also is higher than most on starting tailback Fitz Toussaint, calling him a possible Heisman Trophy candidate.
"There's a lot to like about the Wolverines. They've got two potential Heisman Trophy candidates in Robinson and Toussaint and depth in their defensive backfield for the first time in ages. Their biggest obstacle in 2012 might be a murderous schedule, one that includes a neutral-site opener against defending national champ Alabama and road trips to South Bend, Lincoln and Columbus."

A wide range, indeed.
My thoughts: Michigan has the talent to be a top-15 team -- and by that logic, should be ranked there, since polls are not a projection of where a team will end up, but where they are now.
But, by season's end, it's likely the Wolverines will be closer to Steele's 22nd ranking than Athlon's No. 7 ranking. Their schedule is brutal, especially with all those games on the road, and the Big Ten has become a very difficult league to win on the road.
A roundup of where others are pegging Michigan in their preseason polls:

Sports Illustrated's Andy Staples: No. 13

"Want to know why hopes at Michigan are so high? Because coach Brady Hoke has instilled an attitude in his players that makes them say things like this about an 11-2 season: "One of the things coach really emphasizes is that last year we failed," (safety Jordan) Kovacs told The Associated Press. "It wasn't a successful season. The mission each and every year is to win a Big Ten championship and we didn't do that. At the end of the day, we didn't get what we wanted so that makes us even hungrier for next year." To reach their goals, the Wolverines will have to end Michigan State's four-year ownership of their series. Where's the threat? Nowhere, unless Michigan can win that game. Unfortunately, the Wolverines face an even stiffer challenge to open the season. Alabama will be better than anyone else on Michigan's schedule."

FOX Sports: No. 9

"One more year. It might take one more season for Michigan to truly be back to being Michigan, but everything is on the right track with one of the nation's top recruiting classes coming in and a great base of talent in place to work around. Quarterback Denard Robinson (pictured) is back for one more season before he becomes an NFL receiver, but he'll lose target Junior Hemingway and he'll have to run - especially in the opener against Alabama - behind a line that has to replace center David Molk and right tackle Mark Huyge. The defense, which made tremendous strides last year, should go to another level in the secondary. The linebacker corps, featuring Jake Ryan, is talented and emerging. The line needs help, but there's plenty of size to make up for the lack of experience."

ESPN's Mark Schlabach: No 10

"In coach Brady Hoke's first season, the Wolverines finished 11-2, defeated rival Ohio State for the first time since 2003 and knocked off Virginia Tech 23-20 in the Sugar Bowl. Yet, Hoke wasn't satisfied because Michigan didn't win a Big Ten championship. With quarterback Denard Robinson and 13 other starters coming back, Michigan looks like the team to beat in the Big Ten in 2012. Michigan's defense was much better under coordinator Greg Mattison, but he'll have to replace tackles Mike Martin and Will Heininger and end Ryan Van Bergen. Michigan opens the season against defending BCS national champion Alabama in Arlington, Texas, on Sept. 1 and plays Big Ten road games at Nebraska on Oct. 27 and at Ohio State on Nov. 24."

Yahoo! Sports: No. 8

"The offense again should be potent. QB Denard Robinson has one more year, and TB Fitzgerald Toussaint became a dependable option as this season wore on. Refining the passing attack will be important during spring practice. So will rebuilding the defensive line; three starters are leaving. The back seven on defense has a ton of promise, and it will be interesting to see how coordinator Greg Mattison deploys his guys."

Kyle Meinke covers Michigan football for AnnArbor.com. He can be reached at 734-623-2588, by email at kylemeinke@annarbor.com and followed on Twitter @kmeinke.