Posted on
Sat, Oct 1, 2011 : 3:24 p.m.
Michigan football team remains unbeaten with 58-0 record-setting rout of Minnesota
By Kyle Meinke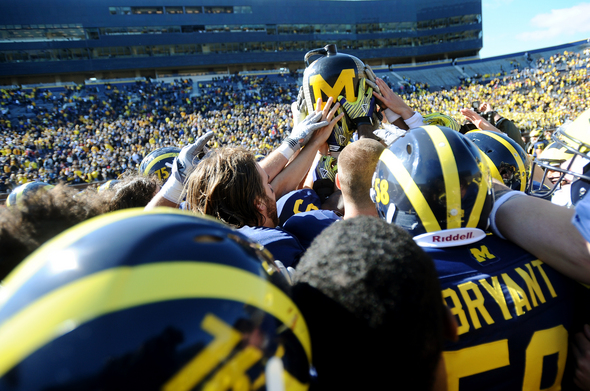 Melanie Maxwell | AnnArbor.com
It was one of the greatest starts to a Big Ten game in Michigan football history.
The No. 19-ranked Wolverines didn't let up.
They scored on every first-half possession, tallying 38 unanswered points en route to a 58-0 rout of Minnesota on Saturday in its Big Ten opener at Michigan Stadium.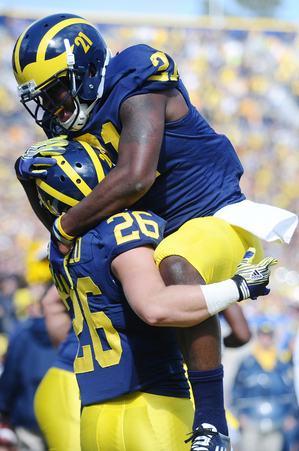 Melanie Maxwell | AnnArbor.com
It was the largest margin in the history of the Little Brown Jug, which stays in Ann Arbor for yet another year. It hasn't left since 2005, and just twice since 1969.
"This was a first step toward the expectations of what this program is, and that's a Big Ten championship," Michigan coach Brady Hoke said. "Probably played our best game to this point, but the schedule? We're going away (next week), we're going on the road.
"There's a lot of unknowns out there."
The Wolverines are 5-0 overall and 1-0 in Big Ten play heading into their first road game next week against Northwestern, and they'll take a good deal of momentum with them.
Most importantly, Michigan showed significant gains in trouble areas, including its wayward kicking and passing games.
Junior quarterback Denard Robinson again was the impetus driving the Michigan offense — but this time, he needed just six rushes for 51 yards to do it, his lowest output on the ground this season.
Rather, he completed 15 of 19 passes for 169 yards and two touchdowns in an efficient passing day before giving way to backup Devin Gardner.
He didn't throw a pick for the first time since the weather-shortened opener. He had thrown six in the past three games as his accuracy dipped below 50 percent and began to draw fire for his errancy.
Did the criticisms bother him?
"I don't read newspapers anyhow, but I just went to practice and I knew we had to work on getting our timing right and getting a rhythm," Robinson said. "That's the biggest thing. We got a rhythm today."
Offensive coordinator Al Borges said this week he would try to establish a flow early against Minnesota by getting Robinson some easier opportunities to complete throws. The result?
Robinson completed his first 11 passes and 13 of his first 16, engineering consecutive touchdown drives of 80, 75, 85 and 69 yards to begin the game. After a 25-yard field goal by sophomore Brendan Gibbons, Robinson threw an 18-yard touchdown pass to Kevin Koger to end the first half with a flourish.
"Athletically, (Denard's) the best player on the field, and we didn't have people athletic enough to tackle him," Minnesota coach Jerry Kill said. ""They're a bigger, stronger, faster football team right now than we are."
By halftime, the Wolverines led 31-0 and held decisive advantages in first downs (21-4), rushing yardage (214-25), passing yardage (170-44) and total yardage (384-69).
So much of that came back to Robinson's ability to complete passes consistently, which he hadn't done all season.
"All he hears is he's not (accurate) — not from us, but from other people," Hoke said. "I think him getting off to a strong start helps us with the run game so much."
Junior tailback Vincent Smith scored on a 3-yard run to start the scoring barrage, threw a 17-yard toss to Drew Dileo on a halfback pass and hauled a 28-yard pass for a score to help Michigan take a 38-0 halftime lead.
He became the first Michigan player in the modern era to run, pass and catch for touchdowns in the same game. He did in the first half.
"Once again, I was just put in the right place at the right time, and the coaches put me in the right place," a quiet Smith said after the game. "It was fun. Real fun."
Sophomore Fitz Toussaint led the tailbacks with 11 carries for 108 yards and scored the Wolverines' only offensive touchdown of the second half on a 1-yard run. That's the second 100-yard day by a Michigan tailback this season, joining Smith.
"He's a tough little bugger who did a good job," Hoke said.
Perhaps the truest indicator of Michigan's dominance: Sophomore punter Will Hagerup, making his first appearance of the season after serving a four-game suspension, attempted just two punts.
The mastery on defense was just as impressive.
Hoke has been disconcerted by his team's inconsistency on that side of the ball, but Michigan now has allowed just 10 combined points in its past three games. The shutout was Michigan's first since it beat Notre Dame, 38-0, in 2007.
The Wolverines started the game by forcing four consecutive three-and-outs and allowed just four first-half first downs. The defensive line, a source of inconsistency, logged its second consecutive solid performance.
"They were disruptive — that's what I like and that's what you have to do if you're a guy who plays up front," Hoke said. "As you look at the schedule and the teams you're gonna play, there are some offensive lines in this league that are pretty stout."
Sophomore cornerback Courtney Avery finished Michigan's scoring with an 83-yard fumble return for a touchdown. It gave the Wolverines their largest margin of victory in the Little Brown Jug game.
The rout was the result of dominance in all three facets of the game.
Gibbons, who was 1-of-5 last year on field goals, was 3-for-3 against Minnesota — he hit from 25, 32 and 38 yards, and converted all of his extra-point attempts — and is 4-of-5 on the season.
Kyle Meinke covers Michigan football for AnnArbor.com. He can be reached at 734-623-2588, by email at kylemeinke@annarbor.com and followed on Twitter @kmeinke.