Posted on
Thu, Oct 20, 2011 : 5:59 a.m.
Michigan football team begins prep work for stretch run, avoiding another post-MSU collapse
By Kyle Meinke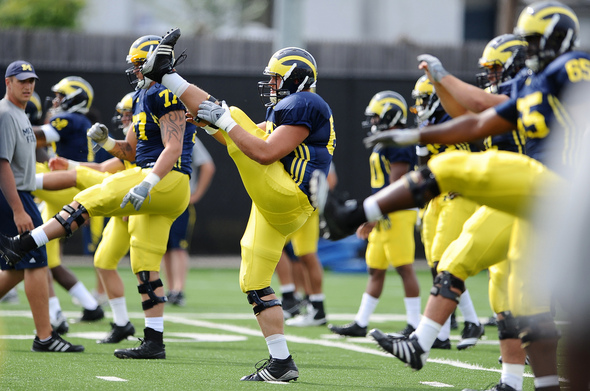 AnnArbor.com file photo
The
Michigan football
team was humbled.
Now, it will have to be hardened.
The Wolverines burst out of the gates with a memorable six-game winning streak that included a 17-point fourth-quarter comeback against Notre Dame, a historic 58-0 blowout of Minnesota and a second-half comeback on the road against Northwestern.
That came to a grinding halt Saturday with a 28-14 loss to rival Michigan State. The score was close, the game was not.
The aftertaste was bitter.
Michigan coach Brady Hoke has preached physicality and toughness since first stepping off a plane from San Diego in January, but the Spartans showed Michigan still is not among the Big Ten's elite in those regards.
"They pounded us," junior safety Jordan Kovacs said after his team's fourth straight loss to Michigan State. "They beat us up. You've got to give them a lot of credit. They did what we thought they were going to do."
Now, as the No. 18 Wolverines (6-1, 2-1) lick their wounds, they must find a way to regroup if they are to avoid the kind of precipitous decline that followed their past two losses to the Spartans. They entered those games 9-0, but finished 3-13.
"We just can't dwell on (the loss)," senior tight end and captain Kevin Koger said. "The past couple years, we dwelled on it and they beat us a couple more times, so we just have to put the game away and just move on as quickly as possible."
The schedule stacks up favorably for Michigan to do just that.
The Wolverines are idle this week, giving them a buffer between the loss and the rest of their schedule. That will help players and staff refocus, regroup and get healthy — something Michigan badly needs.
Quarterback Denard Robinson is the biggest concern. The junior, who left 10 games with injury, now has departed from the past two. He suffered a left hand injury against Northwestern and a right hand injury against Michigan State, and was knocked out of the latter because of a bruised back suffered on a late hit.
"He's just beat up a little bit," Hoke said. "It's more his back than anything. He'll be fine. The rest will be good for him."
Other starters who are dealing with injury include cornerback Troy Woolfolk (ankle), left guard Ricky Barnum (ankle), weak-side linebacker Cam Gordon (back) and left tackle Taylor Lewan (undisclosed). Receiver Roy Roundtree also left the MSU game after landing hard on his back, but returned.
The break will improve Michigan's health. Its next game could improve its spirits.
Purdue (3-3, 1-1) will present a winnable home matchup Oct. 29. It already has lost 24-22 to Rice and 38-10 to Notre Dame, one of two common opponents with Michigan. The other is Minnesota, whom the Boilermakers beat, 45-17.
It also could become a rebound game for Robinson. Purdue is allowing 204.8 passing yards per game, despite playing a largely pedestrian schedule so far, and its defensive line is among the league's worst. The Boilermakers have just six sacks on the season. Only Minnesota has fewer in the Big Ten.
The Spartans, by comparison, have 21. They had seven against Michigan.
Purdue should provide a nice chance for a Wolverines victory, which would move them to 3-1 in Big Ten play and keep them in the thick of the Legends Division race. If Michigan State loses to Wisconsin this weekend, they would be tied for first.
It also would go a long way toward showing this year will be different than the past two.
The heavy lifting for that matchup starts today, as Michigan begins installing the game plan and irons out unit-specific weaknesses that were exposed against the Spartans.
That's when Hoke expects his team to start turning the corner.
"I expect them to act like a Michigan football team," he said. "And that means that they will come to work."
Kyle Meinke covers Michigan football for AnnArbor.com. He can be reached at 734-623-2588, by email at kylemeinke@annarbor.com and followed on Twitter @kmeinke.