Posted on
Wed, Feb 1, 2012 : 5:59 a.m.
Michigan football team to ink a top class, but don't put too much stock in the rankings
By Kyle Meinke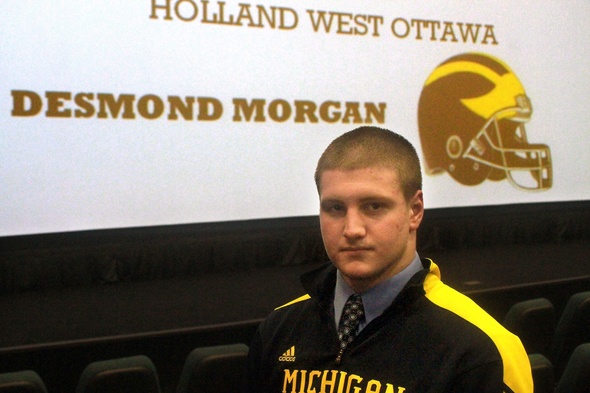 Grand Rapids Press
The Michigan football team is expected to sign one of the nation's top recruiting classes today.
There are two Rivals five-star prospects in the class, the first time that's happened since 2007. Three commits rank in the top 100 for the first time since 2008. Eleven of them -- or almost half the 24-member class -- are rated at least a four star.
Together, they comprise a class that ranks No. 4 according to Rivals and No. 5 according to Scout.
Strong stuff.
But what does it mean?
As coaches laud their newest additions today, it's important to remember that, most of the time, analysts are right. But they also miss on guys. Every year.
In fact, Michigan's sixth-ranked scoring defense last season -- which carried the team to an 11-2 record -- featured four starters who either were ranked in the bottom quarter of their recruiting class, or not at all.
DO STARS ALIGN?
A look at the stars given to Michigan players who started at least four games last season (Rivals/Scout):

OFFENSE
WR: Roy Roundtree (4/3)
WR: Junior Hemingway (3/4)
RB: Fitz Toussaint (4/3)
QB: Denard Robinson (4/4, not at QB)
OL: Taylor Lewan (4/4)
OL: Ricky Barnum (4/4)
OL: Michael Schofield (4/4)
OL: David Molk (4/3)
OL: Patrick Omameh (2/3)
OL: Mark Huyge (2/3)
TE: Kevin Koger (4/4)
TE: Steve Watson (3/4)

DEFENSE
DL: Craig Roh (4/4)
DL: Mike Martin (4/4)
DL: Will Heininger (NR)
DL: Ryan Van Bergen (4/4)
LB: Jake Ryan (3/3)
LB: Kenny Demens (4/3)
LB: Brandin Hawthorne (3/3)
LB: Desmond Morgan (3/3)
CB: Blake Countess (4/4)
CB: J.T. Floyd (3/3)
S: Jordan Kovacs (NR)
S: Thomas Gordon (2/2)
S: Troy Woolfolk (3/3)

5-STAR BLUES
Michigan's 5-star recruits since 2007:

2011: None
2010: Devin Gardner (now backup QB)
2009: Will Campbell (now backup DT), Justin Turner (transferred to Scottsdale Community College)
2008: Boubacar Cissoko (kicked off team, in jail)
2007: Ryan Mallett (transferred to Arkansas), Donavan Warren (star corner, left after junior season)

Note: Michigan has two five-star recruits in its 2012 class, OL Kyle Kalis and DT Ondre Pipkins.
Consider the case of linebacker Desmond Morgan.
Michigan's recruiting class this year is so powerful because of the work done before the start of the season. At that time the previous year, though, Morgan was ranked 52nd.
Not nationally. Not at his position. The Holland native was 52nd in the state of Michigan.
A year later, he was starting at linebacker for a top-10 defense.
Scout Midwest recruiting expert Allen Trieu, who compiles the website's state ranking, said Morgan was undervalued early because he played fullback as a junior, which masked his athleticism.
As a senior, he played quarterback and ran the option, which showcased his athleticism.
"I still remember the first I went to see him," Trieu said. "I had an eye infection, so my girlfriend had to drive me there, and she stayed for the game. He scored three touchdowns and absolutely blasted a kid on defense on the first play.
"She leans over and was like, "'Uh, I think he's pretty good.'"
Trieu gave Morgan a three-star ranking, and the linebacker finished 43rd at his position according to Scout.
Rivals didn't rank him at all at linebacker and gave him the worst non-kicker rating in Michigan's 2011 class. Oops.
And, it's not as though he were a raw prospect. He started seven times at weak-side linebacker as a true freshman, and coaches say he would have started more if it weren't for a leg injury in fall camp.
The "experts" simply missed on him. But he isn't the only one.
Over on the strong-side, linebacker Jake Ryan has done more than anyone else so far from the 2010 class, but was only a three-star recruit. He was Scout's 21st-best player in the class, and was tied for 16th according to Rivals.
Rivals' best prospect in that class, cornerback Cullen Christian, played only one season before transferring to Pitt after the firing of Rich Rodriguez. He recorded six tackles as a Wolverine.
In the 2009 class, Thomas Gordon was the second-worst prospect according to Rivals and Scout. He started at free safety as a sophomore last season and led the Big Ten in fumble recoveries.
In 2008, offensive lineman Patrick Omameh was Michigan's worst-ranked recruit according to Rivals. He has started 29 consecutive games at guard heading into his senior season, the second-longest streak on the team.
The best player in that class, Boubocar Cissoko, played only one full season before being kicked off the team. He's sitting in a jail cell right now on assault and robbery convictions.
In 2007, offensive lineman Mark Huyge was a two-star according to Scout, and the second-worst player in the class. The Wyoming, Mich., native recently finished his Michigan career by making 29 consecutive starts and is training for the NFL Draft.
All told, only seven of the 25 players who started at least four games last season were consensus four-stars or better. That does not include Denard Robinson, who was a four-star, but not as a quarterback.
Melanie Maxwell | AnnArbor.com
Two full-time starters -- defensive lineman Will Heininger and safety Jordan Kovacs -- weren't given stars at all. Kovacs has since become one of the Big Ten's best safeties.
"I could spend the rest of my life looking at these kids and still not get it right," Trieu said. "It's just that much of an inexact science."
Trieu said the biggest reason players such as these are not ranked higher is because, almost across the board, they were late bloomers stuck behind other players at football powerhouses (three-star Frank Clark was an example last year at Cleveland Glenville High) or they play positions that do not showcase their skills (Morgan).
But there is one interesting list Trieu compiles that does account for players such as these, even if they are left behind in the rankings. He does a "Big Ten sleeper list" every year for those who come on late.
It appears to be far more accurate than the star rankings.
The past three years' sleepers named by Trieu: Gordon in 2009, Ryan in 2010 and Morgan (as well as budding tailback Thomas Rawls) last year. That's dead-on.
(This year's Michigan sleeper, for what it's worth? Offensive tackle Ben Braden, a three-star from Rockford, Mich.)
But it's not just lowly ranked guys who surprise at the next level. It's the blue-chippers, too, but for all the wrong reasons.
Michigan had 22 players in the 2008-10 classes who were consensus four-star recruits. Nine of them -- 40.1 percent -- either transferred or were kicked off the team.
Rivals' top-ranked players in that stretch? Christian (transferred to Pitt) and Devin Gardner (backup quarterback) in 2010; Will Campbell (backup defensive lineman) and Justin Turner (transferred to Scottsdale Community College) in 2009; and Cissoko (in jail) and Dann O'Neill (transferred to Western Michigan) in 2008.
Campbell, Turner, Gardner and Cissoko earned at least one fifth-star. None has yet developed into an elite player, although the jury's still out on Gardner.
The last five-star recruit to develop into a steady starter for Michigan? Cornerback Donovan Warren in 2007.
That makes the Wolverines 1-for-6 on five-star recruits since 2007 (Ryan Mallett also was in that class; he transferred to Arkansas).
Whew.
That should serve as a cautionary tale as Michigan's recruits are extolled today by coaches, media, recruiting analysts and fans.
The Wolverines' class is filled with accomplished high school players, and the staff deserves to be commended for grabbing players whom they think fit their system. But, just who it is that pans out, and who transfers before playing a single down, remains an uncertainty.
And that's about all that is certain at this point.
Kyle Meinke covers Michigan football for AnnArbor.com. He can be reached at 734-623-2588, by email at kylemeinke@annarbor.com and followed on Twitter @kmeinke.