Posted on
Mon, Dec 5, 2011 : 4:10 p.m.
Michigan football team unfamiliar with Virginia Tech, a surprising Sugar Bowl pick
By Kyle Meinke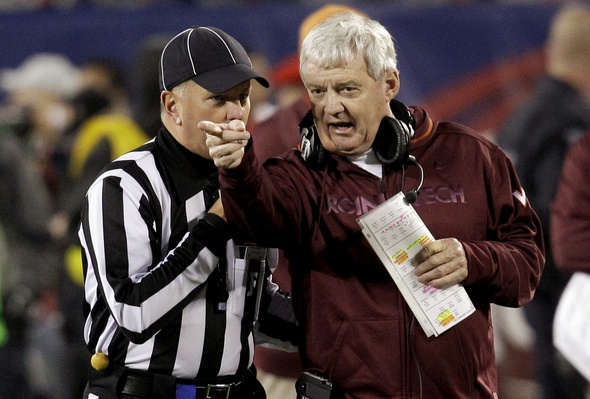 AP Photo
Don't know much about Virginia Tech? You're not alone.
No one on the Michigan football team has played the Wolverines' Sugar Bowl opponent. In fact, the schools have never played each other.
Wolverines coach Brady Hoke and his Virginia Tech counterpart, Frank Beamer, have never met.
Michigan hasn't even faced an Atlantic Coast Conference school since 1995, when it beat Virginia. The Hokies haven't faced a Big Ten team since they routed Indiana in 1993.
"I can't lie, I'm not very familiar with them at all," senior defensive lineman Ryan Van Bergen said about 15 minutes after learning of his bowl fate. "Obviously, I had only about 2 minutes to watch game film (before this interview).
"From the clips on ESPN, they look pretty good."
SportsCenter is about as close as Michigan (10-2) has gotten to the Hokies (11-2) this year.
They actually are relatively similar teams, each relying on fearsome defenses (Virginia Tech and Michigan are tied for seventh nationally at 17.2 points allowed per game) and capable offenses (Michigan averages 34.2 points per game, and the Hokies 28.5).
The unfamiliarity between the teams, though, will require extra game planning for both, a process that won't begin in earnest for Michigan until at least Wednesday. Hoke is out of town until then.
Even if the Wolverines did some bowl prep work during their off time last week, they likely didn't spend it on Virginia Tech, which originally was projected to land in the Orange Bowl, if anywhere in the BCS, as the ACC champion.
When the Hokies were routed by Clemson on Saturday, most experts expected them to fall out of the BCS entirely. West Virginia and Kansas State were the favorites to face Michigan, and Boise State was another possibility.
Instead, the Sugar Bowl tabbed Virginia Tech with the BCS' final at-large pick. The choice has been controversial, since the Hokies played a weak schedule -- they haven't beaten a ranked team and were blown out in their season finale -- and were picked mostly for their draw and Sugar Bowl legacy.
It led noted college football writer Pat Forde of Yahoo! Sports to pen this: "The presence of Virginia Tech in a BCS bowl is an absolute, complete and utter travesty. The Sugar Bowl should be ashamed of itself for taking the Hokies over more deserving candidates Boise State and Kansas State."
Beamer defended his team's inclusion during a teleconference with reporters Sunday night, noting, "The people we've been able to beat, they didn't seem weak to me."
"Over the years, the Virginia Tech name has gotten to be a very good name," Beamer added. "Not only this year, but I think over the last several years the name has built up. I think there's a lot of reasons why you'd like to have Virginia Tech in your bowl game."
Beamer offered more defense for his team's inclusion, noting Virginia Tech lost to only one team (Clemson, twice) this year, and that Hokies tailback David Wilson was the ACC's player of the year.
He also mentioned Virginia Tech's eight consecutive 10-win seasons -- none of which included Michigan, though.
"Until recently, didn't really think us and Michigan would be meeting in a bowl game," Beamer said.
Hoke said he never thought about facing Virginia Tech, or the process by which it was chosen.
"If I try to figure it all out, I'd probably get a headache, to be honest with ya," Hoke said by phone from New York City on Sunday night. "I just know they're a terrific program.
"No matter who we play, it still comes down to, it's Michigan."
On Jan. 3, it's Michigan and Virginia Tech.
An unlikely pair.
Kyle Meinke covers Michigan football for AnnArbor.com. He can be reached at 734-623-2588, by email at kylemeinke@annarbor.com and followed on Twitter @kmeinke.