Posted on
Sat, Nov 26, 2011 : 7:56 p.m.
Michigan's senior class needed streak-ending win over Ohio State
By Kyle Meinke
Melanie Maxwell I AnnArbor.com
David Molk had blood stains spattered along his leg. Denard Robinson had more blood, somehow, on his butt.
Ryan Van Bergen had tears in his eyes. So did Kevin Koger.
It was as though they had been through battle. They had.
It was as though they had been through hell. They have.
And now, they're back.
The 17th-ranked Michigan football team beat Ohio State, 40-34, on Saturday and exorcised the demons that have haunted this program for about seven years.
This weekend, that misery ends, thanks largely to a group of seniors who went through football hell. The fifth-years played for three coaches, the first group to do so since the 1920s. They were winless against their biggest rival, winless against their second biggest rival, and championship-less.
And, left with one chance to change any of that, they did. They conquered Ohio State, and helped end a nightmare that began almost a decade ago -- when the seniors were in middle school.
It validates a 10-2 season.
"It couldn't feel any better," said Molk, a captain who had been outscored 100-24 by Ohio State in three previous seasons. "I mean, going through what we've gone through? This is my third coach, third offensive coordinator, third offensive line coach, third strength coach."
Then, the center's voice rising: "It's been a lot, and it's been a roller-coaster that, for some reason, never seemed like it would ever get good. But, you know what? We kept fighting."
That fight began 10 months ago with the hire of coach Brady Hoke -- a home-run hire for the 10 wins, the six Big Ten wins, the looming BCS bid, the top-flight recruiting class -- and now, a win against Ohio State.
To Hoke, that's what matters most. He called The Game the most important game when he was hired, pounding a podium seven times to drive home that point. Molk made it clear just how much more Hoke emphasized this game than predecessor Rich Rodriguez.
"One thousand times more," he said.
Michigan (10-2, 6-2) broke every team meeting with "Beat Ohio!" -- reflective of the pet name Hoke has used for the Buckeyes "since always," and one fans have taken as their own.
Ditto for team group drills in practice. And there were countdown clocks, too.
But clocks and cheers and pet names don't win football games. Hoke said it would come down to the play and leadership of his seniors, which sounds like flowery coachspeak.
It proved true, though. Seniors helped direct the focus of this team and temper their emotions Friday during the walk-through and at the team hotel, and again Saturday before the game. Then, three of them caught touchdown passes, including little-used Martavious Odoms, once shuffled out of the lineup this year, for the third consecutive game.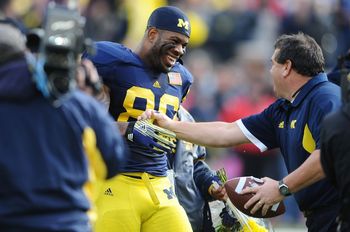 Melanie Maxwell I AnnArbor.com
Koger, a senior captain, scored on a 4-yard score with 8:32 left that proved to be the game-winner.
Hoke, who embraced many of his seniors during a pregame ceremony, kissing some, lauded his seniors after the game. And they lauded him.
"He is us, we are him. I love him," Molk said. "I would do anything for him."
What they did was win nine games coming into this one, win five Big Ten games, win back their dignity. All that was left was beat the Buckeyes.
"I think we needed this win to solidify what we've done this season," Van Bergen said. "I didn't want to say it before the game, because I didn't want to put the pressure on my teammates, but I think it solidifies what we've done as a team.
"This game is more than a win in the column. It's bigger than that, it encompasses way more."
They prevailed, with lots of offense, led by Robinson's best game at Michigan. Ever. He was 14-of-17 passing for 167 yards, ran 26 times for 170 yards and accounted for five touchdowns.
It will go down as one of the best performances by a Michigan quarterback in the history of this rivalry.
Then, after a review that called back a Fitz Toussaint touchdown run late in the fourth quarter, then a double-penalty that forced a field goal, Michigan was clinging to a six-point lead with Ohio State getting the ball back.
Fittingly, though, the defense, which struggled for much of this day against Ohio State quarterback Braxton Miller and allowed a season high in points, came through when it mattered most. An interception by Courtney Avery sealed the victory.
Only Robinson touching his knee to the turf separated the Wolverines from complete redemption.
And the seniors, who went through depths experienced by no Michigan class in decades, were on top of the world.
"It's just like the old saying goes: 'Those who stay will be champions,'" Molk said. "It's been a long time. We've been through a lot of stuff.
"But in the end, you truly realize what this place means, the power that block 'M' has on your chest. I love Michigan, there's no doubt about it, and I don't care what we had to go through.
"I'll never forget it."
Neither will we.
Kyle Meinke covers Michigan football for AnnArbor.com. He can be reached at 734-623-2588, by email at kylemeinke@annarbor.com and followed on Twitter @kmeinke.