Posted on
Sat, Oct 29, 2011 : 6:52 p.m.
Michigan football team wins, but injuries mount ahead of tough 4-game stretch
By Kyle Meinke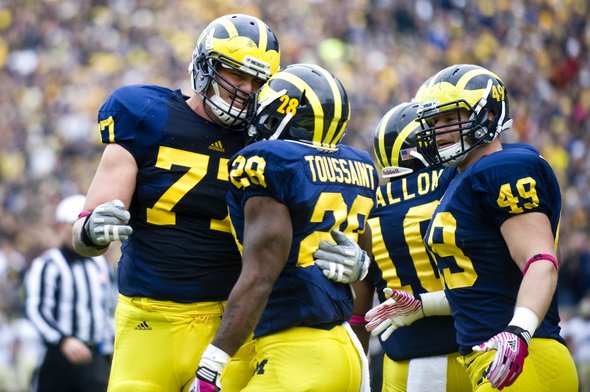 Joseph Tobianski | AnnArbor.com
Well, so much for being healthy.
The 17th-ranked Michigan football team handled its business Saturday in a 38-14 win against Purdue, and in doing so rose into a three-way tie for the Legends Division lead by virtue of a Michigan State loss.
But it paid a price to get there.
Coach Brady Hoke indicated last week this was one of the healthiest teams he's had at this point in a season, which partly was due to a well-placed off week. Now, though, Michigan (7-1, 3-1) is coping with several pressing injuries at critically thin positions.
To add insult to injury, they come as the Wolverines prepare to embark on the most difficult four-game stretch of the season. Tough stuff.
Taylor Lewan, Ricky Barnum, Vincent Smith and Jordan Kovacs are four of Michigan's most important players, and each played reduced roles against the Boilermakers because of injury.
That made the team's rout of an upstart team all the more impressive.
I asked Hoke if he's concerned about the injuries, considering what lies ahead and the fact he already has five freshmen playing significant roles on defense.
"It's football," he replied. "That's why you have guys on the team that can compete. They just got to keep improving and, when their opportunities come, you have to take advantage of them."
The positivity is encouraging, and expected, but the concerns are real with road games against Iowa and Illinois and home dates with Nebraska and Ohio State looming.
Kovacs did not play due to a knee injury, and a source told AnnArbor.com he is questionable for next week's game against Iowa.
That is a real blow for the Wolverines, as Kovacs is one of the team's best defensive players. He had started 28 consecutive games since first becoming a starter in 2009, was second in the Big Ten in tackles a year ago and has become the team's field general on defense.
Exacerbating the issue for the Wolverines is five freshmen already are playing significant roles on defense — including two who started at linebacker and one at corner against Purdue. Michigan could use Kovacs' leadership, as well as his play.
The offensive line might be in worse shape. It began the season as Michigan's thinnest position group, drew fire for poor play against Michigan State and now is being ravaged by injury.
Lewan, Michigan's starting left tackle and best lineman, appeared to tweak his knee in pregame warmups, played with a noticeable limp and left the game at several junctures. He's also dealing with ankle and wrist issues.
But Lewan, whom Hoke calls "one tough sucker," continued to play despite the injuries. He did not leave for good until the game was well in hand.
"I think it lifts your team," Hoke said of Lewan's ability to play through pain.
Added right tackle Mark Huyge: "(Lewan) was just saying, 'I'm going to stay in and let's go.' There's no way he was going to get pulled out."
Another offensive lineman, Barnum, exited shortly before halftime after aggravating an ankle injury and did not return. That's two linemen down from what Hoke has called his thinnest position on the field — and it's also the position that has drawn the most scrutiny the past two weeks after being dominated by Michigan State.
That made their terrific play against Purdue — one sack allowed and 339 rushing yards — all the more impressive.
Hoke said Michigan's ability to play through such debilitating injuries comes down to one thing more than any other. He knows it sounds corny — he didn't say Hoke-ey, unfortunately — but says it anyway.
"I like how they like each other," he said. "Maybe that's corny, or whatever, but from where I sit, I like that they respect each other and they want to play for each other.
"Look, they're on scholarship to get a great education and play football. So, they're expected to do both."
They're doing the latter pretty well, and very well considering the circumstances.
The future, though, is more concerning.
Kyle Meinke covers Michigan football for AnnArbor.com. He can be reached at 734-623-2588, by email at kylemeinke@annarbor.com and followed on Twitter @kmeinke.