Posted on
Thu, Nov 17, 2011 : 3:30 p.m.
Michigan football team's Greg Mattison, Brady Hoke break down Nebraska's option, how to stop it
By Kyle Meinke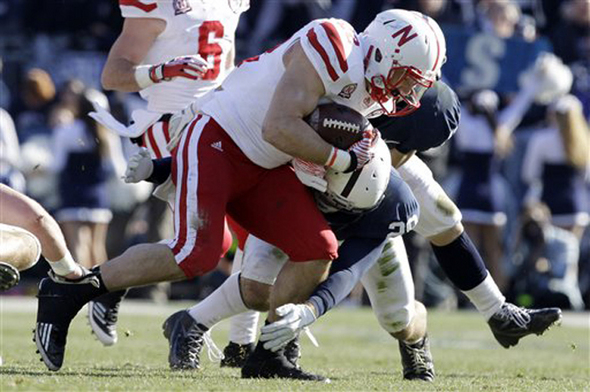 Associated Press
The Nebraska offense has gone the way of the Michigan football team's offense: It went multiple last week against Penn State, with tailback Rex Burkhead getting direct snaps and running quarterback Taylor Martinez passing more.
But, the option remains the Cornhuskers' biggest punch, and the Wolverines' youthful defense will be challenged by the look when the teams square off at noon Saturday on ESPN.
The last time Michigan faced an option team was against Northwestern, and it did not fare well for a half. The Wildcats jumped to 24 first-half points as the Wolverines failed to slow the outside running game.
But they made adjustments at halftime, mainly going to a bigger nickel subpackage that featured outside linebacker Jake Ryan, and they shut out Northwestern in the second half en route to a comeback win.
They also saw a few options last week against Illinois, but the Illini did not feature the look like Nebraska will. The Cornhuskers' option also is more effective and diversified than Northwestern's version.
Martinez and Burkhead rank among the Big Ten's top-seven rushers, and the Cornhuskers' offense is second overall on the ground. Martinez ran the option as well as he has all year last week against the Nittany Lions, who entered the game with the Big Ten's No. 3 defense against the run.
The sophomore quarterback finished with 19 carries for 56 yards, but set up Burkhead for 25 more carries and 121 yards. Burkhead also scored a touchdown off the option.
Defensive coordinator Greg Mattison said the key to stopping Nebraska's option is for his players to be disciplined in their assignments.
"Whenever you have an option team, responsibility and doing your job is critical," Mattison said. "You saw it last week (against Illinois). We had a couple of times where we didn't take the quarterback. Well, those two kids that that happened with took it probably 70 times in practice.
"Then, all of sudden, there's that moment in the game where that back looks real intriguing and they want you to bite on that cheese, and they did, and the quarterback kept it. So you have to be really disciplined playing a game like this."
Mattison said the team does a "chasing the rabbit" drill with the defensive lineman after every Tuesday practice, which emphasizes playing assignment football. They also have a pretty good quarterback against whom to drill in Denard Robinson.
The junior is about as fast as Martinez, maybe faster.
"We've got to be highly disciplined whenever (we're) playing option football teams," coach Brady Hoke said. "You've got to do your job. That's an expectation. That's an important part of it."
Hoke said part of what makes Nebraska so difficult to stop is it runs several variations of the option.
"There's varying degrees," he said. "There's some speed option you'll see. There's some zone-read option — parts of it that you'll find out, but it's a discipline of what your job is."
It will pose a challenge to Michigan's revamped defense, which is fifth best in the Big Ten this year against the run, but No. 1 in conference games.
Kyle Meinke covers Michigan football for AnnArbor.com. He can be reached at 734-623-2588, by email at kylemeinke@annarbor.com and followed on Twitter @kmeinke.