Posted on
Sat, Nov 19, 2011 : 6:55 p.m.
Michigan football team's thumping of Nebraska shows it's peaking at right time
By Kyle Meinke
Melanie Maxwell | AnnArbor.com
The Michigan football team is playing its best football of the season. It's playing its best November football in years.
It's saving its best act for last.
If ever you needed evidence the Wolverines have turned a corner this year — and you shouldn't, after their defense's rise to prominence — this is it: They bludgeoned a Nebraska football team that, outside of Michigan State, is the most complete team they've faced all season.
Yet, with 6 minutes to go in an impressive 45-17 blowout of the No. 17 Cornhuskers, the focus already had turned elsewhere.
"Beat O-hi-o!," 113,718 fans chanted throughout the waning moments of the fourth quarter.
That's a nod to coach Brady Hoke, whose reluctance to follow "Ohio" with "State" has endeared him to a fan base that has not seen a beating of Ohio since 2003.
With Michigan surging, though, and the 6-5 Buckeyes floundering, the Wolverines don't just have a chance to change that. They should change that.
Players know that.
"As the game was winding down, the last minute-and-half when we were kneeing the ball, I think everyone was thinking that in the back of their head," safety Jordan Kovacs said.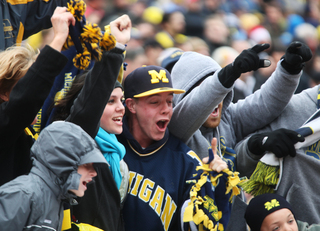 Jeff Sainlar | AnnArbor.com
The win comes with an odd twist, as it helps rival
Michigan State
clinch the Legends Division title and a berth in the Big Ten championship game after its win against
Indiana
.
No. 20 Michigan (9-2, 5-2) still has a lot to play for, though, as it prepares to face archrival Ohio State next week with more than pride on the line for the first time in a long time.
Michigan already is guaranteed to go to at least the Outback Bowl, but a win against the Buckeyes likely would secure the Big Ten's second-best bowl bid — including a possible berth in a BCS game.
In fact, a representative from the Fiesta Bowl attended this game. What he saw was a Michigan team peaking at the right time.
"I think this is the best win we've had since I've been on the team, just because it's so late in the year," Kovacs said. "I don't think we've had a game this late in November that really meant as much as this one."
It's been eight years since Michigan won a game so deep into the season. That 2003 victory also happens to be the last time the Wolverines beat Ohio State.
The Wolverines were 3-8 in November games the past three years. They looked overmatched and underprepared.
This year? They're 2-1 and at the top of their game when it matters most.
Quarterback Denard Robinson accounted for four touchdowns against Nebraska, and pulled into a tie with Tom Brady on the career passing touchdowns list. It was his finest overall day of the season, and perhaps the best of any Big Ten game in his career.
Tailback Fitz Toussaint rushed 29 times for 138 yards and two touchdowns, and has eclipsed the 100-yard mark three out of his past four games.
The defense was its normally-stout self (still weird to say, right?). A week after holding Illinois without a third-down conversion in its first eight tries, Nebraska whiffed on its first seven.
Michigan finished with nearly as many rushing yards (238) as Nebraska had total yards (260). That bodes well for the Wolverines' chances again next week when they face another mobile quarterback in Ohio State's Braxton Miller.
"Coach Mattison is establishing an NFL defense here," Kovacs said. "We do a pretty good job of disguising and giving the quarterback something to think about. But the offense helps us a lot. Any time you're not on the field as a defense, they can't score too many points on you."
Most improved this week, though, were the special teams. The Wolverines recovered two fumbles on kickoffs, blocked a punt, flipped a fake field goal into a touchdown and turned a Nebraska roughing the kicker penalty into another score.
Oh, and that all came in the second half, turning a 17-10 game into a rout.
"It's probably as well as we've played in all three phases," Hoke said.
Down at That School in Ohio, the Buckeyes continue to flail away. They lost 20-14 on Saturday to Penn State, following a loss to Purdue last week, and are now 6-5. The Wolverines, meantime, haven't had a record this good going into that game since 2006 and will be the certain favorite.
It seems the tables have turned in this great rivalry — at least until Urban Meyer is wooed to Columbus in a couple of months or so.
Former coach Lloyd Carr would know better than anyone. He was the last Michigan coach to beat the Buckeyes, but also lost to them the final four seasons of his career.
On hand for the Nebraska game because of his honoring before kickoff, Carr couldn't help but say what everyone is thinking.
"Here we go, into the last game of the season, with a lot to play for — and great momentum," Carr said. "This team is starting to believe in itself.
"It was a loud statement."
That statement: Bring on Ohio.
Kyle Meinke covers Michigan football for AnnArbor.com. He can be reached at 734-623-2588, by email at kylemeinke@annarbor.com and followed on Twitter @kmeinke.