Posted on
Thu, Mar 24, 2011 : 5:55 a.m.
Michigan football team's wide receivers may have biggest learning curve in offensive transition
By Pete Bigelow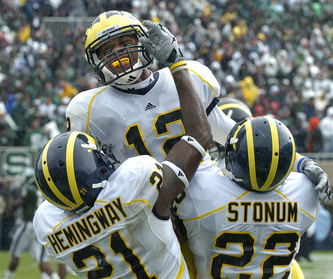 AnnArbor.com file photo
On the first offensive series of the 2010 football season, the San Diego State offense made a perplexing first impression on its opponent, Nicholls State.
The Aztecs lined up in a five-wide formation that looked far different than the pro-style set favored by San Diego State coach Brady Hoke and offensive coordinator Al Borges.
Results were inconsequential - quarterback Ryan Lindley threw an incomplete pass on first down and Davon Brown ran for 9 yards on second before the Aztecs returned to their base formation.
But the five receivers on the field proved a point, one that's worth remembering as Hoke and Borges overhaul the Michigan football team's offense this spring.
This isn't necessarily the 3 yards-and-a-cloud of dust cliché from Michigan's past that onlookers expect Hoke to rekindle. Assumptions like that are troublesome to the coaches.
They're willing to try anything, especially as they transition from players situated for the spread offense to their pro-style power offense.
"I never want to paint us into a corner where I say this is what we are, and then find out with the personnel that we can't do that, you know what I mean?" Borges said.
"You start with a blueprint of what you want to be, and that thing constantly gets changed based upon your personnel." So far this spring, the most curious aspects of that template have centered on quarterback Denard Robinson and the way the new coaching staff plan to accentuate his skills in the offense.
Attention has also been paid to the running backs, who coaches have called the biggest "beneficiaries" in the switch of systems.
By comparison, the receiving corps has gotten relatively little scrutiny. At first glance, the group may be the one that collectively has the most arduous transition from the spread to the pro-style offense. The former placed a premium on speed; the latter on toughness.
The position is filled with smaller receivers. Returning starters Junior Hemingway (6-foot-1) and Darryl Stonum (6-foot-2) are the tallest at a position with plenty of 5-foot-8 and 5-foot-9 backups.
"Don't assume anything," receivers coach Jeff Hecklinski said. "You've got to get down to what's in the hearts of these kids and let them go play. It doesn't matter how big you are or fast you are … what matters is how you produce when the lights are on."
The Wolverines receivers have done that. Roy Roundtree, last year's leading receiver, caught 72 passes for 935 yards and seven touchdowns last year. He had the fourth-most receptions in the Big Ten.
Stonum caught 49 passes for 633 yards and four TDs while Hemingway had 32 for 593 and four touchdowns.
Although the Wolverines plan to feature more tight ends this year and put more of an emphasis on returning to a power running attack, that doesn't necessarily mean those numbers will diminish.
Much like he did at San Diego State, Borges plans to use the best players he's got, regardless of the blueprint.
Could the Wolverines open the 2011 season with five receivers on the field?
"We might, we might," Borges said. "What's our preference? We'll run four wides five to seven times a game. But if four wides is a group we've got to feature more - don't misunderstand me, we're never going to be a four-wide team - but maybe we'll run them 10 times a game, 12 times a game.
"If they're the best guys for those situations, they're going to play. It's that simple."
Pete Bigelow covers Michigan football for AnnArbor.com. He can be reached at (734) 623-2556, via email at petebigelow@annarbor.com and followed on Twitter @PeterCBigelow.