Posted on
Fri, Dec 23, 2011 : 5:59 a.m.
Michigan football team to hold last practice before Christmas break
By Kyle Meinke
The Michigan football team will have a light workout this morning, then break for four days before reconvening in New Orleans on Wednesday.
Brady Hoke knows just how much such a break is needed after seven consecutive days of practice.
The first-year Wolverines coach was routed in his first bowl game as a head coach. He had guided Ball State to the International Bowl, but lost 52-30 to Rutgers. He attributes the setback to overworking his team.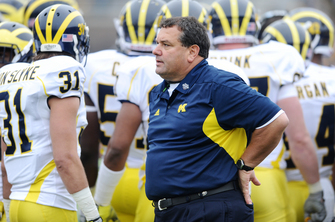 Melanie Maxwell | AnnArbor.com
"I think we were a little sluggish because we probably did too much," Hoke said. "We did some two-a-days and stuff like that. I won't do that again, to be honest with you, or the length of the two-a-days that we did.
"I just think we were dead a little bit, and we played a great Rutgers team. I mean, Ray Rice wasn't bad."
Hoke is 6-4 as a coach in bowl games, and 1-1 as a head coach. He's learned from those experiences that there is a fine line between backing off to keep a team fresh, but also going hard enough to maintain timing. Michigan will try to navigate that dichotomy as it goes five weeks between its regular-season finale against Ohio State and its Sugar Bowl matchup with Virginia Tech on Jan. 3 (8:30 p.m., ESPN).
The Wolverines finished the season with a flourish, pounding Nebraska and then edging the rival Buckeyes. They scored 85 points in those games, and their offense was operating at its highest level all season.
They have won three games in a row overall.
But offensive coordinator Al Borges said the most difficult thing about bowl prep is maintaining timing in the passing game. That could be a concern for quarterback Denard Robinson and his receivers.
Hoke said it remains too early to gauge whether his team will build off its momentum, or come out flat, but added he would know more after the team reports to New Orleans on Wednesday for a short practice.
Players who live at least four hours away from Ann Arbor will meet the team in Louisiana. Everyone else will board the team charter that morning.
"When we get in, we're going to go practice for about an hour and try and get some Christmas cookies off a couple of them — maybe a couple of the coaches, too," Hoke said. "Get them back into the speed of the game. That's the biggest thing, the timing and the speed of the game that you want to play with."
Hoke said he would like to keep practices to less than an hour-and-a-half, as long as the team looks crisp. Michigan will have two sessions at the Superdome, site of the game, and hold the rest of its workouts at nearby Tulane University.
There also will be off-the-field matters to address, including ensuring players stay out of trouble. Virginia Tech place-kicker Cody Journell already has been suspended because of an arrest Wednesday.
Hoke, who likes to keep information close to the vest, told reporters the players' curfew will be "sometime in the night." He said he would have a local speak with the team about what (and where) to avoid in New Orleans.
Longtime running backs coach Fred Jackson, from nearby Baton Rouge, won't talk to the team about discipline.
"Fred will talk about food," Hoke quipped.
Kyle Meinke covers Michigan football for AnnArbor.com. He can be reached at 734-623-2588, by email at kylemeinke@annarbor.com and followed on Twitter @kmeinke.