Posted on
Tue, May 8, 2012 : 5:59 a.m.
Jordan Kovacs hopes to fill Michigan football leadership void left by Kevin Koger, other seniors
By Kyle Meinke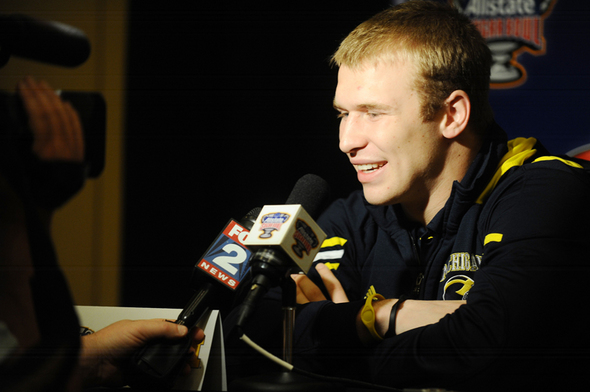 Melanie Maxwell | AnnArbor.com
Kevin Koger was one of the Michigan football team's three captains last year, and perhaps its most vocal leader. Who will fill that void now that he's departed the program?
That's what the Wolverines are sorting out right now. Jordan Kovacs intends to be in the mix, and he seemingly has all the ingredients to do so.
The senior safety is Michigan's second-most experienced player with 33 starts logged, a notable feat considering he required two student-body tryouts just to make the team.
He's also credited for his high character, which helped him to be named one of three Spirit Award winners Monday night by the Bob Ufer Quarterback Club. Hockey captain Luke Glendening and basketball captain Zack Novak were the other winners.
Seven senior athletes of the year also were honored during the ceremony at Barton Hills Country Club: Koger, Shawn Hunwick (hockey), Meagan Bauer (women's golf), Matt Thompson (men's golf), Amanda Chidester (softball), Kellen Russell (wrestling) and Dan Madwed (men's swimming).
Kovacs already ranks among some of the most elite leaders in Michigan athletics. He's quiet by nature, though. Ditto for quarterback Denard Robinson, the face of the team.
Kovacs said they're both trying to break from their shells.
"I think it kind of hit him like it hit me, like, 'somebody's gotta lead this team,'" Kovacs said. "Somebody's gotta really step up and get on these guys when somebody needs to get on them. At times it's been Denard, at times it's been (linebacker) Kenny Demens, at times it's been (defensive tackle) Will Campbell.
"We've had several guys step up, realizing this is their senior year and it's time to get this thing going."
Kovacs got a taste of being that vocal leader Monday, when he gave a five-minute speech while accepting his Spirit Award.
"I'm going to keep mine short and sweet, because I hate public speaking," Kovacs opened to the crowd. "But coach (Brady) Hoke assured me if I got up here and thought about brunette girls, I'd be all right."
So far, so good.
Kovacs' ascent from walk-on to probable captain is remarkable. He didn't hold a single Division I scholarship coming out of Clay High School in Oregon, Ohio -- Toledo offered him a spot as a preferred walk-on -- and was even turned away by Division II schools.
He said he leaned on his parents for support.
"I felt like that they were the only ones who believed in me, at times," Kovacs said. "There were times when I was turned down by Division II schools. I was told I probably wouldn't be able to make it there, and they were always by my side telling me I could do anything."
Melanie Maxwell | AnnArbor.com
Now a senior entering his fourth season as a starting safety, Kovacs is trying to pick up where Koger left off.
Koger was nicknamed "Hypeman 86" last season for his vocal leadership style. He, along with Mike Martin, David Molk and Ryan Van Bergen, comprised a strong senior core that paced that team.
The tight end gave credit to Hoke for setting that tempo early last year.
"I just want to say Coach Hoke epitomizes what a Michigan Man really is," Koger said while Hoke was seated to his immediate left. "People come up to me all the time, and they congratulate me and they're really appreciative of the job I did as a captain, but I would have no idea what to even do ... if it wasn't for coach."
Hoke has said repeatedly last season was "a failure," because Michigan didn't accomplish its goal of winning a Big Ten championship. Koger, though, noted the Wolverines still exceeded expectations.
"You expect to win the Big Ten championship, but I had my worries, I had my doubts," he said. "I had been through a coaching change, I had been through a 3-9 season and I know how it is, I know how it feels, I know how much it hurts.
"Not going to a bowl game two years in a row, and going down to Jacksonville in 2010 (for the Gator Bowl) and giving that embarrassing display, that's not what a Michigan Man is. That's not what Michigan is all about. That was really embarrassing.
"And then Coach Hoke comes in and, to be honest, I had never even heard of him. I didn't know who he was. ... But just the mentality he instilled in us throughout the season says a lot about who he is."
Koger closed by sharing how much he learned about being a Michigan Man from Hoke, because of the emphasis placed on learning the program's rich history. That started in training camp, when Hoke distributed "manuals" on the team's past.
"I don't tell a lot of people this, but I'll tell you guys: I learned more during camp this year from that book in three weeks than I did in my first three years at Michigan," Koger said. "And that's just a testament to the type of person Coach Hoke is."
Kyle Meinke covers Michigan football for AnnArbor.com. He can be reached at 734-623-2588, by email at kylemeinke@annarbor.com and followed on Twitter @kmeinke.