Posted on
Thu, Sep 23, 2010 : 6 a.m.
Michigan guard Stephen Schilling is Wolverines' quiet leader
By Michael Rothstein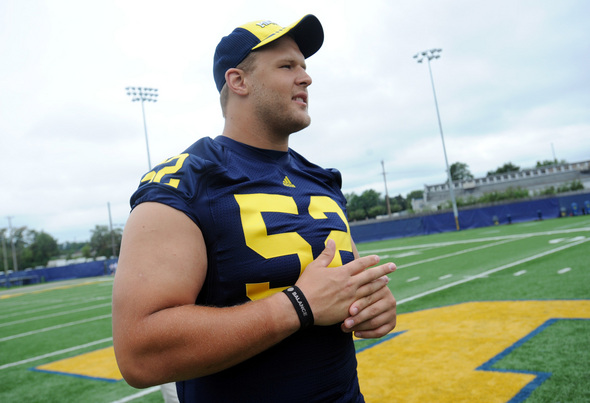 Melanie Maxwell | AnnArbor.com
BELLEVUE, Wash. - Stephen Schilling isn't likely to say much when you first meet him.
He's friendly. He engages in conversation. But the Michigan football team's fifth-year senior guard isn't going to open up fast.
He was quiet when former Michigan assistant coach Ron English started recruiting the five-star guard from outside of Seattle. When Rich Rodriguez replaced Lloyd Carr as Michigan's head coach, one of the first things that struck Rodriguez was the almost-silent Schilling.
On Schilling's official visit to Michigan before he committed to the school, he doesn't recall if he spoke the entire weekend.
"On my visit, (offensive lineman) Perry (Dorrestein) said he didn't even know if I talked on my visit," Schilling said. "I just didn't say anything. I don't like to put myself out there until I evaluate a situation.
"They probably thought I was weird, probably thought I was mute. But I don't think it's weird."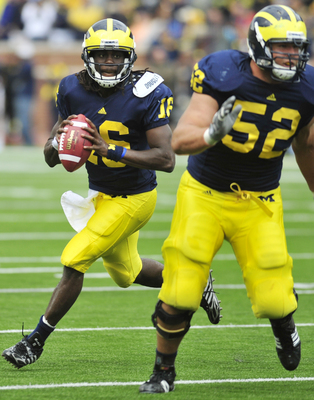 Melanie Maxwell | AnnArbor.com
It's Schilling's way.
"He doesn't really follow the crowd," his mother, Joanne, said in his family's single-level suburban Seattle home last month. "I think he knows himself well enough to know that this is what I want to do and this is what I am going to do and when I talk about (him) being stubborn, I think he's confident in what he knows about himself.
"That he will do what he knows is best for himself."
Choosing Michigan
Nowhere was the Schilling silence more evident than in the recruiting process.
A five-star prospect by Rivals.com, Schilling could have gone anywhere in the country. Joanne still has the box of letters and media guides schools sent to her son. Twenty-five schools offered Schilling a scholarship.
Unlike most recruits, he didn't speak often. Joanne or his father, Ralph, accompanied him on visits and offered advice.
Schilling just listened.
"I want to figure it out myself and do things on my own, big decisions like that, I do the same type of thing," Schilling said. "I like to sit back and process everything, get as much information as I can and make the best decision for myself.
"I don't need everybody's influence, really."
He narrowed the list to four - USC, Cal, Michigan and his hometown school, Washington. Leading up his commitment, he told no one how he leaned. It doesn't mean he didn't hear from others.
In school and with friends, he was frequently asked about his college choice, especially since Washington was an option. Seattle is a provincial place. They like when well-known home-grown talent sticks around.
Even as he sat as his wood kitchen table on Jan. 26, 2006, doing the all-too-typical hat selection to announce his choice at his mother and aunt's request, his family wasn't sure of his decision.
Neither were the coaches recruiting him.
"Right before, his mom said, 'You're probably going to be happy, Ron'" said English, who admitted to being worried about Cal. "I didn't know until like right before he called me."
He picked Michigan because it fit the best, because of the tradition and because, as other college football programs ebbed and flowed, Michigan stayed constant.
After he picked Michigan, he showed up at a friend's house. The friend's mother, a die-hard Washington fan, stood in the doorway.
"His mom opened the back door and was waiting for me when I got to the house and was like '(Bleep) you, get out of my house,'" Schilling said. "I didn't know what to say because I didn't know if she was serious. She was, but was like, 'OK, you can come in.' I guess she bought this huge, big Husky blow-up thing to put in my yard if I picked Washington and stuff.
"They were happy for me, said, 'At least you didn't go to Cal or USC, at least you got out of the Pac-10.' They are big Husky fans."
At the Washington spring game, fans yelled at him about his choice. To this day, he still roots for the Huskies.
Despite the unevenness of Michigan's success during his tenure - in 2007, '08 and '09 the Wolverines lost at least as many games as Schilling did in four years combined at Bellevue - he has no regrets.
"If I went back and did it again, I'd pick the school again even after what's happened here," Schilling said. "Yeah, it's tough to lose all those games and have the seasons we've had, but I wouldn't change it.
"I've had a great experience and hopefully I can finish it."
His family has enjoyed watching him, too.
"It's not that we didn't want him to go to the University of Washington," Schilling's father, Ralph, said. "I told him that while his brother and sister went there, I went there, a lot of his friends are going to go there, but that's because it's an in-state school and has in-state tuition.
"… But he could have probably picked any state in the Union and found a college to go to (on scholarship). I told him you have an opportunity to play football anywhere in the country. It's a hell of an opportunity. Take advantage of it. His brother told him that. His sister told him that."
The thinking man's lineman
Part of Schilling's independence stems from his memory - and intelligence.
In fourth grade, Schilling was required to be in a Shakespeare play. He memorized his small part, along with the role he really wanted. The next year, in the same play, he played the larger role from memory.
Shakespeare - and Schilling said he's not a theater aficionado - also came up later. Watching the television show "Jeopardy!" he realized he never answered the Shakespeare questions. So he signed up for a Shakespeare class.
His memory translates beyond the classroom and into the meeting room. He sees plays on paper and absorbs them fast. How fast? Michigan offensive line coach Greg Frey calls Schilling "Rain Man."
"I was always pretty good at memorizing stuff," Schilling said. "Whenever there was a test where you had to memorize things, I can just look at it for a little while and just see what it said in my head."
It helped him early in his career, when he was a first-year starter, and now as a captain.
It also kept Rodriguez from asking too many questions.
"I'm almost leery to ask him because he's so conscientious that if he doesn't remember it, it'll bother him," Rodriguez said. "He'll worry about it, like, 'What did Coach really want?' Sometimes he worries too much, maybe. But he plays hard."
While Rodriguez thinks Schilling worries - no one else has that feeling.
Michigan's quiet leader
Schilling doesn't say much - even as a captain - but he doesn't need to.
Last week, against Massachusetts, Michigan quarterback Denard Robinson threw an interception. As much as teammates looked to the smiling Robinson for comfort, they check Schilling for something else.
"He has this presence about him like, 'Everybody calm down, relax, y'all follow me and we'll be all right,'" junior wide receiver Darryl Stonum said. "It's just this feeling. He doesn't really say much, but he's always business on the field.
"… You can just look at Schilling and just calm down and relax."
Rodriguez noticed immediately. In the first team meeting after his arrival at Michigan, some players leaned back in their chairs.
Schilling sat attentively and absorbed everything. Rodriguez appreciated the attitude.
It is an attitude English saw from the beginning when he made weekly visits to Bellevue to recruit Schilling. The Eastern Michigan coach calls Schilling one of the top five players he's recruited. He figured he'd eventually become a captain.
That both English and Carr contacted Schilling or his family after his selection as a captain is more of a testament to the regard they hold him. Of course, typical of Schilling, someone had to tell him to call Joanne and Ralph in Bellevue.
Schilling has started 39 of 40 career games and was an All-Big Ten honorable mention player last season. Scouts Inc., which rates college players NFL draft potential, rates him an average to above-average prospect.
"I'm sure Frey tells them all the time, 'Watch No. 52,'" Rodriguez said. "Like little things, like when we are in practice and run the offense on the field, we don't want them to walk or jog, we want them to run. Well, Schilling sprints. He sprints, and he's five yards ahead of everybody. When we run off the field, he's five yards in front of everybody.
"He's the first one on, he takes it to another level."
A gentle side
Want Schilling to talk? Ask him about Quinn.
When Brandi Cypher, Schilling's older sister, got married she started receiving text messages from her brother such as, 'So, I've been thinking about baby names' or other ridiculous suggestions that cracked Brandi up.
Except Brandi wasn't pregnant.
"Yeah, you know, probably not the right thing to do," Schilling said.
Brandi wasn't offended. She loved his excitement for her, for the potential of a family. Despite the 10-year age gap, the two have become extremely close. The kid who keeps to himself now confides in one person - his older sister.
It's why, when she became pregnant, she called her brother six weeks into her pregnancy.
"He was like 'Are you serious,'" Brandi said. "He was really excited. I was like, 'I haven't told Mom yet, so don't call her or text her or anything, because she doesn't know.'
"He was like, 'Really? I was the first one you told?' That was cool."
Four weeks after Quinn's birth, Schilling flew to Seattle. Holding him for the first time, baby Quinn fit in his uncle's palm and forearm.
"I'm not one to get super excited about things," Schilling said. "I was talking to my girlfriend, and she said the only time I think I've ever seen you excited is when Quinn was born."
Often during the visit, the two laid down together and fell asleep, Quinn a tiny spot on top of the 6-foot-5, 308-pound Schilling.
A baby asleep in Schilling's arms? Considering his demeanor and the way he calms everyone else around him, it isn't surprising.
Michael Rothstein covers University of Michigan basketball for AnnArbor.com. He can be reached at (734) 623-2558, by e-mail at michaelrothstein@annarbor.com or follow along on Twitter @mikerothstein