Posted on
Tue, Jan 18, 2011 : 7 p.m.
Michigan hires Baltimore Ravens defensive coordinator Greg Mattison to fill same role with Wolverines
By Jeff Arnold
Updated at 7 p.m. Tuesday.
Brady Hoke isn't the only Michigan Man part of the Wolverines' new football staff.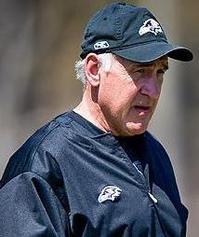 Baltimore Ravens' defensive coordinator Greg Mattison has been hired as the Wolverines' defensive coordinator, Michigan officials announced Tuesday night.
"Greg loves Michigan, loves recruiting and is excited about coming back to Ann Arbor and the University of Michigan," Hoke said in a statement issued Tuesday. "Greg is one of the top defensive coordinators in football, and his defensive units have always prided themselves on stopping the run. He will be a great asset to our program and an excellent addition to our staff."
Mattison could not be reached for comment Tuesday.
Mattison just completed his second season as the Ravens' defensive coordinator. In 2009, the Ravens allowed a league best 3.4 yards per carry and finished the season as the NFL's third-ranked defense.
Mattison, 61, replaced Rex Ryan as the Ravens' defensive coordinator a year after joining John Harbaugh's staff in 2008. The post was Mattison's first NFL job after spending 31 years coaching at the college level.
"We completely respect the decision Greg made to join the Michigan football program. He has loved Michigan since working there earlier in his career," Harbaugh said in a statement released by the Ravens Tuesday night.
"We will miss him because he's a great coach, but also an even better person. The students there are the lucky ones. Not only will he teach them football to the highest level, he will influence them to be the best persons they can be. Greg is one of the good people you are fortunate to meet in your life. We are disappointed that he will not be coaching our defense, but we know that he is following a true love by returning to the Wolverines."
At Michigan, he will replace Greg Robinson, who was fired along with the rest of Rich Rodriguez's staff following a lopsided Gator Bowl loss to Mississippi State. The Wolverines ranked 110th nationally in team defense and allowed 5,860 offensive yards last season.
Mattison was on Michigan's staff between 1992 and 1996, spending his final two years in Ann Arbor as the Wolverines' defensive coordinator. Prior to being appointed coordinator, Mattison served as Michigan's defensive line coach, a position Hoke was hired to fill. Mattison also worked with his new boss during a stint at Western Michigan when he worked for Jack Harbaugh.
The Wolverines defense ranked among the top 20 nationally in many statistical categories during his two seasons as coordinator.
After leaving Michigan, Mattison worked at Notre Dame and Florida.
Hoke has turned his attention to recruiting, but must also round out a staff that includes offensive coordinator Al Borges, Offensive line coach Darrell Funk, receivers coach Jeff Hecklinski, tight ends/special teams coach Dan Ferringo, running backs coach Fred Jackson, linebackers coach Mark Smith and strength and conditioning coach Aaron Wellman.
With the defensive coordinator's role filled, Hoke still has to fill the defensive backs and defensive line spots.
"Our staff is going to be a staff of high character that care about kids," Hoke said at his introductory press conference last week. "It's great working with people like that."
Jeff Arnold covers sports for AnnArbor.com and can be reached at (734) 623-2554 or by e-mail at jeffarnold@annarbor.com. Follow him on Twitter @jeffreyparnold.