You can live like a Michigan football player for a $5K donation to cancer research
Posted on Tue, Apr 17, 2012 : 3:56 p.m.
Want to know what it's like to be a Michigan football player?
For $5,000, you can do just that, while also helping benefit prostate cancer research in the process.
Registration is now open for the 'Michigan Men's Football Experience,' a two-day fantasy camp to help support the "Men of Michigan" Prostate Cancer Research Fund.
The goal for the event -- which will cost $5,000 per person -- is to raise enough money to push the total fundraising effort for the "Men of Michigan" fund over $1 million.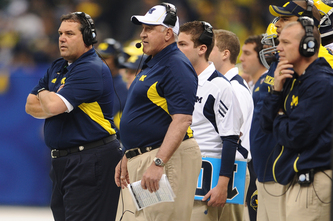 Melanie Maxwell | AnnArbor.com
In its third year of existence, the two-day camp allows participants to experience on-field training with Michigan football coach Brady Hoke and his staff.
The program features a team meeting in Schembechler Hall, practice film review, the chance to suit up in the Michigan Stadium locker room, walk down the stadium tunnel and onto the field as a team.
The event is limited to 116 participants.
"Participants will experience the great tradition of Michigan football which includes touring Schembechler Hall and walking down the famous tunnel into the Big House," Hoke said in a statement. "Our entire coaching staff will participate so you can experience what it's like to be a Michigan player."
Participants will also receive meals, overnight accommodations, an authentic Adidas game jersey, a practice T-shirt and shorts, an autographed football, a team photo and more.
For more information, visit the www.uofmhealth.org.