Posted on
Tue, Mar 23, 2010 : 5:29 p.m.
Michigan football team hoping 3-3-5 defense solves some of its issues
By Dave Birkett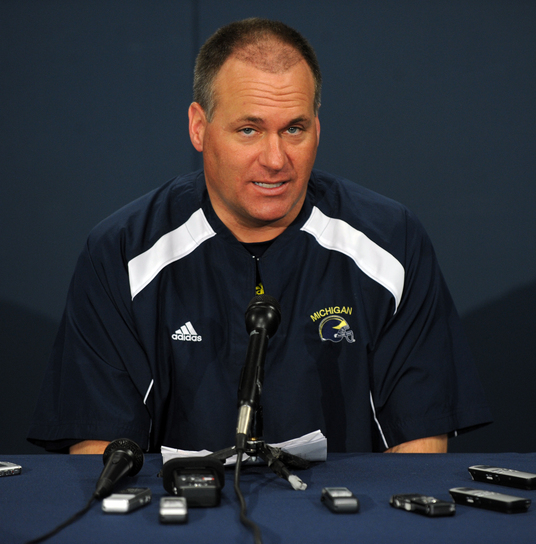 Lon Horwedel | AnnArbor.com
Michigan coach Rich Rodriguez wants to give opposing teams a variety of different defensive looks this year, depending on what type of offense they run.
"We got to have enough in our package that it's simple enough for our guys to understand yet have enough schemes to be in the right type of defense to face (a variety) of offenses," Rodriguez said Tuesday, before Michigan's fourth spring practice. "As we go through 15 practices, we're going to look at a few of those things without making it overly complicated for the players."
One concentration this spring is the 3-3-5 defense. Though Michigan gravitated toward that look last year, using safety Stevie Brown as a fourth linebacker, the scheme has evolved into a full-blown feature of the Wolverines' playbook this year.
So far, players like it.
"I think it'll be one of the best defenses for the type of athletes that we have," cornerback Troy Woolfolk said. "It fits us well."
Using three defensive linemen, three linebackers and five defensive backs, the 3-3-5 emphasizes speed and versatility over strength and power. The fifth defensive back is a hybrid-type player who can play both close to the line of scrimmage for run support and in the secondary for pass coverage.
"We're taking it really step by step this year to kind of change the problems we had last year with blowing coverages and missing assignments," Woolfolk said. "So I think as a whole defense we're taking it on pretty good."
From an offensive standpoint, guard Steve Schilling gave the new scheme his stamp of approval, too.
"I like it," Schilling said. "There's a lot of things they can do out of it."
One player who stands to play a bigger role in the 3-3-5 is nosetackle Will Campbell.
The sophomore is seeing extended work this spring as starter Mike Martin recovers from a shoulder injury. At 6-foot-5 and 324 pounds, he has the makings of the run-plugger teams deploying three-man fronts covet.
"With Mike Martin being out he's getting a lot of reps and I think he's gotten better each day," Rodriguez said. "We still got to get Will to play a little lower at times and he's using his hands a lot better. But he's had a pretty productive first three days and I think he's going to continue to get better."
Dave Birkett covers University of Michigan football for AnnArbor.com. He can be reached by phone at 734-623-2552 or by e-mail at davidbirkett@annarbor.com. Follow him on Twitter @davebirkett.