Posted on
Fri, Nov 11, 2011 : 12:30 p.m.
Face the facts: Michigan has not been a good road football team
By Kyle Meinke
In football, coaches are always looking forward to the next Saturday. It's part of their fabric to perpetually self-evaluate, to self-critique — to say you're not where you need to be, but you'll get there.
But there comes a point when you are what you are.
And, as difficult as it might be for coach Brady Hoke to acknowledge, his Michigan football team just might not be a very good road team.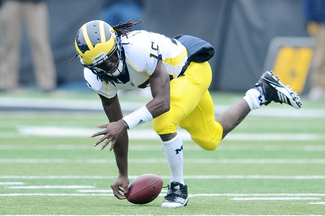 Melanie Maxwell | AnnArbor.com
He continues to deny that fact, as he should. He ascribes the Wolverines' two losses to various problems such as a lack of a running game or poor line play — but maybe, just maybe, Michigan isn't unlike most mid-tier teams in the Big Ten.
They've struggled on the road this year. So has Michigan, which is 7-2 overall but 1-2 away from the Big House.
And, is Michigan really any better than Wisconsin? Or Ohio State? Or Iowa? (Well, we know the answer to that one.)
Each of those teams is 3-2 in conference play, each has struggled on the road in conference play. Wisconsin and Iowa lost their two games on the road, both are unbeaten at home.
Like Michigan.
What would make Michigan any different?
The Big Ten has been treacherous for all road teams, except those playing Indiana. League teams are 9-22 away from home this year, with a third of those victories coming against the worst BCS team in the country. (The Hoosiers, in case clarification was required.)
Those struggles aren't new for Michigan, either. It's 5-12 on the road since 2008. The only thing less impressive than that mark is the teams it actually beat: Minnesota in 2008; Notre Dame, Indiana and Purdue in 2010; and Northwestern this year.
The Wolverines will try to add to that list Saturday when they travel to Champaign, Ill., to face the Illini in their final road game of the year (3:30 p.m., ABC).
Hoke's ability to change a program, a defense, a kicker, a culture in just months has been impressive. The road struggles, however, have yet to change accordingly.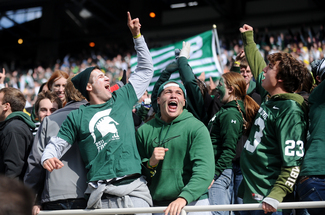 Melanie Maxwell | AnnArbor.com
Why is that?
Part of it, surely, is slow starts. The Wolverines have faced a double-digit deficit in each of their road games, overcoming the one against Northwestern but not the 14-pointer at Michigan State nor the 15-pointer at Iowa.
Michigan has faced only one double-digit deficit in its seven wins. The Wolverines came back to beat Notre Dame, but needed a miracle to do so. They can't bank on miracles on the road.
The Wolverines also seem to struggle with communication on the road, and Hoke said this week the team did more to compensate for that against Illinois, which is expected to sell out Memorial Stadium.
"In fact, I think they're bringing extra bleachers in or something like that," Hoke said, acknowledging the tough turnaround for a team that's struggled away from the comforts of home. "And it's Michigan. If you're Michigan, you're going to get people's best. It's just the way it is."
Hoke was asked if it's more difficult to rebound from a loss on the road.
"We can't worry about being comfortable, to be honest with you," Hoke said. "If the question is, 'Do you like playing at home better than away?' I think 100 percent of teams in the country will say it's always nice to play at home."
Clearly, his team has been more comfortable playing in Ann Arbor.
Further compounding things for Michigan is Illinois is coming off its off week. The last time the Wolverines faced a team with an extra week to prepare?
Michigan State. On the road.
That didn't end well.
Sensing a trend?
PREDICTION
Illinois has lost three in a row. It also has the nation's best pass-rushing defensive line, which will do its darndest to make Swiss cheese of Michigan's offensive line and make quarterback Denard Robinson uncomfortable. And uncomfortable, Robinson has been, when pressured. He will need to prove there is consequence to blitzing him. If he doesn't, Illinois — third in the country in sacks, and featuring the two most prolific sackers in the Big Ten — are going to punish him.
That's the kind of defense that has given Robinson, already at 12 interceptions this season and hovering around 50-percent accuracy, the most fits.
In a battle of the Big Ten's two most-improved defenses, scoring opportunities will be at a premium. Michigan can't afford to waste them — and it just might. Illinois 24, Michigan 21
Kyle Meinke covers Michigan football for AnnArbor.com. He can be reached at 734-623-2588, by email at kylemeinke@annarbor.com and followed on Twitter @kmeinke.