Posted on
Thu, May 27, 2010 : 6:05 a.m.
Michigan football investigation could lead to more changes by NCAA
By Dave Birkett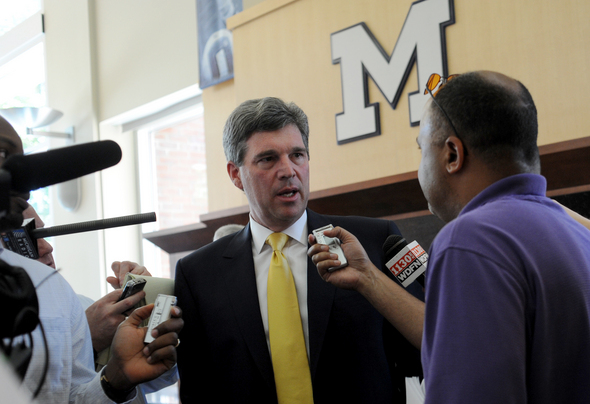 Melanie Maxwell | AnnArbor.com
Athletic director Dave Brandon made it clear Tuesday that more than one person was to blame for the NCAA violations committed by Michigan's football program.
"If there was one single person to be blamed for us, we'd be doing it," Brandon said. "The reality is that, frankly, the blame for this complex set of issues spans a number of different areas and entities within both the football program and the athletic department overall."
Football coach Rich Rodriguez is partly at fault. Both he and the university acknowledged in their lengthy responses that he didn't keep close enough tabs on his support staff and could have done more to ensure compliance.
Michigan's football administration and compliance departments are culpable as well. Documents sent to the NCAA by the university and Rodriguez detail numerous breakdowns in communication between the offices and a glaring lack of follow through.
The individuals who overstepped their duties, knowingly or not, have a stake in the violations, and to listen to Brandon's press conference Tuesday, the NCAA's ample and ambiguous rules manual played a part, too.
"I personally believe that when the smoke clears from all of this there's a number of important topics that need to be discussed," Brandon said. "There can be tremendous improvement in the clarity around the job descriptions, what is do-able and not do-able as it relates to quality-control staff."
One of the violations Michigan copped to involved exceeding NCAA limits on staff size. The charges "stem primarily from a misapplication of" rules "and not an intentional disregard of the bylaw's limitations," Michigan wrote in its response.
Specifically, quality-control assistants - football staff members who assist with non-coaching duties - conducted skill-development workouts, led warm-up activities, attended coaches meetings and watched seven-on-seven off-season workouts in violation of NCAA rules.
Rodriguez said he thought quality-control assistants could help with skill training and stretching as part of their duties with the strength program, and could take part in film sessions or coaches meetings as observers for their own personal gain.
The NCAA doesn't recognize the quality-control position by name, but in January it adopted legislation amending the non-coaching activities a sport-specific staff member can take part in to include coaches meetings, film sessions and other "organized activities involving only the coaching staff or administrative duties."
Both Michigan and Rodriguez cited the rationale behind this change in policy - confusion over what duties were impermissible - as a mitigating factor for the violations, though the university, as part of its self-imposed punishment, banned its three remaining quality-control assistants from attending practices, games and meetings this year. Michigan also cut two unfilled quality-control positions for the next two seasons.
Ironically, the NCAA Football Issues Committee opposed the proposal - committees for baseball and men's and women's basketball supported it - because it wanted the positions to "be more administrative and less coaching oriented."
Southern Mississippi athletic director Richard Giannini, a member of the Football Issues Committee, said Wednesday he expects to see legislation to increase staff sizes sometime in the next year. Currently, football staffs are limited to nine full-time assistants and two graduate assistants.
"They want more than the 11, but who knows what people have out there right now," Giannini said. "I can really see a number coming down the pipeline as far as NCAA legislation in the next year. … I can't say whether it'll be a number or named positions, but what's happening is that the numbers are increasing and that's what's going to be controlled."
While Michigan used its quality-control assistants to help run off-season workouts, other programs have augmented their coaching staffs with extra strength and conditioning assistants, often with football backgrounds.
Since strength coaches typically run off-season workouts, some feel the NCAA needs to address this gray area next.
"These guys have some pretty good roles in the program," ESPN analyst and former Georgia coach Jim Donnan said earlier this year. "It's kind of ironic that a high-school football coach is now a strength coach and he's helping the kids in summer workouts, and whatever they're doing he's out there with them and he's helping them with it. Within the rules.
"I think that rule is probably something that needs to be looked at."
Brandon said other things need to be looked at as well, and Michigan would be happy to help.
"There's always areas for improvement," Brandon said. "We clearly had misunderstandings between our compliance department and the NCAA on the interpretation on some of these rules and regulations, and to the extent as a result of our experience here we can work with them to tighten up those definitions and come to a better understanding of what is permissible and is not permissible, then that as a member organization is what we ought to be doing with the NCAA.
"I don't want that to be taken as a criticism of the rules, it's just in some cases we can go back and see where we made the wrong call based on our interpretation of the rule that was in some cases somewhat ambiguous."
Dave Birkett covers University of Michigan football for AnnArbor.com. He can be reached by phone at 734-623-2552 or by e-mail at davidbirkett@annarbor.com. Follow him on Twitter @davebirkett.