Posted on
Sat, Sep 17, 2011 : 4:50 p.m.
Michigan junior Vincent Smith enters lead running back debate
By Nick Baumgardner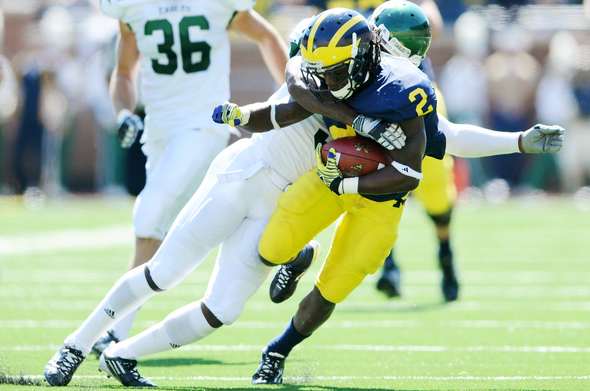 Melanie Maxwell | AnnArbor.com
A hot topic surrounding the Michigan football team this season has been the debate over who gets the distinction as the team's featured running back.
A popular question for many, but one that junior Vincent Smith could seemingly care less about.
"It's all about the team," Smith said Saturday following a 31-3 victory against Eastern Michigan. "It's all about the team right now. … Somebody had to step up and get the job done."
Smith might not care too much about the individual battle at running back, but he loudly entered that conversation Saturday.
His nine-carry, 118-yard performance marked the first time that a Wolverine running back rushed for 100 yards since Michael Shaw ran for 126 against Massachusetts in the third game of the 2010 season.
Smith didn't lead the team in carries (starter Fitzgerald Toussaint had 11 rushes for 46 yards) and didn't score a touchdown, but he was the one player not named Denard Robinson to have a consistent impact in Michigan's third win of the season.
In 2010, Smith was, statistically, Michigan's best running back. He ran for 601 yards and five touchdowns alongside Robinson in former coach Rich Rodriguez's spread-option attack.
But entering this year (with the Wolverines attempting to transition into more of a pro-style attack), the running back debate seemed to center around Toussaint and Shaw — who had one carry for 3 yards against Eastern — with Smith labeled as a third-down back.
Every other back in the conversation has a much more prototypical body-type to run in a pro-style offense. Toussaint is 5-10, 195 pounds. Shaw is even larger at 6-1, 195 pounds — and sophomore Stephen Hopkins (who didn't touch the ball Saturday) has them all beat at 6-0, 228.
Smith is just 5-6 and only 172 pounds. But on Saturday, none of that seemed to matter. He didn't touch the ball until late in the second quarter when he raced 38 yards to set up Michigan's second touchdown. After returning the second-half kickoff 17 yards, he had runs of 27 and 5 yards in a 13-play, 83-yard drive that allowed Michigan to take a 21-3 lead.
"Today, he just came out and was making the right reads and getting down field," Michigan senior tight end Kevin Koger said. "He was finding those creases and had himself a successful day."
Michigan coach Brady Hoke has been complimentary of Smith throughout the early portion of the season, giving him kudos for his toughness and willingness to take on contact.
He's clearly lacking size, but Smith certainly isn't lacking respect from inside the Michigan locker room.
"On behalf of the offensive line, Vince is one of those guys who you see every day that's not scared to put his face on (senior defensive tackle) Mike Martin coming up the middle," said junior guard Patrick Omameh. "He's just a real gritty guy that loves to do the dirty work, and you don't always see that in every dude that's normally in a touchdown scoring position.
"It's nice to see him get those stats."
Hoke was mum on the possibility of Smith overtaking both Shaw and Toussaint on the depth chart moving forward, saying that he won't make any type of decision on that until he analyzes the film.
None of that seems to be of concern for Smith, though. Michigan is 3-0. And that's the only topic he sees fit for discussion.
"Whatever the team needs, I'm there," he said. "However many carries I need for my team to win, that's how many carries (I can handle)."
Nick Baumgardner covers Michigan basketball for AnnArbor.com. He can be reached at 734-623-2514, by email at nickbaumgardner@annarbor.com and followed on Twitter @nickbaumgardner.