Posted on
Thu, Nov 17, 2011 : 2:26 p.m.
Michigan kicker Brendan Gibbons opens up about last year's struggles, this year's turnaround
By Kyle Meinke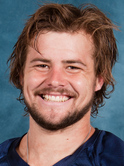 There aren't many people who know
Brendan Gibbons'
face.
After last year, though, plenty know his name — for reasons he'd like to forget.
Gibbons broke camp last year as the starting freshman kicker for the Michigan football team, but went 1-of-4 in his first two games — missing from 39, 40 and 43 yards — and was benched. He finished the season 1-for-5 and the Wolverines were last out of 120 teams in field-goal kicking.
On a trip last season to Olive Garden with roommate Taylor Lewan, Gibbons faced first-hand the fans' sentiment toward him.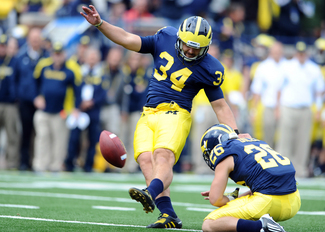 Melanie Maxwell | AnnArbor.com
"So what do you think of the kicker this year?" they asked their waitress.
Only problem? Without a winged helmet or No. 34 jersey, she had no idea who she was talking to.
"I mean, just make a kick!" she said to them. "What are you doing?"
"Well this is No. 34, this is Brendan Gibbons, he's our kicker,'' Lewan told her with a wide smile. "She was like, 'Oh my God, I'm so sorry, can I get you guys some free pasta or something?'"
"She didn't get a big tip, I can say that," Lewan quipped.
The prank was harmless, but the criticism is telling. Gibbons was one of the most unpopular players on a team that went 7-6 and set program futility marks on defense. That anger was hard on Gibbons, a redshirt freshman who was just weeks into his first season.
"I had never really felt that before, you know?" Gibbons said. "Doing well in high school and coming here, I wasn't ready for it. It was hard, especially at first."
It happened all over campus and, at first, really bothered him. But after some time, he "got used to it" — and, more significantly, used it as motivation to "get his head right."
"All those critical things stuck with Brendan, and he's taken that to heart," Lewan said. "That stuff hurts, no one likes to be criticized."
That makes what Gibbons has done this year all the more impressive.
The sophomore is 8-for-11 on the season — doubling Michigan's four makes as a team last year — and his 72.7-percent clip is fifth in the Big Ten. It's been a remarkable turnaround for the West Palm Beach, Fla., native, and it's given him insight into what went wrong last year.
One reason? He just wasn't focused on football.
"My mind was off a little bit, wasn't right," he said. "Side distractions. Doing something stupid, maybe, instead of going to bed. That kind of thing."
Gibbons said, in a lot of ways, he simply wasn't prepared mentally for what was about to hit him last year. He wasn't ready for kicking in front of 110,000 people, nor the criticism that came with failing.
THURSDAY LIVE CHAT
Come back to AnnArbor.com at noon Thursday for a live chat with Kyle Meinke. He'll recap the Wolverines' win at Illinois, discuss news that emerged this week and preview the game against Nebraska on Saturday.
His coaching didn't help.
"Yeah, you could say that," Gibbons said, when asked if he didn't feel supported or comfortable last year. "They'd kind of jump the gun (in criticisms). But you know, those coaches are still good coaches, and they recruited me here."
The coaching change, then, has been good for Gibbons. It's given him a fresh start and new perspective on his role. Coach Brady Hoke backing him from the start helped to give him a source of strength he didn't have last year.
"They instill a lot of confidence (in me)," Gibbons said. "They back you up, even if you miss some in practice. They tell you just to forget about it and move on to the next one. They won't be quick to jump on you.
"I think it helps any kicker when you have a coach who backs you 100 percent because you have nothing to lose."
Getting off to a fast start this year helped. Gibbons missed three of his first four kicks last year and was benched. This year, he made four of his first five.
"Start making field goals, it's like it becomes nothing to you," Gibbons said. "I didn't have that last year."
Gibbons' leg has never been the issue. He was an Army All-American in high school, when he hit 16-of-21 field-goal attempts, including 10-of-12 as a senior. Even last year, he had the leg. But, his head was not in the right place.
So, then, it's unsurprising his turnaround has been more of a mental, rather than physical, thing. In fact, mechanically, Gibbons isn't much different this year than he was last year, other than he is more consistent in his mechanics.
"Just the way he walks, talks and acts, he seems more confident," Lewan said. "He believes more in himself than last year. I think he had a rough time believing in himself last year."
So did his coach, Rich Rodriguez, who benched Gibbons after the slow start. Overall, Michigan attempted just 14 field goals last year — making four — partly because it forwent attempting them in situations that typically would call for it.
This year, though, Gibbons answered those questions. Just two remain.
First, what is his range?
Gibbons' career long is 38 yards, and each of his misses have come from at least that distance. Hoke said freshman Matt Wile could also get kicks from deep, and that it would be an instinctual decision regarding who gets the call.
But Gibbons said his range has grown this year, and has confidence in himself out to about 55 yards.
The second unanswered question regarding Gibbons: Can he make a pressure kick?
Gibbons didn't even allow the question to finish being asked before he interjected: "I'll make it, I'll make it."
But you've never done it before. How can you be so confident?
"Gotta be. Be confident. If you're not confident, you won't make it."
So much confidence, you'd hardly recognize him.
Kyle Meinke covers Michigan football for AnnArbor.com. He can be reached at 734-623-2588, by email at kylemeinke@annarbor.com and followed on Twitter @kmeinke.